Water Based Adventures
Pool Kayaking Class
Learn the Basics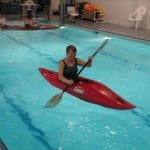 Participants will learn basic kayak skills and maneuvers including paddle strokes, stopping techniques, wet exits, and more! Oneida Adventures certified staff will ensure you have the skills needed to join us on one of our many opportunities to participate in one of our day trips in the summer months.
Try Kayaking!
This class will prepare adults to join Oneida Adventures in sea kayak tours in the summer months. (*It is not required for recreational kayak tours.) Kayaking is a great way to enjoy the great outdoors and explore Wisconsin's lakes and rivers; there is a lot to discover!
Adults and youth age 15 and older are welcome to join this interactive class. . *Youth 15 and older must be accompanied by a parent or guardian.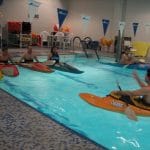 Watch for more information on how to sign up for one of our informative classes! Pool classes usually run in the late winter/early spring months.
Sea Kayaking
Learn the Basics
Paddle with our experienced instructors on local lakes or sign up for a trip that takes you to the scenic surrounding bodies of water! We will provide instruction on basic paddle strokes, turning, and safe handling of your vessel. Using our equipment or your pre-approved equipment, you will leave your adventure with a renewed appreciation of nature and a connection to the water.
Try Kayaking!
Watch for more information on how to sign up for one of our scenic kayak trips. Paddling the beautiful Oneida Lake or one of the many surrounding rivers or bodies of water can be so much more fun when you are with a great group of people. Lively conversation combined with a knowledgeable staff makes this experience just right for everyone. Oneida Adventures has everything you need to give kayaking a try. Using our boats, life jackets, and safety gear, we will take you on a trip lasting anywhere from one hour to multiple day trips.