Yonʌhali:yó – Community Advocacy
Programs Overview
"A good vine" – Yonʌhali:yó
With deep roots, a broad reach, and healthy fruit in the community formerly known as Oneida Domestic Abuse and Prevention.
Same services, new name!
Yonʌhali:yó – Community Advocacy inspires Native People to engage in healthy life choices, promoting total wellness for the next seven generations.
Programs Offered
Gender Based Violence Program
Healthy Relationship Program
Youth Mentor & Advocates
Young Adult Mentor & Advocate
2SLGBTQ+ support
Contact
Laurie Becker – Supervisor Email: Lbecker@oneidanation.org
Office: (920)-490-3700 ext. 3842
Business Hours Monday – Friday      8 AM-4:30PM
Typical response time is 1-2 business days
Online Resources
Please see Linktree for a list of crisis and other resources
Yonʌhali:yó Community Advocacy – Linktree
New Name – Yonʌhali:yó "A Good Vine"
Gender Based Violence Program
Gender Based Violence Program ,formerly Domestic Abuse, is a program to help those living with and experiencing abuse, to seek help & safety while healing within the family.
Advocacy
We offer legal help, and personal Advocacy because no one should have to feel alone
Education
Knowledgeable staff will educate on the different forms of abuse including:
Financial
Physical
Sexual
Spiritual
Emotional
Groups
Women's Domestic Violence Education Group 
Beading Circle 
Book Club
Culture
Our program's values are on the traditional teachings of our Culture. These teachings are used to strengthen the ways that were forgotten.
Safety
Our Programs helps create a safety plan when:
Leaving a relationship
After a violent relationship
Seeking a restraining order
Warnings
Jealousy
Possessiveness
Isolation
Checks cell phone
Blames others
Verbally Abusive Explosive Behavior
Statistics and Resources
Native People are 3x more likely to experience abuse than any other race.
ODAP Resources
Yonʌhali:yó – LinkTree Online Resources
For more information contact:

Oneida Domestic Violence Women's Advocate
Cassie
Office: 920-490-3719 
Oneida Domestic Violence Lay Advocate
Louise
Office: 920-490-3760 
Oneida Domestic Violence Women's Advocate
Tia
Office: 920-490-3808
After Hour Crisis Centers:
Brown County
920-436-8888
Outagamie County
920-832-4646
Healthy Relationship Program
On hold until further notice
Summary
The Oneida Healthy Relationship Program is a new domestic abuse intervention program. This program takes an educational approach using a Native based curriculum to help offenders understand the complex cultural, social, and historical dimensions of violence against women and men. The program also addresses the use of power and control in relationship and family dynamics. The Re-Education Program is taught in a weekly group setting to promote:
Feedback
Participation
Education
Participants share appropriate experiences
Environment where participants hold each other accountable
Participants
Are held accountable for their actions
Learn alternatives to violence and controlling behavior
Learn about the impact of violence
Learn how to identify healthy relationships
Learn behavioral, emotional, and physical cues that proceed escalating violence
Examine current beliefs and attitudes that need to be re-examined to overcome violent behavior
Focus on cultural and spiritual values
Learn how historical trauma has led to violence and abusive behaviors
Learn about traditional spiritual ways using smudging and sweat lodge ceremonies to share the traditional spiritual ways of native people
Benefits
The Goal of the Oneida Healthy Relationship Program is to offer tools to change behavior and take responsibility.
Develop healthy relationships with women, men, and family
Better parenting skills
Healthier and happy families
Helps break the influence of the generational cycles of violence
Court calendar reduction through less re-offenders returning
Less lost worktime
Connect with culture and ceremonies
Connect with self-identity as a Native man
Reclaiming Culture
In the Oneida tradition, a man would retain allegiance to the clan of his birth, but live "matrilocally" in the longhouse of his wife's clan. There was a natural element of protection. Iroquois society was organized to maintain a balance of equality between women and men. The women and children were protected from violence. 
The program teaches families that this is not a traditional belief and that it is acceptable and natural for men to have emotions, the same as women and children. Information about historical trauma, boarding schools, the authority and power the government policies had over native people, assimilation and adoption of the western beliefs system is shared and discussed. As a result, internalized oppression and acceptance of these influences led to Native people becoming ashamed of whom they were, and they began disowning their own traditional cultural values and beliefs.
This program helps Native Families reclaim their culture through education, ceremonies, and storytelling.
For more information contact:
Healthy Relationship Community Advocate – Pending 
Youth Mentor & Advocate Programs
Mission Statement: To help build and foster healing and resiliency within our youth. To teach them empowerment strategies to preserve safety and build up their self esteem using Tsi?niyukwalihoti' (our ways) as the foundation.
Available Services
Advocating/ Mentoring/ 1 on 1 support

Group Facilitation

Referral Assistance

Goal Setting/Empowerment

Healthy Identity Support and Personal Development

Youth Leadership Development

2SLGBTQ+ Support & Groups
Benefits
Our goal is to enhance positive qualities the students already possess and help students to see their true potential.
Goal setting/Empowerment
Identity Support & Personal Development

Youth Leadership Development

Develop Positive Relationships & Connections

Domestic & Relationship violence awareness
Eligibility
Child and Youth Female Advocate – Native American and descendants female youth ages 6-19 years old
Youth and Young Adult Advocate – Native American and descendants ages 9-25 years old 
Resources
LGBTQIA2S+ Resource Hub
LinkTree – Brown, Outagamie, & Online
For more information contact:
Child and Youth Female Advocate
Chrisstara Cornelius
Ccornel6@oneidanation.org
Office: (920)-490-3894
Youth & Young Adult Advocate/Mentor
Byran Halona
Bhalona1@oneidanation.org
Office: 920-490-3797
Events
Ongoing
Yonʌhali:yó Book Club (RSVP)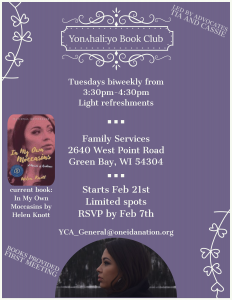 YCA_General@oneidanation.org
Youth Two Spirit & Allies Group (Open)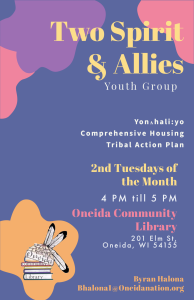 Bhalona@oneidanation.org
Upcoming Events
Human Trafficking Awareness Film Series (RSVP)
January 25th, Wednesday 5PM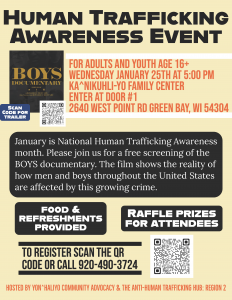 RSVP – Click Here
April – Sexual Assault Awareness Month
Week 1 – Open 
Wednesday April 4th Opening Ceremony 
Week 2 – RSVP 
Monday April 10th Healing Circle and guided painting with Artist Lean Thompson 
Week 3– RSVP
Self-defense F.A.S.T class 
Week 4 – Open 
Closing Ceremony, dinner, and recap
(More information and flyers coming soon…)