Farm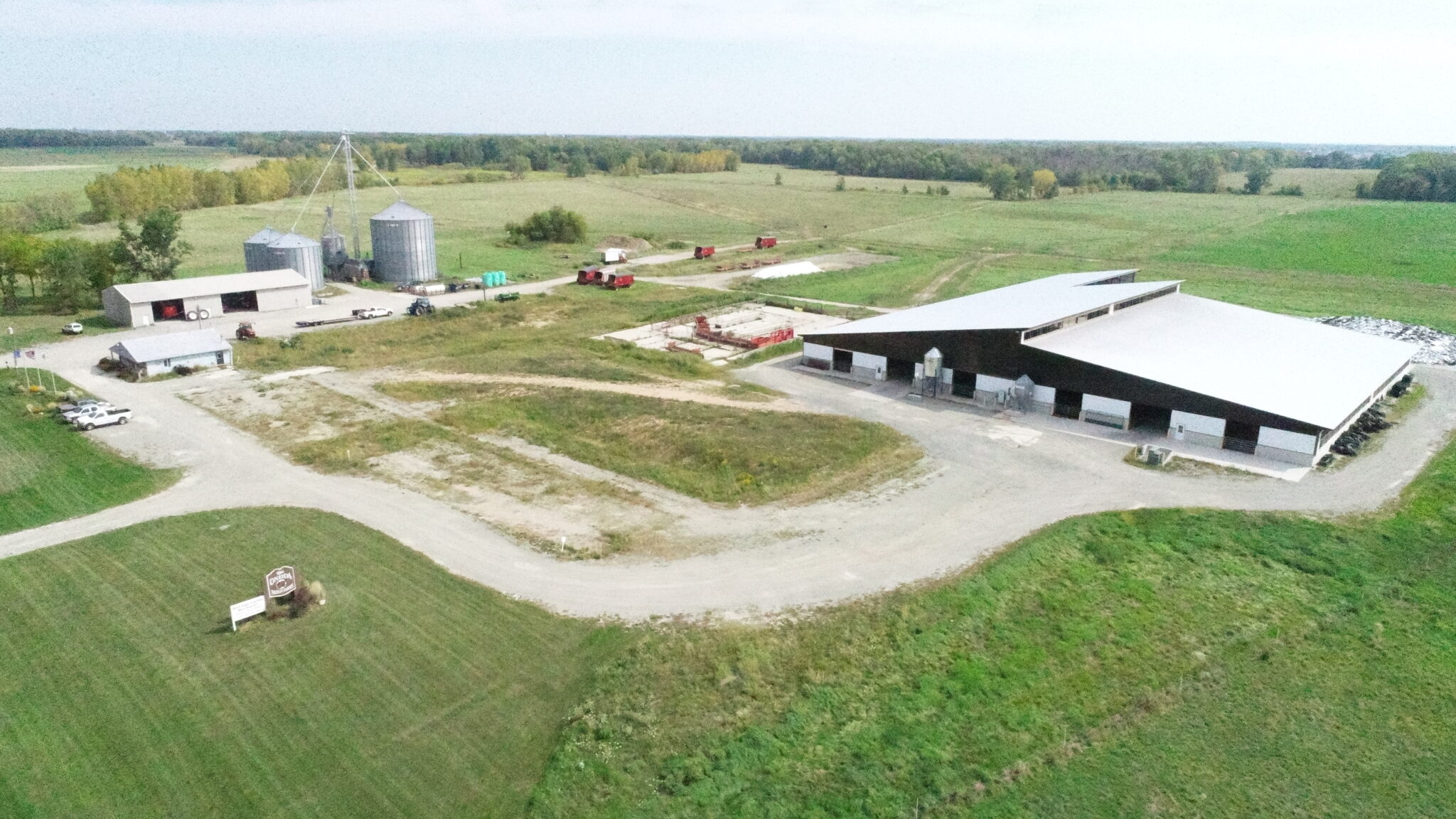 About
Oneida Nation Farm Enterprise key responsibility is the interaction with man, soil, livestock and wildlife for the agriculture community. With this unique relationship, the use of these resources provides sustenance, income and employment opportunities for all mankind. The Oneida Nation Farm is the Agriculture Department under the Enterprise Structure of Oneida Nation of Wisconsin. The Oneida Nation Farm leases the land from the Oneida Nation of Wisconsin. Please read this web page for more information about what Oneida Nation Farms has to offer you. Thank You!
Located @ N6010 Cty Rd C- Seymour WI 54165- which is  just 3 miles south of Seymour, Hwy 54, on Cty C on the east/left side of the road.
Read an interview about the Farm with ONF Manager Tom Swiecichowski here: Midwest Forage Association Farmer Interview
Beef/Buffalo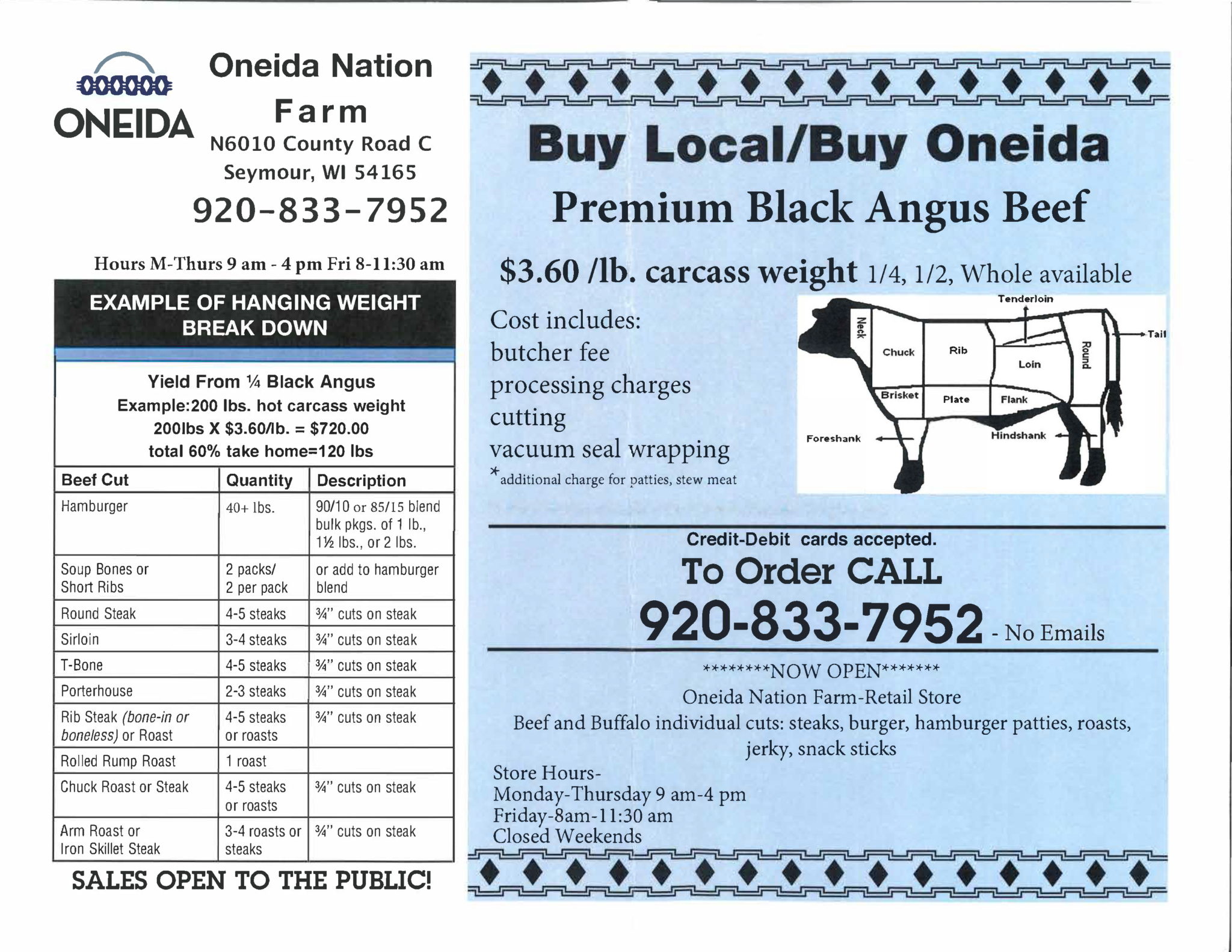 Buy Local, Buy Oneida Nation Farms Black Angus Beef, that is right, from our farm to your Table. Black Angus is known as the gold standard for premium beef. Beef is a good source for zinc, iron, protein and many B-vitamins- nutrients that help maintain the immune system, help mental development in children and build muscles.
We take pride in raising our Black Angus Beef, which consists of a cow calf herd out in pasture. The other part of herd is the fed beef, which are finished in a animal comfort feed lot barns and are all clean and happy healthy cattle. The Beef operation is growing into a Point of Origin, which means born and raised on our farm. Our beef are not fed steroids, hormones, antibiotics or any animal byproducts. We are a conventional farm producing healthy, nutritious and tasty beef product. There is no difference in nutrition or safety between organic and conventional beef.
For Processed Beef Sales, Oneida Farm needs to follow State Meat Inspections, which is implemented at the local meat processor. Our processed beef is sold by the hanging weight, quarter ( split 1/2), half or a whole. The term hanging weight is the cost of the beef carcass to be processed with the bone and trim, packaged frozen, and when the order is ready at the processor, you will receive a call from us.
To place your beef order, just call the Farm @ (920) 833-7952, please do not respond via e-mail. Located three miles south on County C, Seymour WI 54165. You can also purchase individual cuts at The B&B Market at the farm.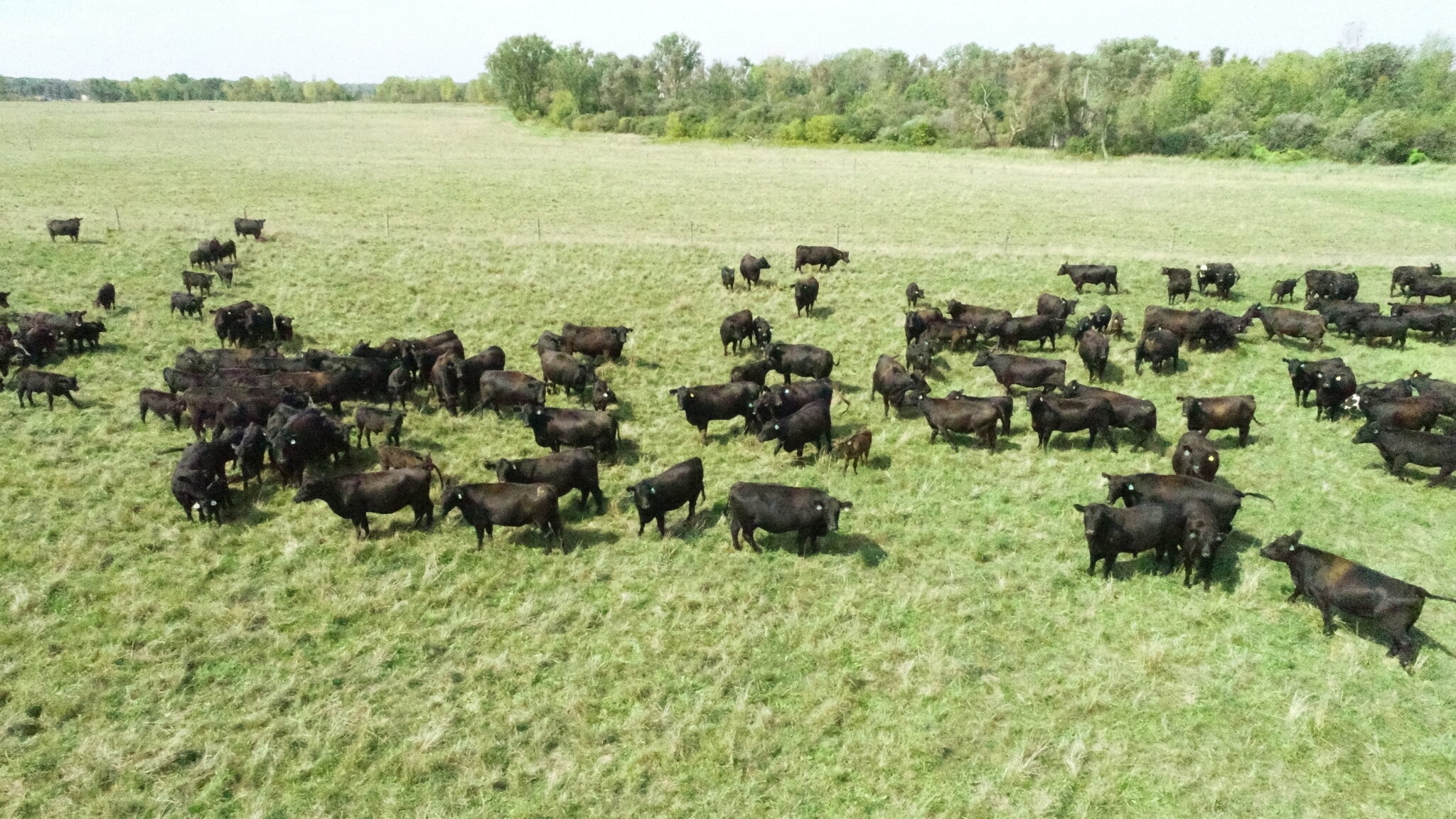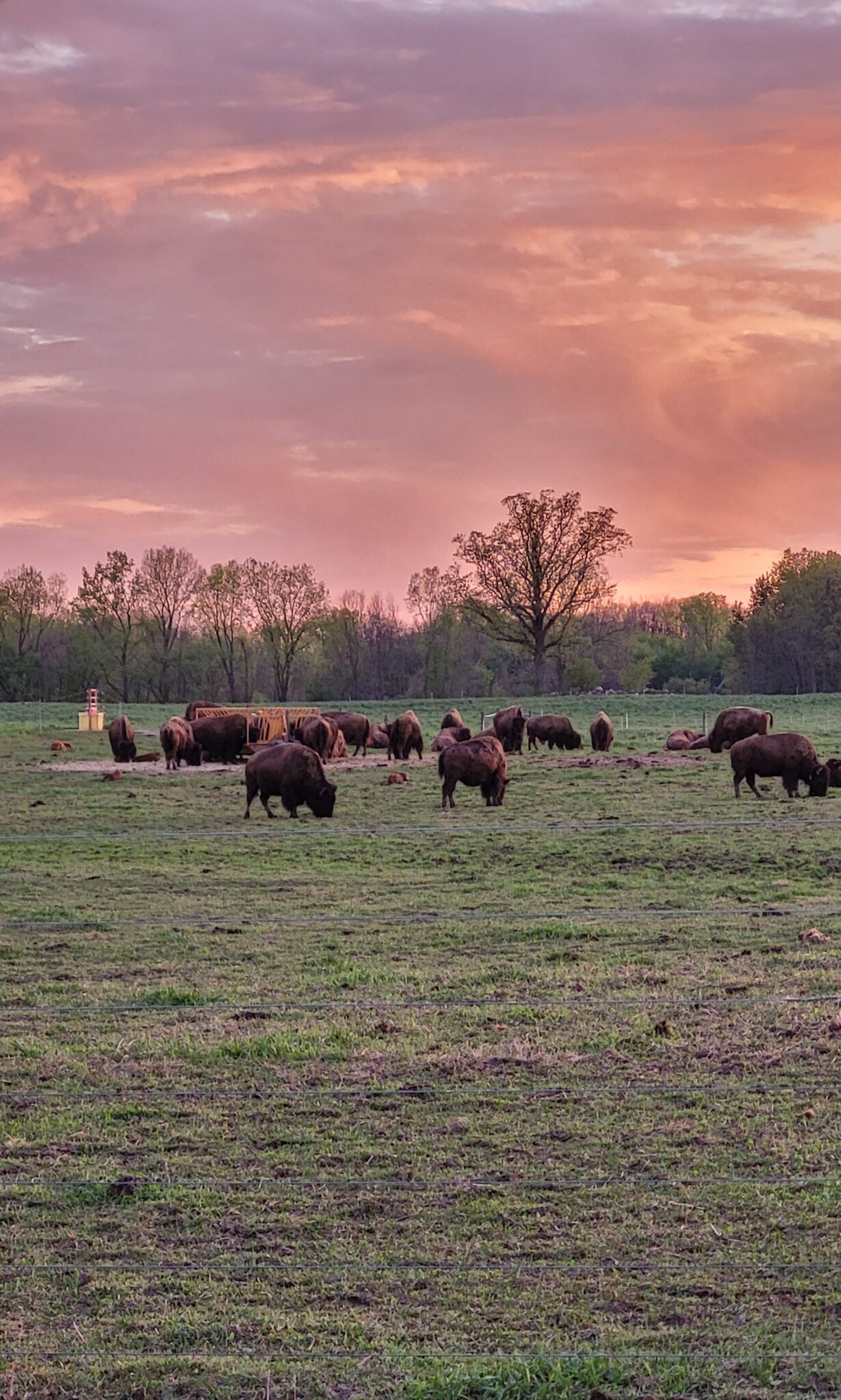 The Magnificent Oneida Buffalo herd, consists of about 150 head, which are grass fed, also supplemented with hay and grain feed. The herd is located just west of Oneida, take Hwy 54 west, turn right or north on Cooper RD. There are two pastures, the west pasture is our reproductive herd and every year we have newborns come into the herd.
Oneida Farm pulls out the finished buffalo periodically during the year, processed and State inspected at the local processor.
The processed individual cuts are sold at the B&B Mkt @ Oneida Nation Farm- call ahead- 920-833-7952
The majority of the Buffalo and equipment were all made possible from Intertribal Bison Coop Grants, starting in 1996 to present. The Oneida Tribe of Wisconsin and the Oneida Nation Farms, also contributes in kind service for this project.
Find the buffalo at the Oneida Nation Buffalo Overlook!  W903 VandeBurggen Lane Oneida WI 54155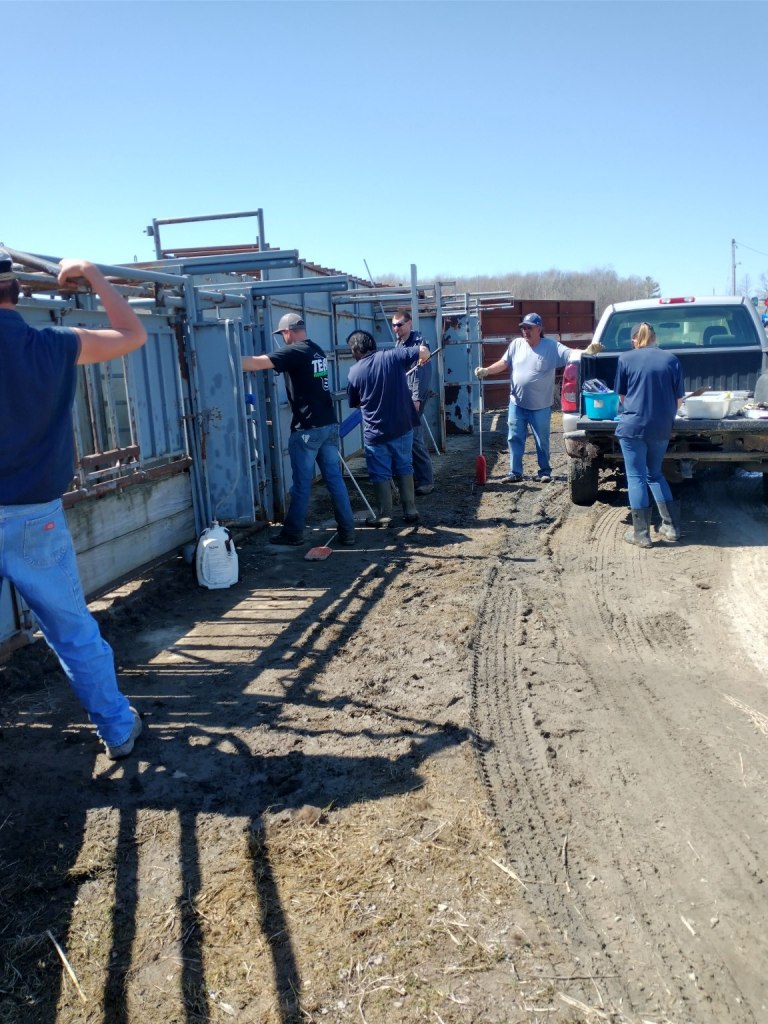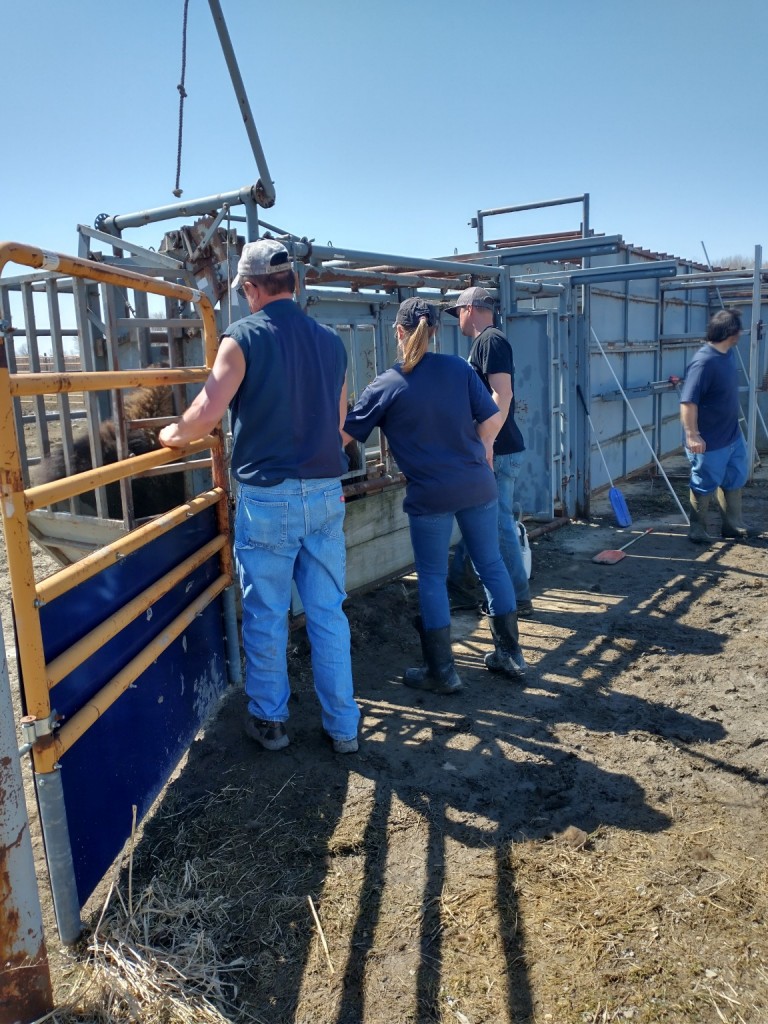 Employees working with buffalo herd
Crops

Cash Crop Farm
The Oneida Nation Farms currently is considered to be one of the largest conventional cash crop farms in the North East Wisconsin, which was originally started in 1978, and was then known as the Iroquois Farm. The Iroquois farm consisted of approximately 150 acres and 25 head of cattle.
The Oneida Tribe of Wisconsin, rents 6,000 plus acres to the Oneida Farm, and about 4000 acres are in various Conservation and Environmental programs.
The Oneida Nation Farm is known for the minimal till and no till practices. We work closely with our crop consultant, NRCS, Oneida Conservation and Environmental Departments to comply with regulations on nutrient management programs and other programs that enhance the betterment of the land and air.
We plant and harvest high quality varieties of corn, soybean, alfalfa and winter wheat. The majority of the crops are held for sale to area markets and farmers. Call the Farm if you are interested in purchasing our crops @  (920) 833-7952.
Busy time, spring planting crops and fall harvesting the crops.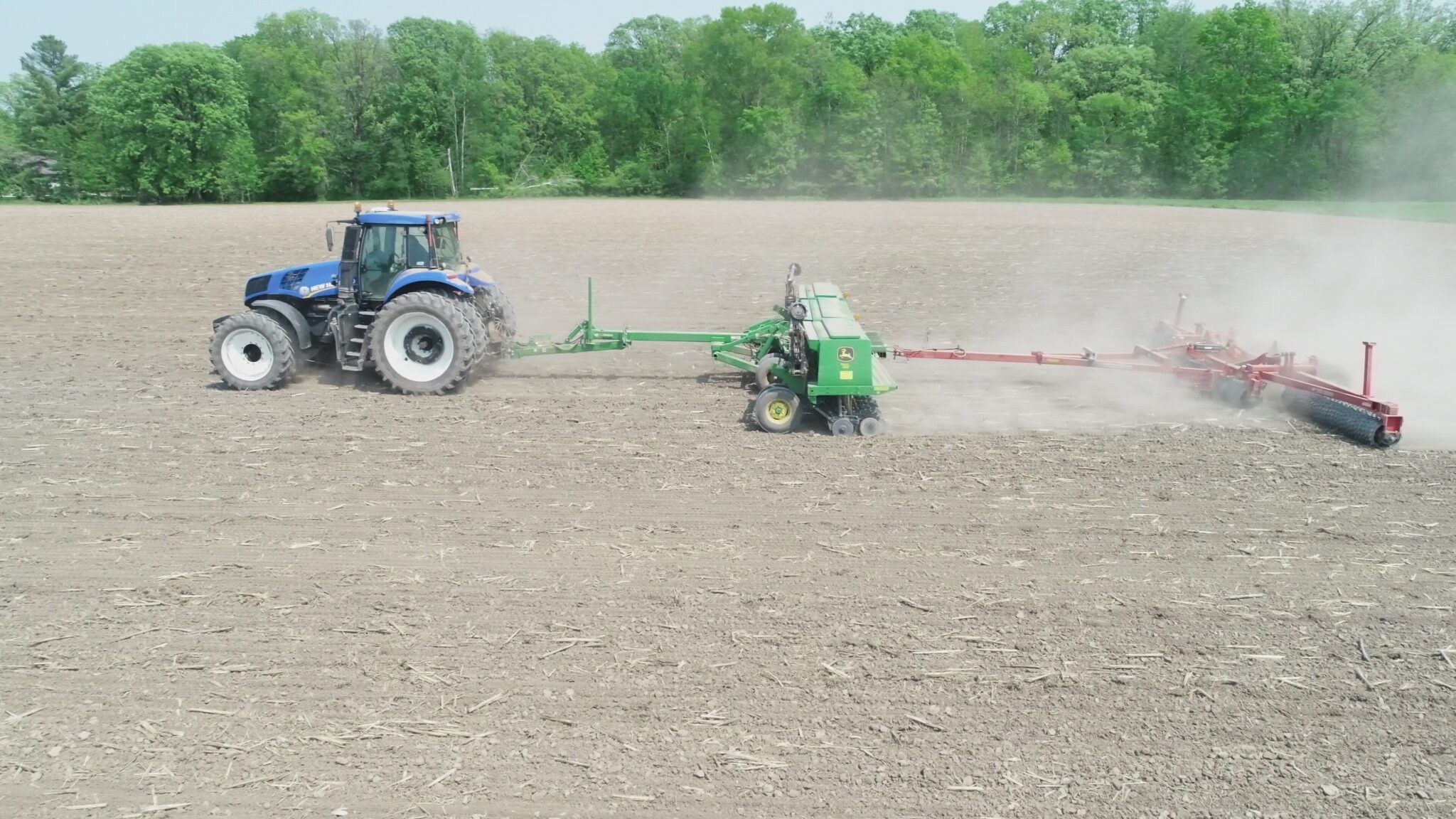 Purchase
Our processed beef is sold by the hanging weight, quarter ( split 1/2), half or a whole.
Our buffalo is sold by the hanging weight, half or a whole without processing cost.
To place your order, just call the Farm @ (920) 833-7952, please do not respond via e-mail. Located three miles south on N6010 County C, Seymour WI 54165.
Individual processed cuts of Beef and Buffalo only sold by individual cuts, are sold at The B&B Market at the farm
Awards
Fox Valley Technical College Agri-Business students touring the Oneida Nation Farm

Wisconsin On-Farm Testing Corn Trials
This is a network of the Wisconsin Association of Professional Ag Consultants(WAPAC), which consists of crop consultants, local and statewide extension faculty and most important farmers cooperating in a coordinated effort across Wisconsin.
American Soybean Association
The American Soybean Association and The Wisconsin Soybean Association are also included in the Oneida Nation Farms programs.
Glacierland Resource Conservation and Development Inc.
Glacierland Resource Conservation and Development Inc. demonstrations are given in pasture diet, selection of grasses and legumes, field forage amounts, pasture fertilization, fence demonstration.
Career Day
Oneida Nation Farms sponsors a career day at the farm, in spring of the year, by inviting some of the Oneida School students to become more aware of the Agriculture Business. The students were very enthused by what they were seeing and also had some hands on experience with the agriculture work.
Affiliates
Membership of other programs and organizations that the Oneida Nation Farms supports and sponsors are:
Midwest Forage  Associaton
Outagaime Forage Council
Wisconsin Bison  Producers Association
The Inter-Tribal Bison Coop
The National Bison Association
Equity Livestock Coop
Inter-Tribal Agriculture Council
Wisconsin Tribal Agriculture Council
Oneida Sustainable Resources Advisory Council
Oneida Community Integrated Food System
Oneida Falling Leaves 4H Club
Outagamie County Youth Livestock
Wisconsin Soybean Association
American Soybean Association
Wisconsin On-Farm Testing Trials
Glacierland Resource Conservation and Development Inc
American Angus Association
National Cattlemen Foundation
Wisconsin Beef Council
Wisconsin Angus Association
All these are for the betterment of promoting agriculture in our community and surrounding areas.