Community Health Services
Community Health Services Mission: 
The Community Health Services Department is a responsive leader in promoting health and preventing disease through collaborative efforts in assessing, planning, implementing, and evaluating services to meet the holistic health needs of our Oneida Community. 
Community Health Services is conducting a health survey until the end of March 2017!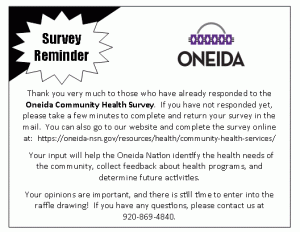 The survey is for Oneidas living in Brown and Outagamie Counties.  The Health Survey will identify the health needs of the community, collect feedback about health programs, and determine future activities. Your input is important!  Your responses will remain anonymous.
To encourage your participation, a raffle drawing will be held for 40 gift cards valued at $25 each.  Please take the time to complete the survey either by mail or click the link below (one or the other).
Eligibility for the survey:
Enrolled Oneida member
Live in Brown or Outagamie county
18 years or older
Head of household
You have not already completed the survey (one per person)
Survey Link:
https://www.surveymonkey.com/r/OneidaHealth
Community Health Services (CHS) are provided by the following departments:
Car Seat Education Clinics, Foot Care Clinics, Immunization Clinics, Communicable Disease Investigation, School Nursing, Prenatal Care Program, and Healthy Start Program
**For more information on CHN Population Based services please call (920) 869-4840
Community Health Nursing- Case Management:
Community Health Nurses and Community Health Representatives
**For more information on CHN Case Management services please call (920) 869-4840
Programs such as Diabetes Prevention Program and Wellness Coaching for making lifestyle changes to improve health and quality of life.
**For more information on Health Promotion services please call (920) 490-3927
Nutrition Services and WIC Program
Educates and empowers the community toward healthy lifestyles for today and the future.
**For more information on WIC and Nutrition services please call (920) 869-4829
Nation Public Health Accreditation
Oneida Community Health Services Journey toward National Public Health Accreditation
In June 2015, the CHS Department submitted a Statement of Intent to the Public Health Accreditation Board (PHAB).  We as a team have been very busy the past year making the necessary changes and putting the required documents in place to assure all 10 Essential Public Health Services are available for the Oneida Community.  We still have a lot of work to do, but we will get there thanks to our great leadership, support, and partners.  Our goal is to take the next step by June 30, 2016 and submit our Public Health Accreditation Application to PHAB.
How Accreditation Improves Our Health
Hospitals, schools, police, and fire departments employ standards to help protect and serve the public.  Public health accreditation standards assure local health departments maximize their potential to protect and improve people's health in their communities. Accreditation is a successful program for routinely assessing performance and improving quality!
About Us
Director of Community Health Services
Eric Krawczyk, MPH, MCHES – Community/Public Health Officer
Population Based Programming
Michelle Myers, BSN, RN – Community/Public Health Nursing Supervisor
Carol Torres – Administrative Assistant
Candi Cornelius, MSN, RN – Prenatal Care Coordinator
Char Kizior, BSN, RN, NCSN – Headstart Nurse Consultant
Margaret Vanden Heuvel, MSN, RN – School Nurse Consultant
Maria Danforth – Maternal Child Health Aide
Amber Webster – Community Health Worker – Healthy Start
Chenoa Webster, Community Health Worker- Healthy Start
Elizabeth Nickel, BSN, RN- Community/Public Health Nurse
Kala (Kimberly) Cornelius, MSN, RN- Community/Public Health Nurse
Maggie (Margaret) Lagodny, BSN, RN – Community/Public Health Nurse
Case Management
Brenda Haen, BSN, RN – Community Health Manager
Neva Archiquette – Community Health Representative
Peggy (Marguerite) Bork – Community Health Representative
Louetta Fowler, BSN, RN – Community Health Nurse
Vicki Johnson – Community Health Representative
Karen Nolan – Community Health Representative
Virginia Riggs, BSN, RN – Community Health Nurse
Phyl Shaline, BSN, RN – Community Health Nurse
Ted Skubal, MSW – Social Worker
Brittany Skenandore, BSN, RN – Community Health Nurse
Health Promotion and Disease Prevention
Tina Jorgensen, MS, RD, CD – Health Promotion Supervisor
Brandon Wisneski – Administrative Assistant/Data Collector
Dawn Krines Glatt – Health Promotion Specialist
Tahkwatekwa (Tek) Skenandore – Health Promotion Specialist
Sarah Phillips – Health Promotion Specialist
Stefanie Reinke – Health Promotion Specialist
WIC/Nutrition
Susan Higgs, RD, CD – WIC/Nutrition Manager
Vacant- Administrative Assistant
Betty Schwantes, RD, CD, CDE – Dietitian-Diabetes Educator
Jill Caelwaerts, RD, CD – Dietitian-Consultant
Alyssa Mannering, RD, CD , CLC – Dietitian-Lactation Coordinator
Vacant- Dietitian-WIC Outpatient
Stacy Skenandore – Peer Breastfeeding Counselor