Community Health Services
Community Health Services Mission: 
The Community Health Services Department is a responsive leader in promoting health and preventing disease through collaborative efforts in assessing, planning, implementing, and evaluating services to meet the holistic health needs of our Oneida Community. 
CHS Departments
Community Health Services (CHS) are provided by the following departments:
Car Seat Education Clinics, Wellness Education, Immunization Clinics, Communicable Disease Investigation, School Nursing, and Prenatal Care Program
**For more information on CHN Population Based services please call (920) 869-4840
Community Health Nursing- Case Management
Community Health Nurses, Community Health Representatives, and Medical Transportation
**For more information on CHN Case Management services please call (920) 869-4995
Community Health Case Management-Long Term Care
Family Care, Tribal Dementia Care Specialist, and In Home Care Program
**For more information on Community Health Long Term Care Case Management services please call (920) 869-4995.
Programs such as Diabetes Prevention Program and Wellness Coaching for making lifestyle changes to improve health and quality of life.
**For more information on Health Promotion services please call (920) 490-3927
Nutrition Services and WIC Program
Educates and empowers the community toward healthy lifestyles for today and the future.
**For more information on WIC and Nutrition services please call (920) 869-4829
What's New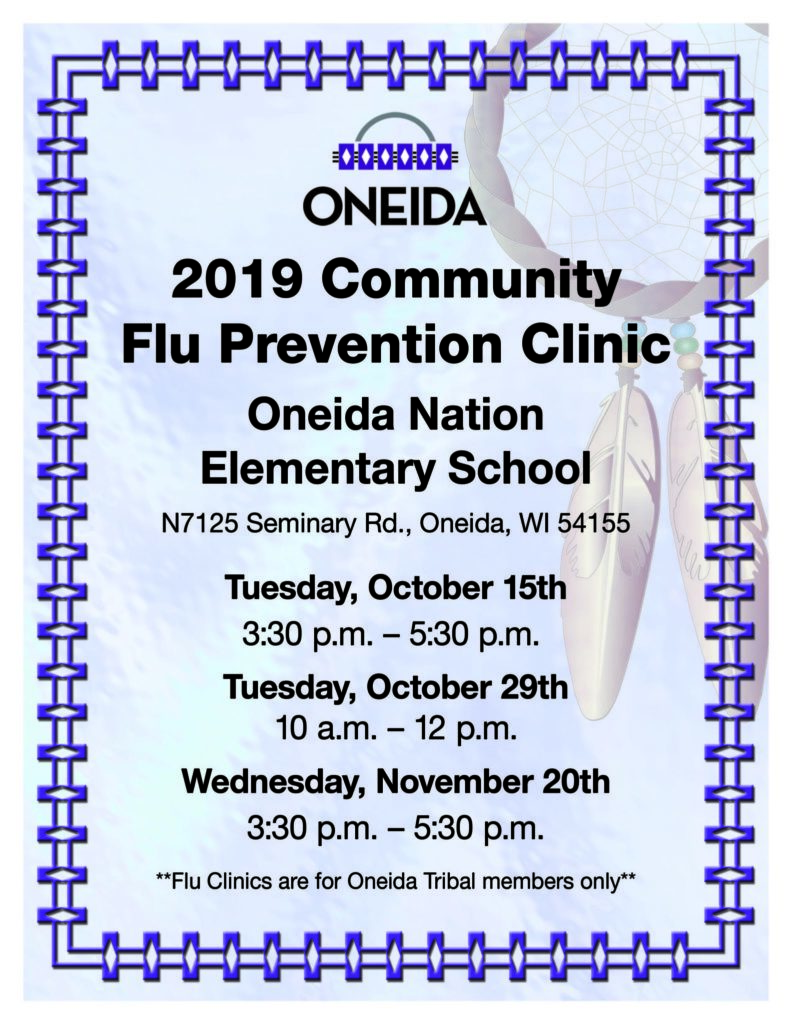 July 26, 2019 – There have been several severe cases of lung disease among teenagers who reported vaping.  Read more about the investigation here.   
Do not use vaping products.  E-cigarettes and vaping products contain toxic chemicals that can damage lungs.  Because these products are new, the long-term health effects are not fully understood.  If your child or teen is experiencing unexplained shortness of breath, fatigue, chest pain, cough and weight loss, take them to see their doctor.  
Ticks 
The two types of ticks that most commonly bite people or pets in Wisconsin are the deer (black-legged) tick and the wood (dog) tick. A third type of tick that can bite people or pets in Wisconsin, the lone-star tick, is less common. Bites from all three of these ticks(link is external) can make you sick.
In Wisconsin ticks can spread anaplasmosis, babesiosis, Borrelia miyamotoi(link is external), ehrlichiosis, Lyme disease, Powassan virus, Rocky Mountain spotted fever, and tularemia. Illnesses spread by ticks can be prevented if you take the proper steps.
Mosquitoes
Not all of the 50+ species of mosquitoes in Wisconsin bite humans, but many of those that do can spread diseases. In Wisconsin, mosquitoes can spread Eastern equine encephalitis, Jamestown Canyon virus, La Crosse encephalitis, St. Louis encephalitis, and West Nile virus. There are also illnesses that you can get from mosquitoes when you travel outside of the United States. Some of these diseases are chikungunya, dengue, Japanese encephalitis(link is external), yellow fever, and Zika virus. Illnesses spread by mosquitoes can be prevented if you take the proper steps.
Oneida Comprehensive Health is SMOKE-FREE click here to learn more.
Nation Public Health Accreditation
November 20, 2018 – Oneida Community Health Services achieves public health accreditation!
How Accreditation Improves Our Health
Hospitals, schools, police, and fire departments employ standards to help protect and serve the public.  Public health accreditation standards assure local health departments maximize their potential to protect and improve people's health in their communities. Accreditation is a successful program for routinely assessing performance and improving quality!
Community Health Improvement Plan
#OneidaMoves Contest Rules (click here)
Community Health Improvement Plan (CHIP) 2018-2022
Click here for the 2018 Data Summit presentation.
View Local Physical Activity Events
Focus Area: Emotional Wellbeing
Emotional Wellbeing 90-Day Plan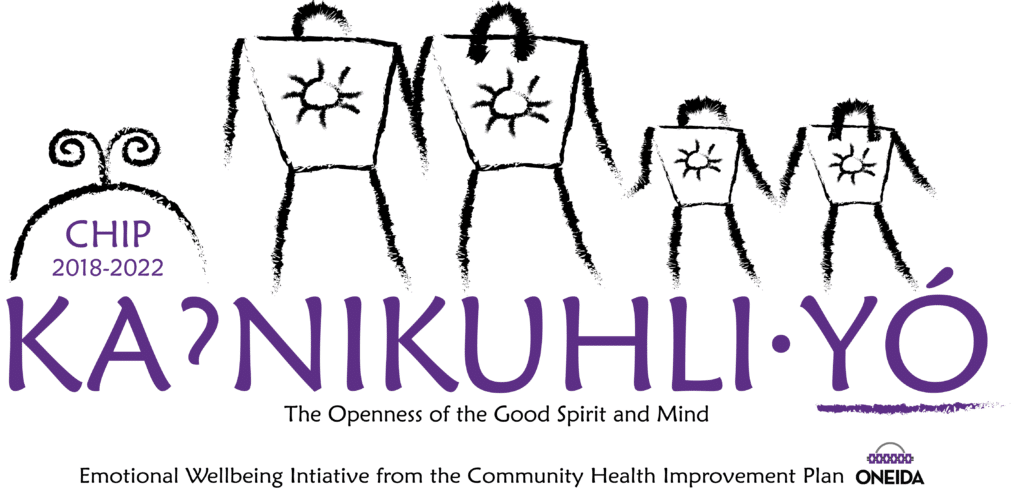 Emotional Wellbeing is an important part of overall health and is just as important as physical health. Emotional Wellbeing affects how we think, feel and act. It also affects how we relate to others, respond to stress, and make decisions. Healthy Emotional Wellbeing promotes a sense of self-worth and helps people form and maintain supportive relationships with others.
Emotional Wellbeing issues are common and can be the result of brain chemistry, trauma, stress, family history, and several other factors.
Fortunately, there are ways to improve Emotional Wellbeing, including personal choices and the many resources available throughout Oneida.
Traditionally, we have thrived by coming together as a tribe to support one another. By building a community of understanding, support and acceptance within Oneida, we promote a common goal of Emotional Wellbeing for everyone.
As part of the Emotional Wellbeing focus area for this CHIP initiative, we will feature ongoing Emotional Wellbeing topics and resources.
Focus Area: Physical Wellness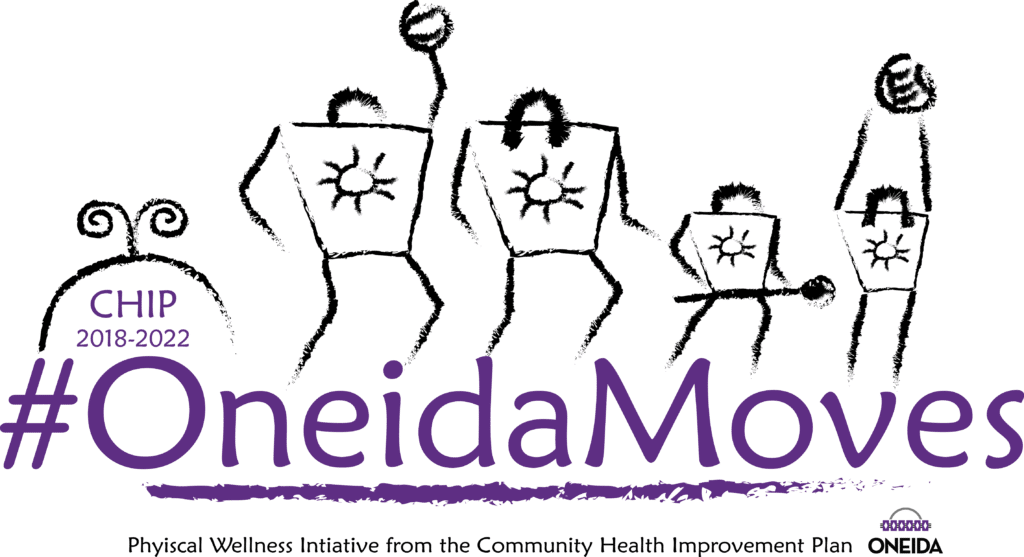 Physical Wellness is more than just the absence of disease; it is a multi-faceted concept that is recognized when a person, or population is in a state of optimal health. Optimal health is achieved when the body is operating at the most efficient state, regardless of the limitations of disease process(es). There are many things that influence a person's Physical Wellness and some of these things cannot be controlled. Fortunately, there are many choices a person makes that can improve their Physical Wellness.
Increasing physical activity; eating more fruits and vegetables; not smoking or quitting smoking; limiting alcohol, and maintaining a healthy weight are choices a person can make to improve their quality of life and Physical Wellness.
Historical events have erased much of the Oneida Community's cultural identity and traditional practices which have caused a dramatic decrease in what was once the healthiest population on the planet. Reclaiming the Oneida culture and making healthy personal choices will create an environment supportive of developing and maintaining a community rooted in Physical Wellness.
As part of the Physical Wellness focus area of the CHIP initiative, we will highlight resources that encourage increasing physical activity for Oneida Community Members throughout the lifespan and at various levels of perceived Physical Wellness. Also, as part of the CHIP campaign, tracking and monitoring individual's physical activity through multimedia tools at Oneida community events.
Our Partners
Oneida Behavioral Health, Oneida Environmental Health and Safety, MIS, Oneida Parks and Recreation, Oneida Community Health Center Medical Clinic, Oneida Cultural Heritage, Oneida Transit Authority, and Oneida Family Fitness Center. Look for more about these strategies in the Kaliwisaks, on the Oneida Nation website, the Community Health Services, on the Facebook page: https://www.facebook.com/OneidaNation.Health, through Oneida communications, and at community events.
About Us
Director of Community Health Services
Eric Krawczyk, MPH, MCHES – Community/Public Health Officer
Population Based Programming
Michelle Myers, BSN, RN – Community/Public Health Nursing Supervisor
Carol Torres – Administrative Assistant
Candi Cornelius, MSN, RN, CLC – Prenatal Care Coordinator
Char Kizior, BSN, RN, NCSN – Headstart Nurse Consultant
Kristine Labby, BSN, RN – School Nurse Consultant
Andrea Kolitsch, BSN, RN – Community/Public Health Nurse
Leah Fuss, MSN, RN – Community/Public Health Nurse
Debra Santiago, BSN, RN – Community/Public Health Nurse
Mollie Passon, CHES®, Public Health Coordinator
Community Health Nursing Case Management
Brenda Haen, BSN, RN – Community Health Manager
Neva Archiquette – Community Health Representative
Louetta Fowler, BSN, RN – Community Health Nurse
Vicki Johnson – Community Health Representative
Toni Walking Eagle – Community Health Representative
Maria Danforth – Community Health Representative
Phyl Shaline, BSN, RN – Community Health Nurse
Brittany Skenandore, BSN, RN – Community Health Nurse
Barb Webster, BSN, RN – Community Health Nurse
Community Health Case Management Long Term Care
Carrie Lindsey, BSW, CSW – Case Management Supervisor
Tammy Skenandore – Administrative Assistant
Michael Longcore – Home Care Worker
Lorleen John – Home Care Worker
Debra Miller, BSW, CSW – Dementia Care Specialist
Mallory Patton – Case Manager
Tamar Ramirez – Home Care Worker
Beatrice Skenandore – Home Care Worker
Ted Skubal, BSW, CSW – Community Options Program Social Worker

Health Promotion and Disease Prevention
Tina Jorgensen, MS, RDN, CD – Health Promotion Supervisor
Mary Arndt- Data Coordinator
Dawn Krines Glatt – Health Promotion Specialist
Tahkwatekwa (Tek) Skenandore – Health Promotion Specialist
Stefanie Reinke – Health Promotion Specialist
Belinda McLester – Health Promotion Specialist
WIC/Nutrition
Susan Higgs, RDN, CD – WIC/Nutrition Manager
Betty Schwantes, RDN, CD, CDE – Dietitian-Diabetes Educator
Brittany Nikolich, RDN, CD – Dietitian-Youth Consultant
Alyssa Hudak, RDN, CD, CLC – Dietitian-Lactation Coordinator
Jackie Havel, RDN, CD – Dietitian-WIC Outpatient
Carlissa Diedrich, RDN, CD – Dietitian-WIC Outpatient
Heidi McCann, RDN, CD – Dietitian-WIC Outpatient
Stacy Skenandore – Peer Breastfeeding Counselor