Community Health Services
Community Health Services Mission: 
The Community Health Services Department is a responsive leader in promoting health and preventing disease through collaborative efforts in assessing, planning, implementing, and evaluating services to meet the holistic health needs of our Oneida Community. 
Community Health Services (CHS) are provided by the following departments:
Car Seat Education Clinics, Foot Care Clinics, Immunization Clinics, Communicable Disease Investigation, School Nursing, Prenatal Care Program, and Healthy Start Program
**For more information on CHN Population Based services please call (920) 869-4840
Community Health Nursing- Case Management
Community Health Nurses and Community Health Representatives
**For more information on CHN Case Management services please call (920) 869-4840
Community Health Case Management
Community Options Program, Tribal Dementia Care Specialist, Home Respite Program and In-Home Chore Programs
**For more information on Community Health Case Management services please call (920) 869-4946
Programs such as Diabetes Prevention Program and Wellness Coaching for making lifestyle changes to improve health and quality of life.
**For more information on Health Promotion services please call (920) 490-3927
Nutrition Services and WIC Program
Educates and empowers the community toward healthy lifestyles for today and the future.
**For more information on WIC and Nutrition services please call (920) 869-4829
What's New
Announcement:
The WIC/Nutrition Office will be closed on Wednesday, July 19

th

2017 from (1:00 pm-2:45 pm) in order for staff to attend a mandatory Community Health Meeting, off-site.  During this time the main WIC Office phone will be forwarded to a staff member within the Community Health area. For any urgent issues during this closure time, please ask that Susan Higgs- WIC Director, return your call ASAP.  
July Awareness : Mosquito Season and  What to do during Mosquito season
Article: Sharing Our Journey: Developing Public Health Partners
Article: Engaging Staff in Accreditation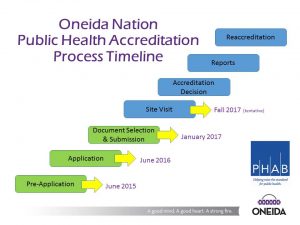 Nation Public Health Accreditation

How Accreditation Improves Our Health
Hospitals, schools, police, and fire departments employ standards to help protect and serve the public.  Public health accreditation standards assure local health departments maximize their potential to protect and improve people's health in their communities. Accreditation is a successful program for routinely assessing performance and improving quality!
About Us
Director of Community Health Services
Eric Krawczyk, MPH, MCHES – Community/Public Health Officer
Population Based Programming
Michelle Myers, BSN, RN – Community/Public Health Nursing Supervisor
Carol Torres – Administrative Assistant
Candi Cornelius, MSN, RN – Prenatal Care Coordinator
Char Kizior, BSN, RN, NCSN – Headstart Nurse Consultant
Margaret Vanden Heuvel, MSN, RN – School Nurse Consultant
Maria Danforth – Maternal Child Health Aide
Amber Webster – Community Health Worker – Healthy Start
Chenoa Webster, Community Health Worker- Healthy Start
Elizabeth Nickel, BSN, RN- Community/Public Health Nurse
Community Health Nursing Case Management
Brenda Haen, BSN, RN – Community Health Manager
Neva Archiquette – Community Health Representative
Peggy (Marguerite) Bork – Community Health Representative
Louetta Fowler, BSN, RN – Community Health Nurse
Vicki Johnson – Community Health Representative
Karen Nolan – Community Health Representative
Virginia Riggs, BSN, RN – Community Health Nurse
Phyl Shaline, BSN, RN – Community Health Nurse
Brittany Skenandore, BSN, RN – Community Health Nurse
Community Health Case Management
Carrie Lindsey, BSW, CSW – Case Management Supervisor
JoAnne Close – Home Chore Worker
Lorleen John – Home Chore Worker
Debra Miller, BSW, CSW – Dementia Care Specialist
Mallory Patton – Case Management Support Specialist
Tamar Ramirez – Home Respite Worker
Beatrice Skenandore – Home Respite Worker
Ted Skubal, BSW, CSW – Community Options Program Social Worker

Health Promotion and Disease Prevention
Tina Jorgensen, MS, RD, CD – Health Promotion Supervisor
Brandon Wisneski – Administrative Assistant/Data Collector
Dawn Krines Glatt – Health Promotion Specialist
Tahkwatekwa (Tek) Skenandore – Health Promotion Specialist
Sarah Phillips, MA – Health Promotion Specialist
Stefanie Reinke – Health Promotion Specialist
WIC/Nutrition
Susan Higgs, RD, CD – WIC/Nutrition Manager
Vacant- Administrative Assistant
Betty Schwantes, RD, CD, CDE – Dietitian-Diabetes Educator
Jill Caelwaerts, RD, CD – Dietitian-Consultant
Alyssa Mannering, RD, CD , CLC – Dietitian-Lactation Coordinator
Vacant- Dietitian-WIC Outpatient
Stacy Skenandore – Peer Breastfeeding Counselor