Community Health Services
For the duration of the Oneida Nation's Public Health State of Emergency, the Nation is directing resources toward mitigation efforts and response to the COVID-19 pandemic.  Our website may not be updated regularly – please refer to the Nation's website, oneida-nsn.gov/covid-19, and the Nation's social media accounts for the most up-to-date information.
Community Health Services Mission: 
The Community Health Services Department is a responsive leader in promoting health and preventing disease through collaborative efforts in assessing, planning, implementing, and evaluating services to meet the holistic health needs of our Oneida Community. 
COVID-19
March 18, 2020 Travel Notice to the Community from the Public Health Officer
Oneida Nation Declaration of Public Health State of Emergency
March 12, 2020
In an effort to protect the Oneida Community and slow the progression of the COVID-19,  the Oneida Nation has declared a state of Public Health Emergency. 
The Oneida Nation government is utilizing all our resources to concentrate on the protection of our operations and greater community.  We encourage your full cooperation and assistance to avoid the spread of this disease.
Everyone can do their part to avoid the spread of COVID-19 by using good hygiene.  See the additional documents for more information on this disease and prevention. 
This is a quickly developing issue and as updates occur, the Oneida Nation will also be posting information on the Oneida Nation website and Facebook.  Thank you for your cooperation and attention to this important matter.
Please see the following resources for more information about COVID-19:
Preventing COVID-19 Spread in Communities
Non-pharmaceutical Interventions (NPIs)
CDC's Interim Guidance for Business and Employers to Plan and Respond to COVID-19
Get Your Workplace Ready for Pandemic Flu
CDC Protects and Prepares Communities
Stop the Spread of Germs
Symptoms of COVID-19
What to do if you are sick with COVID-19
Instructions for Self-Isolation
Social distancing, quarantine and other terms…what do they mean?
COVID-19
CDC is closely monitoring an outbreak of outbreak of novel (new) coronavirus disease (COVID-19), caused by the virus SARS-CoV-2, that was first detected in Wuhan City, Hubei Province, China and which continues to expand. Chinese health officials have reported thousands of cases of COVID-19 in China, with the virus reportedly spreading from person-to-person in many parts of that country. Infections with the virus that causes COVID-19, most of them associated with travel from Wuhan, also are being reported in a growing number of international locations, including the United States. 
The goal of the ongoing U.S. public health response is to contain this outbreak and prevent sustained spread of COVID-19 in this country.  To read more about the situation summary, go to the CDC.
For the most current report on COVID-19 cases globally, please see updates from the World Health Organization (WHO). 
For the most current information about Wisconsin COVID-19 investigations, see updates from Wisconsin Department of Health Services.
CHS Departments
Community Health Services (CHS) are provided by the following departments:
Car Seat Education Clinics, Wellness Education, Immunization Clinics, Communicable Disease Investigation, School Nursing, and Prenatal Care Program
**For more information on CHN Population Based services please call (920) 869-4840
Community Health Nursing- Case Management
Community Health Nurses, Community Health Representatives, and Prescription Mailing Program
**For more information on CHN Case Management services please call (920) 869-4995
Community Health Case Management-Long Term Care
Family Care, Tribal Dementia Care Specialist, and In Home Care Program
**For more information on Community Health Long Term Care Case Management services please call (920) 869-4995.
Programs such as Diabetes Prevention Program and Wellness Coaching for making lifestyle changes to improve health and quality of life.
**For more information on Health Promotion services please call (920) 490-3927
Educates and empowers the community toward healthy lifestyles for today and the future.
**For more information on WIC and Nutrition services please call (920) 869-4829
News
Protect You and Your Family from Seasonal Influenza (Flu)
September 28, 2020
Now more than ever, it is important to get your flu vaccine to help protect yourself, your family, and community. The flu (influenza) is a serious respiratory disease, and the flu vaccine is the best way to prevent getting the flu.  This year, our community is also dealing with the COVID-19 pandemic, which is also a respiratory virus with similar symptoms to the flu.  With both the flu and COVID spreading this fall, it is extra important for the community to get the flu vaccine.
What is the Flu?
The flu is a contagious respiratory illness caused by the influenza virus that infects the nose, throat and lungs.  Anyone can get the flu, including babies, young adults and the elderly.  The flu is spread year-round, so it is important to get vaccinated early in the flu season.
How is the Flu Spread?
The flu is spread through respiratory droplets found in the nose and throat of infected people.  When a person who has the flu coughs or sneezes those droplets can be breathed in by people around them or land on objects.  If someone touches those objects and then touches their mouth, nose or eyes the droplets can enter the body and infect that person.
What Kinds of Flu Vaccines are Available?
The Oneida Community Health Department is offering two vaccine options for children 6 months and older, an injectable flu vaccine and a nasal vaccine (called Flu Mist) that is sprayed into the child's nostrils.  For adults we are only offering the injectable flu vaccine. 
How Are this Year's Flu Clinics Different from Years Past?
This year, the Oneida Community Health Department will be offering the first flu clinic on October 13th as a drive-thru only option.  This option will be for adults and children 5 years and older who can receive the flu shot in their arm.  To keep community members and staff safe, no more than 4 people per vehicle can receive a vaccine. Participants will remain in their cars and be required to wear a mask for the duration of the clinic.  The drive-thru clinic will take place in the parking lot of the Oneida Nation Elementary school.
The next two flu clinics will be held on October 29th and November 18th and will be run as in-person only clinics.  These flu clinics will take place inside the Oneida Nation Elementary School and will be run as they have been in years past.  Participants will be screened for COVID-19 symptoms when entering the building and will need to maintain a 6-foot social distance throughout the clinic.  Participants are required to wear a mask for the duration of the clinic.
________________________________________________________________________________________________________________________________
 One year later…. public health accreditation.

November 25, 2019
Written by Michelle Myers & Mollie Passon with Community Health Services Department
It has been nearly one year since the Oneida Nation achieved accreditation through the Public Health Accreditation Board (PHAB).   You may recall, Oneida was the second tribal nation in the country to achieve this prestigious recognition.
The Oneida Community Health Services Department of the Oneida Comprehensive Health Division took lead on the preparation for PHAB accreditation for the Nation.  However, our success in achieving public health accreditation required a collaborative approach.  To meet the rigid standards and measures set by PHAB, the Community Health Services Department worked closely with many partners within the organization.  One critical partner in the journey to achieve and now maintain PHAB accreditation is the Oneida Environmental Health and Safety Division. 
This process has helped us better define roles and responsibilities for:
The tribal public health department- Community Health Services Department
Those that monitor the tribal public health department's day to day operations- our Governing Board the Oneida Comprehensive Health Division Leaders
Those with the authority to authorize public health services and enact public health laws within the Oneida Community- our Governing Body the Oneida Business Committee.
As excited as we are to be PHAB accredited, it's so much more than just recognition.  Achieving PHAB accreditation demonstrates the commitment the Oneida Nation has in assuring the 10 Essential Public Health Services (EPHS) are available for the Oneida Community.  The availability of these services supports a healthy and safe community.
What are the 10 Essential Public Health Services (EPHS)?
1.) Monitor Health Status to identify and solve community health problems
2.) Diagnose and investigate health problems and health hazards in the community
3.) Inform, educate, and empower people about health issues
4.) Mobilize community partnerships to identify and solve health problems
5.) Develop policies and plans that support individual and community health efforts
6.) Enforce laws and regulations that protect health and ensure safety
7.) Link people to needed personal health services and assure the provision of health care when otherwise unavailable
8.) Assure a competent public and personal healthcare workforce
9.) Evaluate effectiveness, accessibility, and quality of personal and population-based health services
10.) Research for new insights and innovative solutions to health problems.
(Centers for Disease Control and Prevention, 2014).
As the designated tribal public health department, Community Health Services Department of the Oneida Comprehensive Health Division has taken on the role to assure the 10 EPHS are available in the Oneida Community.  The Community Health Services Department provides some of these services directly such as communicable disease reporting, investigation and follow up, providing health education for the community, and monitoring health on a population level. However, many of these services are met through engagement with partners within and outside the organization.  Some examples may include participation on committees:  the Oneida Business Committee's Access to Care Committee, the Oneida Business Committee's Quality of Life Committee, the Oneida Nation's Emergency Operation Plan (EOP), Environmental Health and Safety Division initiatives, and work groups with the Legislative Operations Committee and Legislative Reference Office.  Partnerships are a huge part of assuring a community has the resources needed to live a healthy and quality life.
For additional information about Community Health Services Department or our efforts to maintain public health accreditation, please visit our website at https://oneida-nsn.gov/resources/health/community-health-services/.  You can also call the department directly at 920-869-4840. 
Resources:
Centers for Disease Control and Prevention. (2014, March). The 10 essential public health
services-an overview [PowerPoint slides]. Retrieved November 4, 2019, from Centers
for Disease Control and Prevention website:
https://www.cdc.gov/publichealthgateway/publichealthservices/pdf/essential-phs.pdf
Nation Public Health Accreditation
November 20, 2018 – Oneida Community Health Services achieves public health accreditation!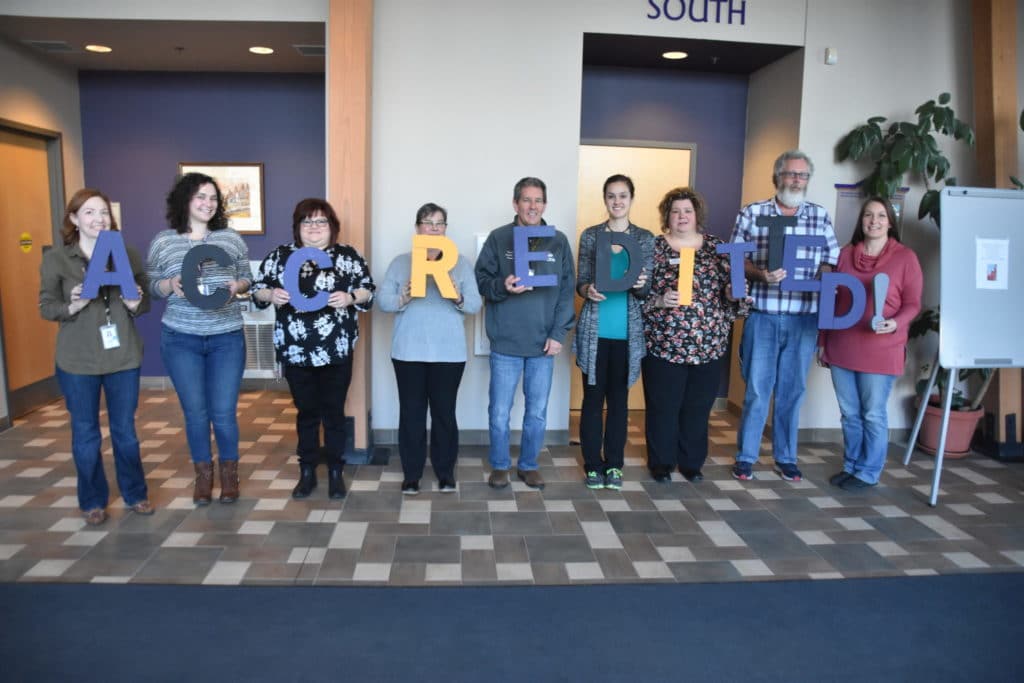 How Accreditation Improves Our Health
Hospitals, schools, police, and fire departments employ standards to help protect and serve the public.  Public health accreditation standards assure local health departments maximize their potential to protect and improve people's health in their communities. Accreditation is a successful program for routinely assessing performance and improving quality!
Community Health Improvement Plan
Community Health Improvement Plan (CHIP) 2018-2022
Click here for the 2018 Data Summit presentation.
View Local Physical Activity Events
Focus Area: Emotional Wellbeing
Emotional Wellbeing 90-Day Plan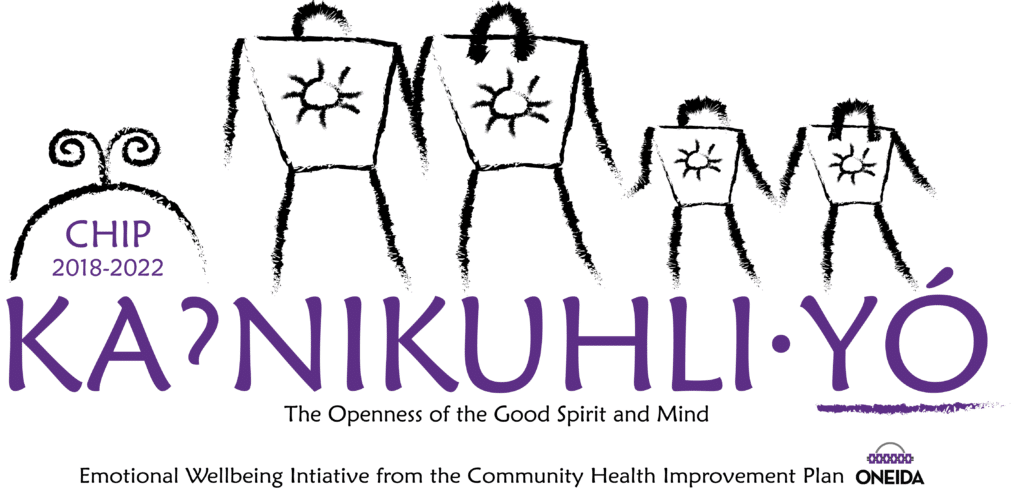 Emotional Wellbeing is an important part of overall health and is just as important as physical health. Emotional Wellbeing affects how we think, feel and act. It also affects how we relate to others, respond to stress, and make decisions. Healthy Emotional Wellbeing promotes a sense of self-worth and helps people form and maintain supportive relationships with others.
Emotional Wellbeing issues are common and can be the result of brain chemistry, trauma, stress, family history, and several other factors.
Fortunately, there are ways to improve Emotional Wellbeing, including personal choices and the many resources available throughout Oneida.
Traditionally, we have thrived by coming together as a tribe to support one another. By building a community of understanding, support and acceptance within Oneida, we promote a common goal of Emotional Wellbeing for everyone.
As part of the Emotional Wellbeing focus area for this CHIP initiative, we will feature ongoing Emotional Wellbeing topics and resources.
Focus Area: Physical Wellness
Physical Wellness 90-Day Plans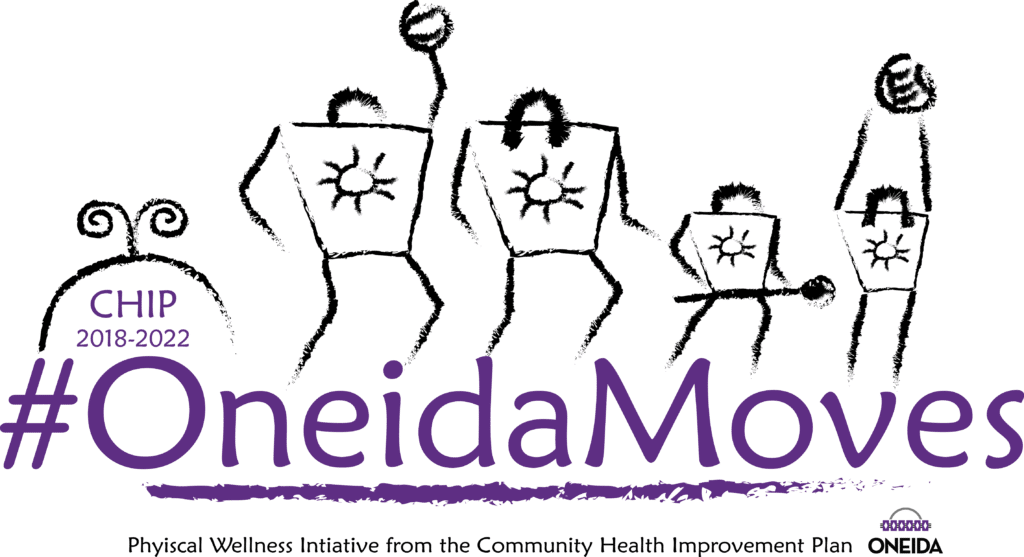 Physical Wellness is more than just the absence of disease; it is a multi-faceted concept that is recognized when a person, or population is in a state of optimal health. Optimal health is achieved when the body is operating at the most efficient state, regardless of the limitations of disease process(es). There are many things that influence a person's Physical Wellness and some of these things cannot be controlled. Fortunately, there are many choices a person makes that can improve their Physical Wellness.
Increasing physical activity; eating more fruits and vegetables; not smoking or quitting smoking; limiting alcohol, and maintaining a healthy weight are choices a person can make to improve their quality of life and Physical Wellness.
Historical events have erased much of the Oneida Community's cultural identity and traditional practices which have caused a dramatic decrease in what was once the healthiest population on the planet. Reclaiming the Oneida culture and making healthy personal choices will create an environment supportive of developing and maintaining a community rooted in Physical Wellness.
As part of the Physical Wellness focus area of the CHIP initiative, we will highlight resources that encourage increasing physical activity for Oneida Community Members throughout the lifespan and at various levels of perceived Physical Wellness. Also, as part of the CHIP campaign, tracking and monitoring individual's physical activity through multimedia tools at Oneida community events.
Our Partners
Oneida Behavioral Health, Oneida Environmental Health and Safety, MIS, Oneida Parks and Recreation, Oneida Community Health Center Medical Clinic, Oneida Cultural Heritage, Oneida Transit Authority, and Oneida Family Fitness Center. Look for more about these strategies in the Kaliwisaks, on the Oneida Nation website, the Community Health Services, on the Facebook page: https://www.facebook.com/OneidaNation.Health, through Oneida communications, and at community events.
About Us
Director of Community Health Services
Michelle Myers, BSN, RN – Community/Public Health Officer

Population Based Programming
Debra Santiago, BSN, RN – Public Health Manager
Andrea Kolitsch, BSN, RN – Community/Public Health Nurse
Betsey Nickel, BSN, RN – Community/Public Health Nurse
Candi Cornelius, MSN, RN, CLC – Prenatal Care Coordinator
Carol Torres – Administrative Assistant
Char Kizior, BSN, RN, NCSN – Headstart Nurse Consultant
Kristine Labby, BSN, RN – School Nurse Consultant
Leah Fuss, MSN, RN – Community/Public Health Nurse
Mollie Passon, CHES, Public Health Coordinator
Community Health Nursing Case Management
Brenda Haen, BSN, RN – Community Health Manager
Barb Webster, BSN, RN – Community Health Nurse
Brittany Skenandore, BSN, RN – Community Health Nurse
Louetta Fowler, BSN, RN – Community Health Nurse
Maria Danforth – Community Health Representative
Neva Archiquette – Community Health Representative
Phyl Shaline, BSN, RN – Community Health Nurse
Tina Danforth – Community Health Representative
Toni Walking Eagle – Community Health Representative

Community Health Case Management Long Term Care
Carrie Lindsey, BSW, CSW – Case Management Program Manager
Beatrice Skenandore – Home Care Worker
Becky Stevens, Home Care Worker
Debra Miller, BSW, CSW – Dementia Care Specialist
Mallory Patton – Tribal Option Case Manager
Rachel Lemke, BSW – Tribal Option Social Worker
Richelle Kaquatosh, Home Care Worker
Tamar Ramirez – Home Care Worker
Tammy Skenandore – Administrative Assistant

Health Promotion and Disease Prevention
Stefanie Reinke, CHCW – Health Promotion Manager
Belinda McLester, CHCW – Health Promotion Specialist
Dawn Krines Glatt, CHCW – Health Promotion Specialist
Hanna Leisgang – Health Promotion Coordinator
Jo Ann Eland – Data Coordinator
Tahkwatekwa (Tek) Skenandore, CPC – Health Promotion Specialist

WIC/Nutrition
Susan Higgs, RDN, CD, WIC Nutrition Manager
Alyssa Hudak, RDN, CD, CLC, Dietitian-Lactation Coordinator
Carlissa Spreeman, RDN, CD, Dietitian-WIC Outpatient
Elizabeth Schwantes, RDN, CD, CDE Dietitian-Certified Diabetes Educator
Samantha Johnson, RDN, CD, Dietitian-Youth Consultant
Heidi McCann, RDN, CD, Dietitian-WIC Outpatient
Kelly Tuszynski, RDN, CD, CLC, Dietitian-WIC Outpatient
Stacy Skenandore, Peer Breastfeeding Counselor