Oneida Family Fitness
* NOTICE *
Due to the recent increase in Brown County/Community's risk level,


Oneida Family Fitness has transitioned to a medium risk and safety protocols have been adjusted accordingly.
The following facility changes will be effective immediately until risk levels decrease:
* Temperature scans required
* Face coverings recommended
* Social distancing required
* No Noon Ball
* No Jujitsu classes
* All Group Fitness classes will be held in the gymnasium
* Personal Training clients and staff will be required to wear face coverings
* Tai Chi, Mighty Ninjas, and Tae Kwon Do participants will be required to wear face coverings
Thank you for keeping everyone safe!
—————————————
RESERVATIONS REQUIRED

for Group Fitness, Noon Basketball and Martial Art Classes!
Click on the BOOK NOW to attend one of these classes – Members only!  

Services returning starting Monday, April 18!!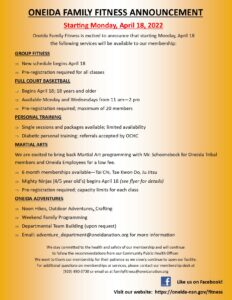 Additional/Contact Info