Oneida Family Fitness
Effective Monday, June 13
Due to the recent increase in Brown County/Community's risk level, Oneida Family Fitness has transitioned to a HIGH RISK and safety protocols have been adjusted accordingly.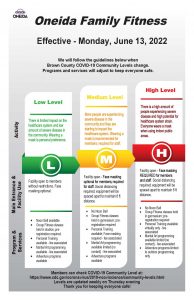 RESERVATIONS REQUIRED

for Group Fitness, Noon Ball and Martial Art Classes!
Click on the BOOK NOW to attend one of these classes – Members only!  

Additional/Contact Info