Membership
Membership Benefits
Membership benefits include:
FREE Group Fitness & Aquatic Classes for all ages & abilities
FREE Fitness & Wellness Assessments
FREE Equipment Orientation
FREE (3) 1/2 hour Personal Training Sessions (annual memberships only)
FREE Guest Passes
FREE Child Care Services
FREE Commit to Fit Incentive *see below on how to participate 
Cardiovascular and Strength Training Equipment
Gymnasium
Indoor Track
Swimming Pool
Discounts on Specialty Programs (Martial Arts, Swim Lessons, Personal Training)
See our Membership Rate Section for membership plans and rates. 
Feel free to call our Membership Desk with questions (920) 490-3730.
Commit to Fit Club Incentive
This is a FREE incentive and does not require any signing up to participant. Please check out the Commit to Fit Club bulletin board by the Service Desk at Oneida Family Fitness.
    * Exercise 3 days per week for the month to be eligible for the Bronze level
    * Exercise 4 days per week for the month to be eligible for the Silver level and 
    * Exercise 5 or more days per week for the month to be eligible for the Gold level
 – MONTHLY COMMIT TO FIT WINNERS POSTED BELOW – 



Membership Plans/Rates

Oneida Family Fitness offers a variety of memberships (individual and family) for Oneida Enrolled and Employees, Other Tribal Affiliation, as well as General Public.
On

eida Enrolled Tribal Member/Descendan

t

FREE Annual Memberships are available.

*MUST show/provide Oneida Enrollment ID or Descendancy Certificate at O.F.F. to receive the free membership. 

Oneida Nation Employee

FREE Annual Memberships are available to all employee health plan participants.
DISCOUNTED membership plans for employees and their family that are not on the health plan. 

*MUST show/provide a copy of Oneida Employee Badge and UMR Insurance Card to receive free or discounted membership

Other Tribe Affiliation 

Membershup plans are available for other tribal affiliation.

*MUST show/provide a copy of enrollment ID to receive discounted membership rate

General Public

Oneida Family Fitness offers monthly and annual membership plans for the general public. Contact our membership team to find out what's the best plan for you!
Not a Member Yet?
CLICK HERE for a FREE 1-week pass
(Pass valid for first-time Oneida Family Fitness visitors only. Photo ID Required. Visitors under 18 years old must be accompanied by a parent/legal guardian.)
Member Surveys
Customer Satisfaction Survey – Quarter 3 Survey
The 3rd Quarter Customer Satisfaction Survey Results are NOW AVAILABLE!!!
Here are our 3rd Quarter Survey Results: CLICK HERE
Membership/Facility Code of Conduct
Oneida Family Fitness members and guests are expected to abide by all O.F.F. Facility Use Guidelines, Rules & Regulations, as well as all Code of Conducts posted in respective areas to ensure a safe and enjoyable environment for all participants. 
Violations will be subject to disciplinary action, which may result in revocation of club privileges  *By signing your Membership Agreement, Member(s) acknowledge and agree to be bound by the terms and conditions within our Member Guide, Guidelines & Code of Conducts.

Click links below to view/print a copy of our Membership/Facility code of conducts:
Silver Sneakers & United Health Care Plans
Oneida Family Fitness is now a Silver Sneakers/Prime Fitness & Optum Fitness Advantage (United Health Care) Facility
Contact your health care provider to check if you are eligible for the program OR bring in your insurance card during your next visit at O.F.F. to verify eligibility with Front Desk Staff.
Questions or concerns, contact Oneida Family Fitness at (920)490-3730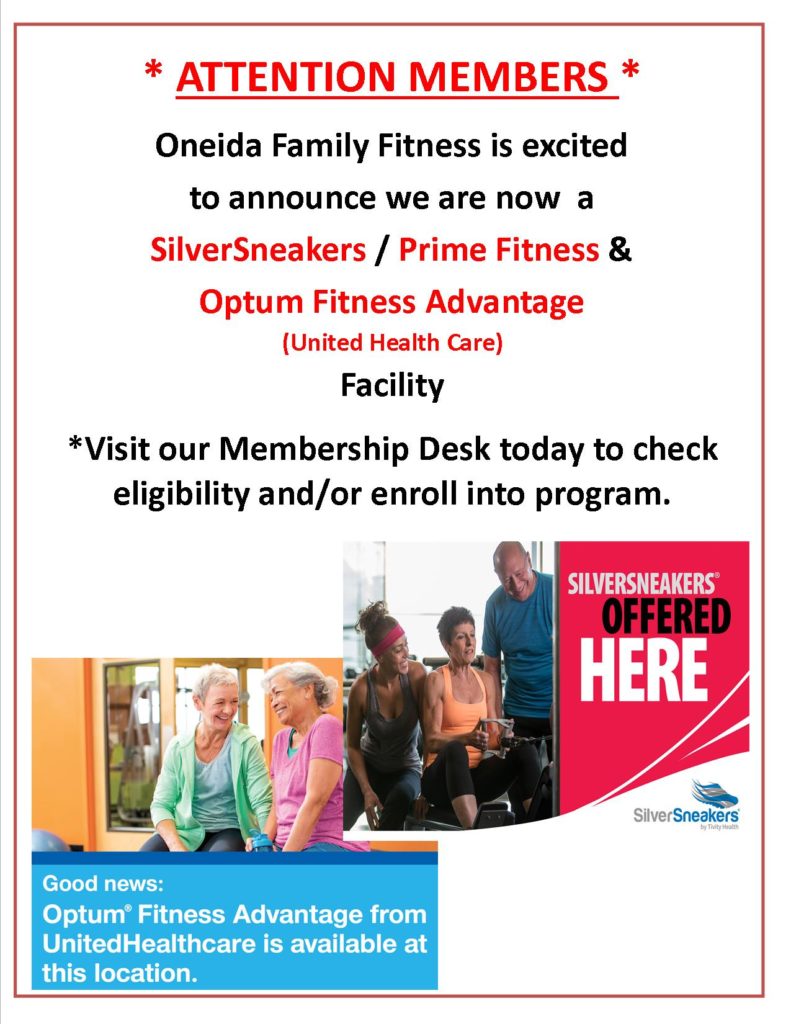 Annual Shutdown
Oneida Family Fitness Annual Shutdown
August 19 – 30, 2019
Oneida Family Fitness will be temporarily closed for 2 weeks (August 19 – 30, 2019)
to address needed facility & equipment maintenance and repairs,
staff training, and fitness programming
Alternate Facility Locations
CURRENT O.F.F. Members have access to the following facilities during this time
*waivers and schedules below
The facility will be closed Monday, September 2, 2019 in observance of Labor Day;
we will re-open & resume service on Tuesday, September 3, 2019
Outdoor Group Fitness Classes During Shutdown
Come join us in any of our FOUR Outdoor Group Fitness Classes during out Shutdown. 
| | |
| --- | --- |
| Monday, August 19 | Spin |
| Thursday, August 22 | Metcon |
| Wednesday, August 28 | Spin |
| Thursday, August 29 | Power |
All class times 12:00 – 12:45
All classes to be held outdoors *weather permitting
NO access to fitness facility including locker rooms and showers
Saturday hours will resume starting Saturday, September 7