Land Based Adventures
Oneida Adventures is proud to offer many options to keep you active all year round. From warm weather hikes to winter jaunts with snowshoes, we offer an abundance of options that take away any excuse for not getting active and staying that way! Explore the land based adventures section and learn how to improve your activity level with creative activities!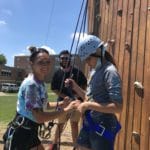 august 2023 2
Biking
Noon Biking
Using our bikes and safety equipment or your own, enjoy a brief tutorial to familiarize yourself on biking rules, safety and techniques. Then come along on a bike ride in parks and through safe neighborhoods. Take part in riding up and down sweeping hills, experiencing different terrain trials and settings. Our staff will tailor the bike ride so it is all inclusive. This hour long ride is geared from beginner to intermediate levels of fitness.
Bike Day Tour
Not only do we provide biking experiences at noon, we also offer trips to different locations in the greater Green Bay area. We will transport our bikes and equipment for a partial day ride on some of Green Bay's scenic trails. Along with our trained staff, we will go through parks, woods, and along the river to enjoy the beautiful landscape of our area!
Hike With Oneida Adventures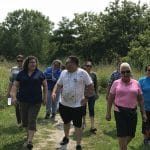 Take a break from the daily grind and join us in the great outdoors for a holistic walking experience. We will depart from various locations and spend an hour getting in touch with our mind, body and spirit. Hiking in the woods or on various trails with a group is a proven cure for the mid day doldrums. Spending the noon hour in the present rather than focusing on what has happened or will happen is a great way to become centered and ready to take on the rest of the day.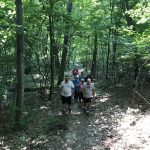 The insightful staff at Oneida Adventures strive to create a meaningful experience using observations to make your walk as enlightening as possible. meet new people or bring your friends.  
Click on the link below for information on hiking AND biking
Caving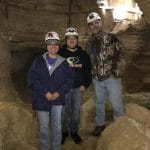 Curious about what caving is all about? Join Oneida Adventures on a  caving adventure. We provide all the equipment that you need to have a great experience exploring one of Wisconsin's local cave systems. Learn about cave formations, living microorganisms and how the caves are continually being re discovered through gentle removal of earth brought in by the glaciers! This experience is not only educational but is also a blast! Hiking on the gorgeous trails surrounding the caves, experiencing walking, crouching and crawling caves, and enjoying each others company are all part of the allure.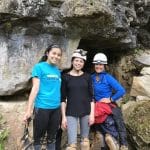 The professional guides at the caves provide insight and information to enhance the experience! You can choose to enter all caves or just those of your choice. Contact us for more information!   
Dates to be announced 
Snow Shoeing
Snowshoe Tying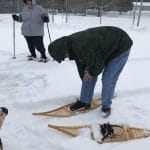 Have you ever wanted to tie your own Ojibwa snowshoes? The staff at Oneida Adventures have learned the meticulous art of snowshoe tying and would love to teach you how to tie your own. Come for the 6 session class and learn the progressive technique and walk away with your own set of Ojibwa snowshoes that you get to keep when they are completed. At the end of the sessions, we will offer an opportunity to take a hike with them, weather and conditions permitting.  
Snowshoe Hikes
Beat the winter blues by getting out and getting active! Join us on either a noon snowshoe hike or come with us for a day trip for a longer journey. Use your own approved snowshoes or feel free to borrow a set of our commercially manufactured snowshoes. Our staff will guide you through various trails that will enlighten and inspire. We can get your heart rate up by increasing the speed and hills or we can take a relaxing snowy stroll.
Dates are seasonal and will be announced 
Printable form