Land Based Adventures
Biking
Noon Biking
Using our bikes and helmets or your own, enjoy a brief safety tutorial about biking in town. Then come along and bike in parks and through safe neighborhoods. Take part in pushing yourself up sweeping hills and gliding down the other side. Our staff will tailor the bike ride so it is all inclusive. This hour long ride is geared from beginner to intermediate levels of fitness.
Bike Day Tour
Not only do we provide biking experiences at noon, we also offer trips to different locations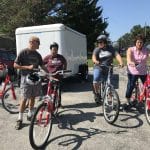 in the greater Green Bay area. We will transport our bikes and equipment for a partial day ride on some of Green Bay's scenic trails. Along with our trained staff, we will go through parks, woods, and along the river to enjoy the beautiful landscape of our area!
Mindful Walks
Caving
Check back for updates soon!
Snow Shoeing
Check back for updates soon!