Wisconsin State Benefits
A State program designed to assist with FoodShare, Badger Care Plus and Medicaid for Elderly, Blind and Disabled, Caretaker Supplement, and Long Term Care (Nursing Home Medicaid) for low income families. We serve all families that reside within the Oneida Nation Reservation and  Native American enrolled in a federally recognized tribe residing in Brown or Outagamie County.
Applications can be completed in person, phone, mail, or apply online at ACCESS.  If you would like to apply in person please come to the Agency to complete the first page of the Foodshare application which establishes your filing date.  A separate application will have to be filled out for Badger Care, please visit DHS for the application and other helpful information.
Required Documents: Last 30 days of income, proof of residency, and identification.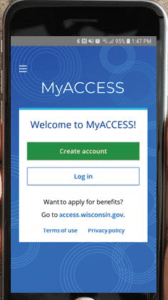 Wisconsin Department of Health Services (DHS) and the Wisconsin Department of Children and Families launched the MyACCESS mobile app.
With the mobile app, people are able to:
See a high-level overview of the programs they are enrolled in.
Receive reminders of actions they need to take or proof they need to submit.
Upload, submit, and track document
New ebtEDGE Mobile App for Viewing FoodShare Account Information
Members receiving FoodShare benefits can now view information about their FoodShare account using the ebtEDGE mobile app
View their current FoodShare balance.
View account activity from the last 60 days, including detailed information about recent purchases.
Find retailers near them that are approved to accept FoodShare benefits.