Substance Use Therapies Offered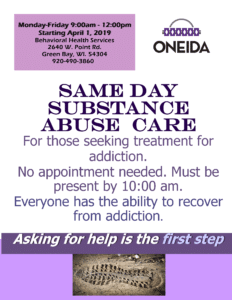 Individual Therapy
Individual Therapy is a joint process between a therapist and a person in therapy. Common goals of therapy can be to inspire change or improve quality of life. People may seek therapy for help with issues that are hard to face alone. Individual therapy is also called therapy, psychotherapy, psychosocial therapy, talk therapy, and counseling.   
Therapy can help people overcome obstacles to their well-being. It can increase positive feelings, such as compassion and self-esteem. People in therapy can learn skills for handling difficult situations, making healthy decisions, and reaching goals. Many find they enjoy the therapeutic journey of becoming more self-aware. Some people even go to ongoing therapy for self-growth.
Discovery Group-Intensive Outpatient Therapy
Discovery group meets Tuesday, Wednesday and Thursday evenings from 3:00 p.m.-6:00 p.m. 
Group Criteria: 
*Clients who are in Contemplation stage or higher.
*Clients in Pre-Contemplation and have completed Aware/Reality Group.
*Clients who have recently (within 6 months) completed inpatient treatment.
*Clients will be informed that Discovery Group is a minimum of 18 sessions based on their progress.
*Clients are expected to complete a minimum of 4 support group options while in group, and Report Forms will be provided to include: where, when, what did you learn, etc. 
Length of group time is individualized:
*Notable progress in Stage of Change.
*Complete support group requirements. 
*Complete Circle of Life and Step 1 assignments.
*Maintain abstinence during the vast majority of group.
*Completed relapse prevention plan. 
Journey Group- Aftercare Therapy
Journey Group criteria:
*Clients will have successfully completed Discovery Group, and are in the Preparation/Action Stage of Change,
OR
*Clients who have recently completed (within past 6 months) an inpatient treatment program, and who are in the Preparation/Action Stage of Change.  It is desirable that they complete at least 2 weeks of Discovery group before entering Journey Group.
*Client must have a completed relapse prevention plan prior to engaging in Journey Group.  This may be completed with the primary counselor during the course of Discovery Group.  A copy will be made for the Journey Group facilitators.
*Client will be informed that Journey Group is a minimum of 16 sessions, based on client progress.
*They are expected to maintain sobriety during this time.
*2 Family Days are mandated in order to complete this group.
*Clients will continue in support group options (minimum of 2 per week), and provide reports each week. (see below)
Support Group Options
*Sweat lodge, longhouse, Cultural Heritage, Wellness Group
*Mentor, outside support groups, workshops/seminars on issues related to wellness
*Church, church groups, bible study, Celebrate Recovery
*AA, NA, Al-Anon, HA, GA, Smart Recovery
*If clients identify other options, confirmation is needed from facilitators to identify appropriateness.
First Step Open Access Opiate Care
Everyone has the ability to recover from addiction.
Treatment is Effective.
Recovery is Possible.
Open Access Opiate Care is for you if you are ready to get help for your opiate addiction.   
All you have to do is show up on Tuesdays from 9:00 am to 2:00 pm. 
Please come early as assessments do take time. 
No appointments are necessary and clients are seen on a first come first served basis. 
What are opiates?
Opioids are powerful natural and man-made drugs like heroin, oxycodone, hydrocodone, morphine, codeine, and fentanyl. Many are used as pain relievers, but they can be addictive. They can also be deadly if taken in high doses, taken in combination with other drugs, or given to people with certain pre-existing medical conditions..
Anyone Can Develop a Problem with Opioids
Know Your Options
If you can't stop taking an opioid or the urge to use opioids is too strong to control,
Ask yourself:
Did you ever try to stop or cut down on your opioid usage, but couldn't?
Have you ever used an opioid without knowing what it was or what it would do to you?
Have you ever made mistakes at work or school because you were using an opioid?
Does the thought of running out of opioids scare you?
Have you ever stolen opioids, or stolen to pay for opioids?
Have you ever been arrested or hospitalized because of your opioid use?
Have you ever overdosed on opioids? Has using opioids hurt your relationships with other people?
 If the answer to some or all of these questions is yes, you might have an opioid use disorder. It can happen to people of all ages, from all backgrounds.
Opioid use disorder is a health condition that can be successfully treated. Ongoing support is available to help maintain healthy habits. (1)
(1)https://www.dhs.wisconsin.gov/opioids/overview.htm
Opiate Withdrawal
If you stop or decrease the amount of opioids you're taking, you may experience physical symptoms of withdrawal. Opioid withdrawal can be categorized as mild, moderate, moderately severe, and severe.
Everyone experiences opioid withdrawal differently. However, there's typically a timeline for the progression of symptoms.
Although very unpleasant and painful, symptoms usually begin to improve within 72 hours. Within a week you should notice a significant decrease in the acute symptoms of opiate withdrawal.
If you need assistance with withdrawal, please call 911 or go to your local hospital for assistance
Withdrawal Symptoms
Early symptoms typically begin in the first 24 hours after you stop using the drug, and they include:
muscle aches
restlessness
anxiety
lacrimation (eyes tearing up)
runny nose
excessive sweating
inability to sleep
frequent yawning
Later symptoms, which can be more intense, begin after the first day or so. They include:
diarrhea
abdominal cramping
goose bumps on the skin
nausea and vomiting
dilated pupils and possibly blurry vision
rapid heartbeat
high blood pressure
SERVICES OFFERED: 
Open Access ATODA (Alcohol, Tobacco and Other Drug (Abuse) Assessment and Recommendations
 Patient coordination for detox
 Referrals to Residential if Patient meets level of care
 Referrals to begin Medicated Assisted Treatment
 Begin Outpatient Therapy
 Individual Therapy
 Intensive Outpatient Group (IOP)
 Aftercare Group
 Med Management
WHO IS ELIGIBLE?
Enrolled Oneida Tribal Members and
Descendants
Enrolled Native Americans from a federally recognized tribe that reside in Brown or      Outagamie Counties
Non-enrolled community members are eligible through third-party billing, medical assistance, or private        party
FUNDING THROUGH:
Indian Health Services / Private Insurance
Medical Assistance / Medicare
Private Pay