Substance Use Services
Same Day Substance Abuse Care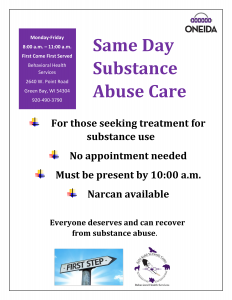 For those seeking treatment for substance abuse, Oneida Behavioral Health offers same day substance abuse care Monday through Friday between the hours of 8:00 a.m. and 11:00 a.m. (you must be present by 10:00 a.m.). Care is available on a first come, first served basis at 2640 West Point Road, Green Bay, WI 54304.
NARCAN® is also available. To learn more, please call (920) 490-3790. Everyone deserves to and can recover from substance abuse. 
Triage Counseling
Triage Counseling is an assessment conducted at a client's point of entry to health services which aims to categorize the urgency of mental health related problems. This involves the client receiving an initial screening evaluation and those classified as urgent (e.g., a danger to self or others, severe or psychotic symptoms) are given priority appointments.
Included in Triage Counseling are:
Assessing the initial needs of the clients
Scheduling initial intake appointments
Providing back up for med management​
Completing suicidal assessments
Meeting with clients in times of crisis when a therapist is not available ​
Allowing for client walk-in services for a needs assessment
"Being able to speak directly with someone…immediately truly helped me through my current situation.
A calm empathetic person listening…Made it possible to make it until my appointment."
– an OBH client
Therapy
Common goals of therapy can be to inspire change or improve quality of life. People may seek therapy for help with issues that are hard to face alone. Therapy is also called psychotherapy, psychosocial therapy, talk therapy and counseling.   
Therapy can help people overcome obstacles to their well-being. It can increase positive feelings, such as compassion and self-esteem. People in therapy can learn skills for handling difficult situations, making healthy decisions, and reaching goals. Many find they enjoy the therapeutic journey of becoming more self-aware. Some people even go to ongoing therapy for self-growth.
Individual therapy is a joint process between a therapist and a person in therapy. Couples therapy is can help couples learn how to prevent and manage conflicts that arise in a healthy way. Family therapy can help family members better understand and support one another and work through difficult situations. 
Co-Occurring Disorders
Dual diagnosis: People experiencing mental illness are more likely to also have a substance use disorder. The coexistence of both a mental illness and a substance use disorder is called a co-occurring disorder. Oneida Behavioral Health provides services to client's experiencing a dual diagnosis. 
Brainspotting:
"Where you look affects how you feel"
The brain is an incredible processing machine that digests and organizes everything we experience but trauma can overwhelm the brain's processing capacity, leaving behind pieces of the trauma, frozen in an unprocessed state. Brainspotting (BSP) can minimize the influence of trauma, unpleasant emotions and uncover thinking patterns that are keeping a person stuck. Memories are not lost, but the "emotional charge" from the memory or the nonproductive thinking pattern will be cleared.
Those who have experienced either physical or emotional trauma, feel blocked in making progress in goals or performance, or challenged with faulty core beliefs may obtain benefit from BSP. This form of therapy has been shown to be an effective treatment option for those experiencing:
  • All forms of trauma (& PTSD)
  • Anxiety
  • Attention issues (ADHD)
  • Anger issues
  • Phobias
  • Substance abuse
  • Chronic fatigue and chronic pain
  • Impulse control issues
  • Sports performance issues
  • Eating disorders
The BSP trained clinician will ask you to choose an 'issue' that you would like relief from. While thinking about the issue, the clinician will ask you to share where in your body you feel the issue. You'll be asked to rate the intensity of your feelings on a scale from 1-10. The clinician will lead you in an eye scan to find the position that seems to be strongly connected to this issue. After that, a rapid processing of memory, body responses, or verbal processing occurs, which results in the desired outcome– the issue gets resolved on a deeper level than talk therapy would allow.
 Click here to watch a brief video about Brainspotting featuring David Grand, Ph.D.
"Jamie is very kind and I feel very comfortable speaking to her. Thank you"
– an OBH client
Hub and Spoke - A Comprehensive Approach
Under the Hub and Spoke model, Oneida Behavioral Health serves as the lead, or "Hub" agency, in cooperation with contracted providers that serve as the "Spokes," providing additional support.
This program is focused on Medicaid-eligible youth and adults with severe substance abuse disorders who are at high-risk for chronic physical and mental health issues. It is the Hub's role to provide access to specialized substance abuse programs and support, including assessments, medication-assisted treatment and ensuring that a person's overall behavioral needs are met. The Spokes then provide additional support services and care management following assessment and stabilization.
This model shows great promise of making a true difference in the lives of those dealing with substance abuse, because the approach offers a coordinated and comprehensive array of services including:
Care Management – individuals are identified for treatment, followed by initial assessment and development of a personalized plan of care.
Care Coordination – the plan of care is implemented through referrals, coordination and follow-up with all providers and treatment operations.
Transitional Care – assures smooth movement of individuals from one treatment setting to another; between health care providers and between levels of care.
Connections to Community and Social Support Services – connecting the individual to medical, behavioral, educational, community and social support services is vital to ongoing recovery efforts.
Health Promotion – healthy behaviors are modeled and encouraged, including self-management of health, mental health and addiction issues.
Individual and Family Support – a strong support network is needed and encouraged on the road to recovery.
For more information about Hub and Spoke, contact Oneida Behavioral Health at (920) 490-3790.
Program provides better access to mental health services (spectrumnews1.com)
Alcohol Abuse Awareness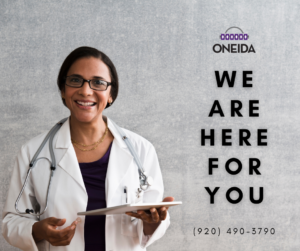 If you or a loved one is abusing alcohol, we are here to help. The clinical staff at Oneida Behavioral Services are ready to provide education, support, and treatment to clients who are affected by problem drinking. How can you tell if drinking is a problem? Start by asking yourself or your loved one the following questions:
Have you ever felt you needed to cut down on your drinking?
Have people annoyed you by criticizing your drinking?
Have you ever felt guilty about drinking?
Have you ever felt you needed a drink first thing in the morning ("eye-opener") to steady your nerves or to get rid of a hangover?
Answering "yes" to two or more of the above questions may be a sign that alcohol use is a problem. The medical providers at Oneida Behavioral Health recommend that if you chose to drink, that it be in moderation. This means no more than 1-2 drinks per day for men and 1 drink a day for women. One drink can equal:
12 ounces of regular beer, which is usually about 5% alcohol
5 ounces of wine, which is typically about 12% alcohol
1.5 ounces of distilled spirits, which is about 40% alcohol
Individuals who are ages 21 and younger, pregnant women, and those who have health problems such as diabetes, heart disease and liver disease should avoid alcohol. Also, please talk with your doctor if you take prescription or over the counter medication, as it may be dangerous to combine them with alcohol. There is help and support available at Oneida Behavioral Health. Our team can provide the following services to our registered clients:
Confidential assessments and screening
Patient/family education
Referrals to inpatient, detox and intensive outpatient treatment
Individual or family counseling
Information on AA meetings, Al-Anon meetings and other community supports
Support for those who have a loved one who is using/abusing alcohol
Individualized treatment planning
For more information on how Oneida Behavioral Health can help, call (920) 490-3790 or (920) 490-3860 and ask to speak with a Triage Counselor. We are here to help.
Tobacco Abuse
Counseling or therapy can be a critical component to successfully overcoming dependence on commercial tobacco products. Often, individuals with mental health challenges smoke at higher rates than the general population. Oneida Behavioral Health can offer you resources to help restore balance in your life.
Gambling Assistance
Compulsive gambling is an emotional illness. It can impact a person's entire family, both emotionally and physically. What was once a legitimate source of entertainment and recreation, can stress a family, financially and emotionally. Oneida Behavioral Health can offer assistance as you seek to restore balance in your life. 
Insights Group
The Insights Group is an 8-week education series on substance use and recovery. The Insights Education Group meets Tuesdays from 5:00 to 7:00 p.m.
Topics Include:
•  Understanding Substance Use Disorders
•  Stages of Change
•  Consequences of Substance Use
•  Addictive Thinking
•  Relapse Prevention
•  Physical Effects of Substances
•  Post-Acute Withdrawals & Cross Addiction
•  Recovery & Resources
This group may be recommended to you before going into Discovery Group if you have had no prior treatment. Or, your therapist may recommend Insights Group as an addition to individual therapy because the education would benefit you.
Transformations Group - DBT for Recovery
The Transformations Group is a 12-week psychoeducation group that will help you build skills to promote recovery and build a life worth living. This group meets Mondays between 9:30 and 11:30 a.m.
The goal of Dialectical Behavior Therapy (DBT) is to learn skills for changing unwanted behaviors, emotions, thoughts and events that cause misery and distress. We hope to help you improve your quality of life by helping you build the following skills:
Core Mindfulness.
Learning to stay in the moment, observe within and outside of oneself, and use Wise Mind to do what is best in a given moment.
Interpersonal Effectiveness.
Improving coping skills, building assertiveness skills, determining what is important in relationships, and how to increase the likelihood that your needs are met.
Emotion Regulation.
Learning to regulate ones feelings, name emotions, reduce impulsivity, and discover feelings through emotional growth.
Distress Tolerance.
Developing new skills to soothe oneself and increase ones ability to tolerate distress and crisis effectively, while also recognizing that stress is a part of life.
Transformations brochure
Transformations flyer
If you are interested in participating in this group, please talk to your primary therapist about a referral.
Discovery Group - Intensive Outpatient Therapy
The Discovery Group meets Tuesday, Wednesday and Thursday evenings from 3 p.m. to 6 p.m. Criteria to participate in the Discovery group includes: 
*Clients who are in Contemplation stage or higher.
*Clients in Pre-Contemplation and have completed Aware/Reality Group.
*Clients who have recently (within 6 months) completed inpatient treatment.
*Clients will be informed that Discovery Group is a minimum of 18 sessions based on their progress.
*Clients are expected to complete a minimum of 4 support group options while in group, and Report Forms will be provided to include: where, when, what did you learn, etc. 
The length of group time is individualized and based on:
*Notable progress in Stage of Change.
*Complete support group requirements. 
*Complete Circle of Life and Step 1 assignments.
*Maintain abstinence during the vast majority of group.
*Completed relapse prevention plan. 
*Clients are expected to complete a minimum of 4 support group options while in group, and Report Forms will be provided to include: where, when, what did you learn, etc. 
Journey Group - Aftercare Therapy
Aftercare therapy provides essential, ongoing support for those on the path to recovery. Clients must meet one of the bulleted criteria below to participate in Journey Group:
Have successfully completed Discovery Group, and are in the Preparation/Action Stage of Change.
Have recently completed (within past 6 months) an inpatient treatment program, and who are in the Preparation/Action Stage of Change.  It is desirable that they complete at least 2 weeks of Discovery group before entering Journey Group.
Note: The client must have a completed relapse prevention plan prior to engaging in Journey Group. This may be completed with the primary counselor during the course of Discovery Group. A copy will be made for the Journey Group facilitators.
Participation in the Journey group will include the following:
Client will be informed that Journey Group is a minimum of 16 sessions, based on client progress.
They are expected to maintain sobriety during this time.
2 Family Days are mandated in order to complete this group.
Clients will continue in support group options (minimum of 2 per week), and provide reports each week. (see below)
Support Group Options
OBH partners with a variety of area support groups that allows the client to participate in one that best fits them and their journey to recovery. These include: 
Sweat lodge, longhouse, Cultural Heritage, Wellness Group
Mentor, outside support groups, workshops/seminars on issues related to wellness
Church, church groups, bible study, Celebrate Recovery
AA, NA, Al-Anon, HA, GA, Smart Recovery
Note: If clients identify other options, confirmation is needed from facilitators to identify appropriateness.
Recovery Coaching
Recovery Coaches provide support and help participants establish a plan for life in recovery. The recoveree is responsible to direct their wants and desires including meeting their basic needs with meaning and purpose to work on goals with housing, employment and personal development. 
Recovery Coach Patrick Danforth Talks About the Road to Recovery

Peer Recovery Coaching services recoverees in person, by phone and in the community setting before, during and after treatment services. A coach helps the recoveree by:
Connecting them with support services to help them succeed in recovery
Identifying recovery concerns 
Providing support tools needed to empower the individual
Helping develop and expand on the recoveree's strengths 
Establishing realistic goals focusing on the recoveree's talents and skills
Recovery Coach Stephanie Skenandore Talks About her Recovery Journey

For more information, please call: (920) 490-3950. 
Holiday Stress? Oneida Recovery Nest Is Here To Help Over the Holidays
What is Recovery Coaching Flyer
Oneida Recovery Nest Information
Recovery Warriors Flyer
NARCAN® and Fentanyl Test Strips
To help prevent an opioid overdose, OBH has NARCAN® kits and fentanyl test strips available during it's regular business hours of 8:00 a.m. to 4:30 p.m., Monday through Friday. Our office is located at: 
2640 West Point Road
Green Bay, WI 54301
PH: (920) 490-3790
NARCAN®, also known as naloxone, is an opioid antagonist and is used to reverse the effects of an opioid overdose. It is usually given by a caregiver or loved one if they think an opioid overdose has occurred.
IMPORTANT: Administering NARCAN® is not a substitute for emergency medical care for opioid overdose. After NARCAN® has been given, you should immediately call 911 or your local emergency number. It's also important to note, that NARCAN® will not counteract xylazine, which is not an opioid. Click here to view a Native Naloxone Training presentation. 
Fentanyl test strips can help those using drugs detect the presence of fentanyl in different drug forms, such as pills, powder and injectables. It takes as little as two salt-sized grains of fentanyl to kill someone. Within minutes, someone using the test strips can know whether the drug they are about to take contains fentanyl. Instructions for using the test strips are available by clicking here.