Substance Use Therapies Offered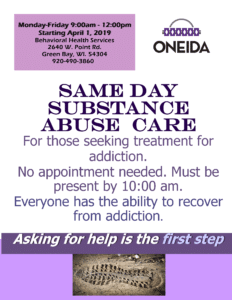 Individual Therapy
Individual Therapy is a joint process between a therapist and a person in therapy. Common goals of therapy can be to inspire change or improve quality of life. People may seek therapy for help with issues that are hard to face alone. Individual therapy is also called therapy, psychotherapy, psychosocial therapy, talk therapy, and counseling.   
Therapy can help people overcome obstacles to their well-being. It can increase positive feelings, such as compassion and self-esteem. People in therapy can learn skills for handling difficult situations, making healthy decisions, and reaching goals. Many find they enjoy the therapeutic journey of becoming more self-aware. Some people even go to ongoing therapy for self-growth.
Discovery Group-Intensive Outpatient Therapy
The Discovery Group meets Tuesday, Wednesday and Thursday evenings from 3 p.m. to 6 p.m. Criteria to participate in the Discovery group includes: 
*Clients who are in Contemplation stage or higher.
*Clients in Pre-Contemplation and have completed Aware/Reality Group.
*Clients who have recently (within 6 months) completed inpatient treatment.
*Clients will be informed that Discovery Group is a minimum of 18 sessions based on their progress.
*Clients are expected to complete a minimum of 4 support group options while in group, and Report Forms will be provided to include: where, when, what did you learn, etc. 
The length of group time is individualized and based on:
*Notable progress in Stage of Change.
*Complete support group requirements. 
*Complete Circle of Life and Step 1 assignments.
*Maintain abstinence during the vast majority of group.
*Completed relapse prevention plan. 
*Clients are expected to complete a minimum of 4 support group options while in group, and Report Forms will be provided to include: where, when, what did you learn, etc. 
Journey Group- Aftercare Therapy
Aftercare therapy provides essential, ongoing support for those on the path to recovery. Clients must meet one of the bulleted criteria below to participate in Journey Group:
Have successfully completed Discovery Group, and are in the Preparation/Action Stage of Change.
Have recently completed (within past 6 months) an inpatient treatment program, and who are in the Preparation/Action Stage of Change.  It is desirable that they complete at least 2 weeks of Discovery group before entering Journey Group.
Note: The client must have a completed relapse prevention plan prior to engaging in Journey Group. This may be completed with the primary counselor during the course of Discovery Group. A copy will be made for the Journey Group facilitators.
Participation in the Journey group will include the following:
Client will be informed that Journey Group is a minimum of 16 sessions, based on client progress.
They are expected to maintain sobriety during this time.
2 Family Days are mandated in order to complete this group.
Clients will continue in support group options (minimum of 2 per week), and provide reports each week. (see below)
Support Group Options
OBH partners with a variety of area support groups that allows the client to participate in one that best fits them and their journey to recovery. These include: 
Sweat lodge, longhouse, Cultural Heritage, Wellness Group
Mentor, outside support groups, workshops/seminars on issues related to wellness
Church, church groups, bible study, Celebrate Recovery
AA, NA, Al-Anon, HA, GA, Smart Recovery
Note: If clients identify other options, confirmation is needed from facilitators to identify appropriateness.
Insights Group
NARCAN Overdose Kits Available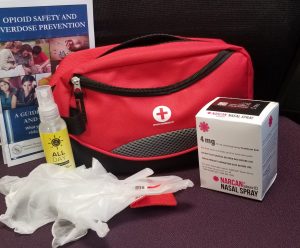 To help prevent an opioid overdose, OBH has NARCAN kits available during it's regular business hours of 8 a.m. to 4:30 p.m., Monday through Friday. Our office is located at: 
2640 West Point Road
Green Bay, WI 54301
PH: (920) 490-3790
NARCAN is an opioid antagonist and is used to reverse the effects of an opioid overdose. It is usually given by a caregiver or loved one if they think an opioid overdose has occurred.
IMPORTANT: Administering Narcan is not a substitute for emergency medical care for opioid overdose. After NARCAN has been given, you should immediately call 911 or your local emergency number.