Mercie Danforth
Business Operations Director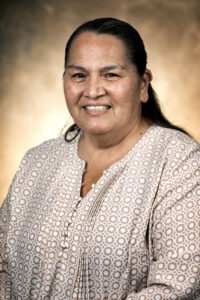 Mercie Danforth is the Business Operations Director for the Oneida Nation's Comprehensive Health Division.  She has dedicated her career to the Oneida Nation and worked there since 1987.
Prior to being the Business Operations Director, she held positions in Accounting (Payroll Clerk and Internal Clerical Staff Supervisor), Finance (Budget Director), Oneida Business Committee (Treasurer), and the Comprehensive Health Division (Executive Assistant, Operations Analyst).
Mercie graduated from Northeast Wisconsin Technical College in 1996 with an associate degree in accounting. She was in the first class to graduate from Lakeland University in 2007 with a bachelor's degree in business management.
Mercie is the youngest of 7 children, she has one sister and 5 brothers.  She is married and has been blessed with one daughter, one stepdaughter, and one stepson.  She has two granddaughters, one grandson and one great-granddaughter.
Mercie at one time enjoyed volleyball and softball but had to slow down in her older years so she now enjoys golfing, fishing, and dabbling in crafts on her free time. She also enjoys watching her granddaughter dance and her nieces and nephews in their sports.