Mary Cornelissen
Manager – Oneida Employee Health Nursing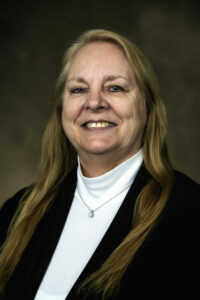 Mary Cornelissen is the manager of Oneida Employee Health Nursing.  Her role consists of oversight of the Employee Health staff, monitoring and maintaining the departments programs and responsibilities.  She has been the manager for 13 years but has worked at Employee Health for 24 total years.
Prior to being manager, she started working at Employee Health as a staff nurse and was promoted to supervisor. Before working at Employee Health, she was a licensed practical nurse and registered nurse at Anna John Nursing Home for 22 years.  In total, Mary has worked for Oneida Nation for 46 years.
Mary grew up in West De Pere with her five brothers.  She attended West De Pere High School before moving on to Northeastern Wisconsin Technical Institute where she earned her nursing degree.  She has been married to the love of her life for 46 years, and they have two daughters.  Their family continued to grow to include five grandchildren.
In her free time, Mary likes to spend time with her family, especially attending her grandchildren's school and sporting events.  She also enjoys taking her dog for walks, swimming, and going on vacation.