Debra J. Danforth, RN, BSN
Division Director – Operations, Oneida Comprehensive Health Division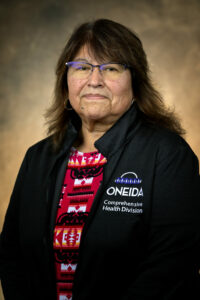 Phone: 920-869-4807
Fax:920-869-1780
ddanfort@oneidanation.org
Oneida Nation
525 Airport Drive
Oneida, WI  54155
Debra J. Danforth is currently the Division Director for the Oneida Comprehensive Health Division for the Oneida Nation. She is an enrolled Oneida Nation Tribal member.
Debra earned her Bachelor of Science degree in Nursing and is a graduate of the Robert Wood Johnson Foundation Executive Nurse Fellows program. Debra has worked for the Oneida Nation in Oneida Wisconsin for the past 39 years.
She has worked diligently to improve the health and wellness for the Oneida Nation as well as for all of Indian Country over the course of her nursing profession. She has served on numerous boards and committees at the local, state and national levels representing both the Oneida Nation and other Tribal organizations in health and education across the country.
She has served the Oneida Nation in an elected capacity on the local Board of Education for multiple years as well as the Oneida Nation Trust and Enrollment committee which oversees the Nation's Trust funds and endowments.
Debra has been involved throughout her career in the enhancement of cultural competency and sensitivity within the health care environments for the improvement of health care throughout Indian Country.