Health Promotion and Disease Prevention
For the duration of the Oneida Nation's Public Health State of Emergency, the Nation is directing resources toward mitigation efforts and response to the COVID-19 pandemic.  Our website may not be updated regularly – please refer to the Nation's website, oneida-nsn.gov/covid-19, and the Nation's social media accounts for the most up-to-date information.
"Empowering the Oneida community to achieve optimal health."
Oneida Health Promotion is part of the National Health Promotion/Disease Prevention Program through Indian Health Services.
We participate in 3 of the 4 major strategies of the national program:
Just Move It Partner
Physical Activity Kit (PAK)
Announcements
We continue to maintain FULL-RECOGNITION as a CDC Recognized Diabetes Prevention Program. 
Class structure:
10 weekly group classes
6 bi-weekly group classes
6 monthly group classes
PLUS Wellness Coaching to support, motivate, and overcome barriers!
New DPP Sessions will begin in January, April, July, October every year. 
Below are the dates for our upcoming classes:
April 1, 2021 – March 3, 2022 – Thursdays 3-4pm
July 6, 2021 – June 7, 2022 – Tuesdays 12-1pm
October 4, 2021 – September 12, 2022 – Mondays 12-1pm
Just Move It-Oneida is on Facebook!
About Us
Health Promotion and Disease Prevention Staff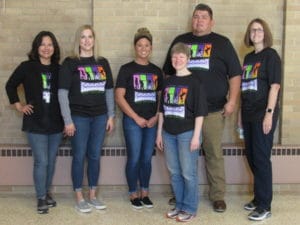 Left to right:
Belinda McLester, CHCW – Health Promotion Specialist
Stefanie Reinke, CHCW – Health Promotion Manager
Hanna Leisgang – Health Promotion Coordinator
Dawn Krines Glatt, CHCW – Health Promotion Specialist
Tahkwatekwa (Tek) Skenandore, CPC – Health Promotion Specialist
Jo Ann Eland – Data Coordinator