Oneida History Department
About Us
The Oneida History Department of the Oneida Tribe of Indians of Wisconsin promotes the culture, language, history, traditions, and genealogy to all enrolled Tribal members.
History Department Mission Statement
The Oneida History Department collects, organizes, preserves, and makes available materials that pertain to the history and development of the Oneida Nation and its people.
Staff Contact Information
Oneida History Bins
The Hands-On History Bins project evolved out of several request. Local schools and school districts have frequently contacted the Oneida Tribe to request curriculum and materials. In response to request from schools, the Seymour Community Historical Society, and other areas, a special committee was formed under the direction of Chairman Rick Hill, led by former Chief of Staff Bill Gollnick and attended by representatives from several Oneida programs (Y.E.S, Cultural Heritage, Turtle School, etc.) and representatives from Green Bay, De Pere, Seymour and other area schools.
As a result of the special committee, Cultural Heritage and the Oneida Museum were asked to work on curriculum resources for these schools. The idea of a Hands-on bin was first thought of by Michelle Danforth in 2010 and finished by Nicolas Reynolds in 2012.
Download  a copy of the Teacher's Guide here: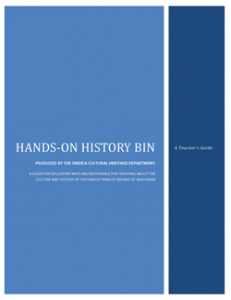 Additional Resources:
• A General History of the Oneida Nation of Wisconsin
• Sagole: A Greeting from the Oneida
Weekly Historical Note Archives
The Weekly Historical Note (WHN) was released every Monday on the Oneida Nation's Website. Past issues of the WHN can be viewed here by opening an Adobe file. Simply look for the issue that you would like to download and then click on the link to begin. The WHN is created for educational purposes and researchers and students are encouraged to give proper citation to source documents. For help with citation techniques, visit the UW Madison's Writing Center.
Issue 1, The Oneida Creation Story
Issue 2, The Origin of the Oneida Clans
Issue 4, The Creation of the Iroquois League
Issue 5, The Hermit Thrush Story
Issue 8, Early Iroquois encounters with Samuel de Champlain
Issue 9, Early Explorations into the Oneida Homeland
Issue 10, The Iroquois, The Dutch, and the Fur Trade
Issue 11, Queen Anne's Missionaries
Issue 12, Small Pox in America
Special Issue, The Battle at Oriskany
Issue 13, Alcohol and the Oneida
Issue 15, The French and Indian War, 1756-1763
Issue 16, The Oneida Carrying Place
Issue 17, Valley Forge and The Oneidas
Issue 18, Kaliwiyo and Handsome Lake 
Issue 19, Mission Schools, 1784 
Vol. 1, No. 20 The Stockbridge-Munsee and Brothertown Indians
Vol. 1, No. 21 Great Law and Constitution
Issue 22, The Erie Canal 
Vol. 1, No. 23 The Treaty of Canandaigua and Annuity Payments
Vol. 1, No. 24 Illegal Treaties and the State of New York