Smart Cities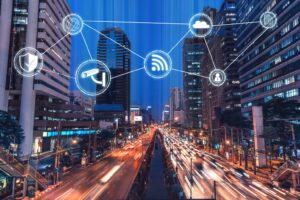 About
Smart Cities are municipalities and urban areas that are deploying connected technologies and IoT solutions to improve everything from critical infrastructure and public safety, to efficiencies in city lighting and energy usage, to better traffic flow and mobility – all of which stand to make cities better places to live, work and play while lowering their carbon footprint.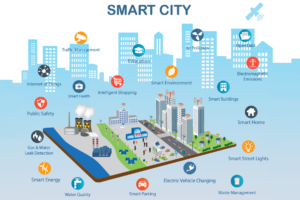 Why do we need smart cities?
Urbanization is a non-ending phenomenon.
Today, 54% of people worldwide live in cities, a proportion that's expected to reach 66% by 2050.
With the overall population growth, urbanization will add another 2.5 billion people to cities over the next three decades.
Environmental, social, and economic sustainability is a must to keep pace with this rapid expansion taxing our cities' resources.
What are the benefits of a smart city?
For City agencies:
 – Gain more citizen engagement and optimize operations through real-time data intelligence and intra-agency collaboration.
For citizens:
 – Improve daily life through city services. Smart cities offer visibility into real-time city data for improving mobility, connectivity, and safety services.
For businesses:
 – Drive new revenue streams and economic development by enhancing awareness of customer activity and behavior.
For developers and vendors:
 – Fuel application development of city data. Help the city improve operational efficiencies, engage citizens, and boost economic viability.
How is IoT technology making cities smarter and better?
Secure wireless connectivity and IoT technology are transforming traditional elements of city life – like streetlights – into next-generation intelligent lighting platforms with expanded capabilities. 
The scope includes integrating solar power and connecting to a cloud-based central control system that connects to other ecosystem assets.
These solutions shine far beyond simple lighting needs. 
High-power embedded LEDs alert commuters about traffic issues, provide severe weather warnings, and provide heads up when fires arise, for example. 
Streetlights can also detect free parking spaces and EV charging docks and alert drivers where to find an open spot via a mobile app. Charging might even be able from the lamppost itself in some locations! 
Resources: Thalesgroup, Digi, Cisco
Oneida's Initiatives
Oneida' Initiatives for Smart Cities
Gather information on the follow items:
Oneida owned buildings connected by fiber
Oneida owned buildings not connected to fiber
Oneida owned light poles parking lots/streets
Oneida fiber splice points
Create comprehensive plan on where to place the different types of devices, either on street poles, buildings, and/or parking lot poles.
Device types that can be placed in the different areas:
Surveillance Cameras
Weather detecting devices
Car charging plugins
Phone charging plugins
Wireless Access Points
Oneida People Involved
Nate Villarreal
Senior Network Analyst
Project Manger
Jason Doxtator
Manager of DTS
Sponsor
Troy Parr
Area Manager of Community Development
In Charge of information gathering
Stephanie Skenandore
Tech-GIS
Heading up information gathering