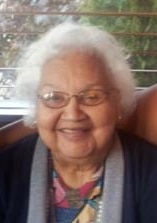 Virginia E. Skenandore "The Fox", 87, Oneida, passed away peacefully on Thursday February 22, 2018 surrounded by her family. She was born July 20, 1930 to the late Edward and Agnes (Skenadore) Metoxen. She was united in marriage to David G. Skenandore Sr. at Church of the Holy Apostles in Oneida. Virginia was an avid Packer fan, loved listening to classic country music, and loved to dance. She was a devoted military wife, who raised her children, and made it "Home" wherever they were.
Virginia is survived by her children; Leanne Doxtater, Matthew Skenandore, Vicky Blaker, Susan (Lenwood) White, and daughter in law Amy Skenandore. Her grandchildren; Scott (Peggy), Joe (Kelly), Evan (Mandy), Rick, Julie, Charlie, Jennifer (Megan), Ashley, Whitney, Kyle, David, Devon, and Brock. Great grandchildren; Destinee, Marcus, Makayla, Kiara, Joshua, Drake, Elysia, Isaiah, Bria, Shaw, Marc, Ryan, Kalyn, Alivia, Alexander, Ashton, Keyarnt, Keilana, Dalen, Dayliana, and Reul. One great great grandson Zander. Further survived by her sister in law Ann Metoxen, and brother in law Mike Hill, as well as numerous nieces and nephews.
Virginia was preceded in death by her parents, her husband David G. Skenandore Sr., her son David Skenandore Jr., and two grandchildren Katherin and Katrina. Virginia was further preceded in death by her siblings; Gertrude Webster, Kaiser Webster, Raymond Metoxen, Samanthia (Farmer) Metoxen, Earl Metoxen, Josephine Nolan, Delia Matson, Elda Swamp, Dorothy Denruyter, Lyndahl Metoxen, and Commadore Metoxen.
Special thanks to Matthew for taking such wonderful care of mom.
Mass of Christian Burial was held at Church of the Holy Apostles, Oneida on Saturday February 24, 2018. RYAN FUNERAL HOME , assisted the family.
The family extends their thanks to Unity Hospice Staff, Nurses, and CNA's for the excellent care they provided Virginia.