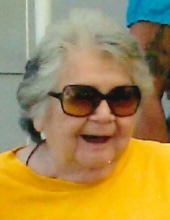 Vivian A. (Hill) Williams, 76, Green Bay, passed from this life on January 29, 2018, surrounded by family after a short illness. The daughter of Dennison and Sadie (Powless) Hill was born on June 29, 1941 in Green Bay.
Vivian grew up the youngest in a family of nine children. She was "a bit of a pistol" growing up, and spent time in many different cities over the years. She married Chester Williams Jr. on December 21, 1961. They had ten children together, including a set of twins and… triplets.
She loved her animals, especially her cat Presley, and she liked to watch the Packers and Brewers. She listened to lots of big band music.
Survivors include her daughters, Pam Williams, Laura (Randy) Lane, Carla Carle, Corina Williams, Jody (Sara) Williams. She is further survived by her sister, Blanche (Hill) Powless, grandchildren, great-grandchildren and other members of her extended family.
She will reunite with her husband, Chester Jr., parents, Dennison and Sadie, her children, Jamie, Paula, Susan, Christopher, and Tina. She is further preceded in death by her seven siblings, Louis, Catherine, Irvin, Lorraine, Sylvester, Charles and Jerry, grandson Kane and other members of her extended family.
Family and friends may call at Holy Apostles Episcopal Church, Freedom Road, Oneida on Thursday, February 1, 2018 beginning at 9:00 AM. Visitation will continue until Mass begins at 11:00 AM. Bishop James Adams will officiate.
The family would like to thank the ICU staff at St. Mary's Hospital and Unity Hospice for their kindness and compassion during this difficult time.