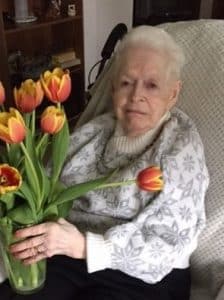 Cornelius, Elizabeth M.
December 2, 1924 – September 20, 2017
Elizabeth M. Cornelius, age 92, passed away peacefully on Wednesday, September 20, 2017. She was born on December 2, 1924 and was adopted by the late Simeon and Lucy Adams.  Elizabeth married Dempsey Cornelius on August 29, 1942 and enjoyed 75 years of marriage together.  She worked for many years at The Banta Corporation before retiring and resided in Neenah.  After retirement, Elizabeth went on to work as a caregiver at Theda Clark Hospital and Home Instead Senior Care, where she greatly enjoyed helping others.  Throughout her life, she always had a strong faith in God, and Elizabeth was baptized, confirmed, and married at Holy Apostles Episcopal Church in Oneida.
Elizabeth was always a sweet, funny person who was the life of the party and a joy to be around. She was a great cook and enjoyed looking out for everyone.  Elizabeth loved animals, especially dogs and enjoyed taking care of them.  She lived a long, happy life with many wonderful memories, and as she got older handled life with strength, grace, and class.
Elizabeth is survived by her husband Dempsey Cornelius; children Louis (Pris) Cornelius and Patricia M. Nielsen; grandchildren: Kim (Al) Koester, Randy (fiancée Lisa Haese) Nielsen, Erica (Chris) Faulkender, Daniel Cornelius, and Timothy Cornelius; and great-grandchildren: Ryan Koester, Blake Seppel, Ashton Seppel, Mikayla Koester, and London Faulkender. She's further survived by, her sister-in-law Mary Cornelius, dear friend Betty Douglas, as well as many nieces, nephews, other relatives, and friends.
The Memorial Service for Elizabeth was held on Monday, September 25, 2017 at St. Thomas Episcopal Church in Menasha. In lieu of flowers, memorial donations to St. Thomas Episcopal Church are appreciated.
Elizabeth's family would like to give a special thanks to the caregivers and staff at Renaissance Assisted Living, Rennes Health and Rehab Center, and AseraCare for all of their wonderful care.
Westgor Funeral Home
Neenah 722-7151
www.westgorfuneralhomes.com