WIC Clinic Updates
Upcoming Office Closures:

Friday, December 23rd: Christmas Eve Observance Date – Office Open 1/2 day 8AM-12PM
Monday December 26th: Christmas Day Observance Date – Office Closed
Monday January 2nd: New Year's Day Observance Date – Office Closed
Appointments:
Due to the COVID-19 pandemic, we are temporarily modifying the way WIC services are provided. The office is currently closed to walk-ins. Please call us at 920-869-4829 to load benefits and schedule appointments.
---
BENEFIT UPDATES:
Expanded WIC Benefits: More nutritious, delicious WIC approved foods are available! See food list updates here.
Formula Update: When available, buy Similac formula with your eWIC card. It is safe and supply is increasing. If you are unable to find Similac infant formula, there may be substitutions available to you. Formula substitutions for specific products are available through January 31st.
Extended Fruit and Vegetable Dollar Increase: Continued funding has allowed WIC to extend fruit and vegetable dollar increases. You will be notified when normal benefit amounts resume. Check your account balance for updated amounts you have to spend on fruits and vegetables at the grocery store.
---
THIS MONTH'S NUTRITION TOPIC:

Whole Grains:
WIC food packages provide whole grains which offer more nutrients compared to "white" or refined versions that are more processed. Whole grains give us fiber, protein, magnesium, potassium, vitamin E, and vitamin B6. They also help reduce our risk of many chronic diseases such as diabetes, obesity, and heart disease.
Visit www.wholegrainscouncil.org for more information on whole grains including recipes and cooking methods.
Ask WIC staff for our handout on seven ways to use whole grain tortillas.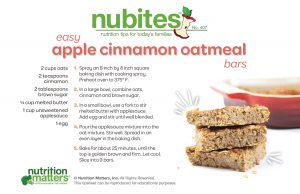 ---
FEATURED RECIPE:

Easy Apple Cinnamon Oatmeal Bars:
Using the newest WIC-approved whole grain – oatmeal in a canister – this recipe is simple, delicious, and provides a healthy dose of this hearty whole grain! See the video below to see just how simple it is!
See our previous featured recipes here.
Find more recipes using WIC foods in the WIC Mom Strong Cookbook.
WICHealth.org also has some great recipes – if you don't have an account, ask us how to sign up!
This institution is an equal opportunity provider. For the full WIC Program Nondiscrimination Statement, please click here.