WIC Clinic Updates
---
Upcoming Office Closures:
Monday, July 4th: Independence Day – Office Closed
Monday, September 5th: Labor Day – Office Closed
Appointments:
Due to the COVID-19 pandemic, we are temporarily modifying the way WIC services are provided. The office is currently closed to walk-ins. Please call us at 920-869-4829 to load benefits and schedule appointments.
---
Benefit Updates:
Farmers' Market Updates:
Farmers' Market Nutrition Program (FMNP): Beginning June 1st, eligible WIC participants can receive $30 in checks to use at the local farmers' markets on fresh fruits, vegetables, or herbs. Call our office for more information at 920-869-4829.
Formula Update: If you are unable to find your regular WIC infant formula, there may be substitutions available to you. Formula substitutions for specific products are available through August 31st.
Fruit and Vegetable Dollars: Eligible WIC participants currently are receiving an increase in fruit and vegetable dollars through September 30th. Check your account balance for updated information on how much you have to spend at the grocery store.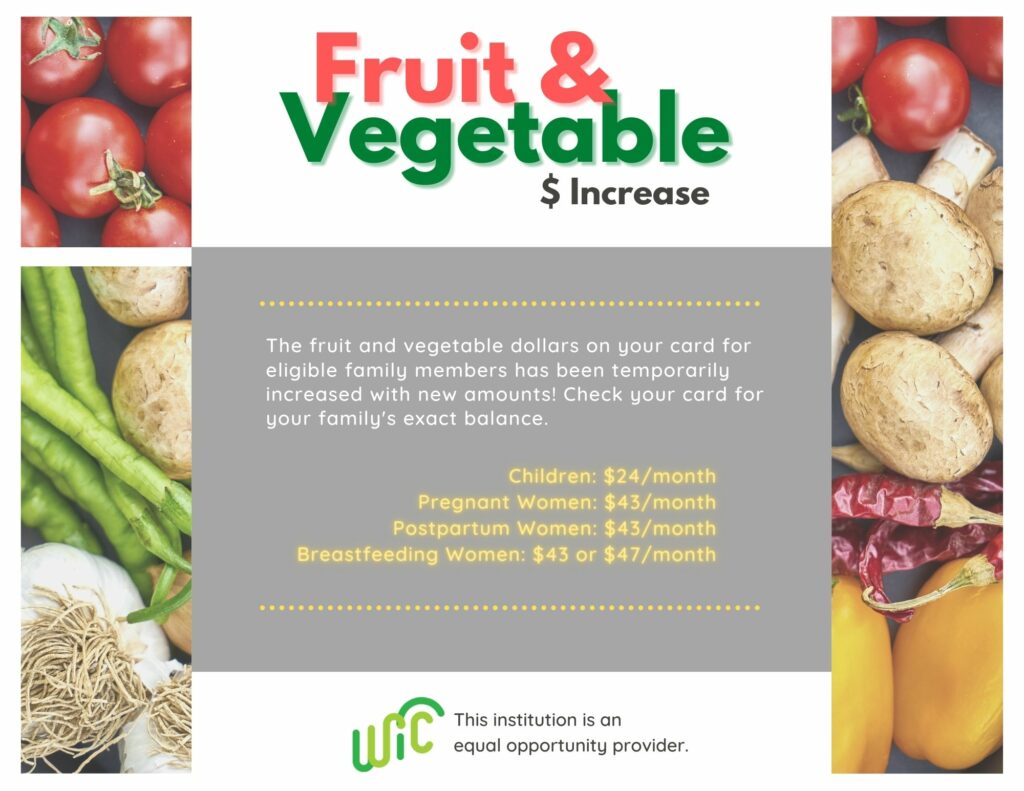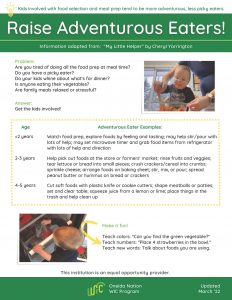 ---
This Month's Nutrition Topic:
Raise Adventurous Eaters – Get the kids involved!
Kids are more likely to try new foods if they help with food selection and preparation! Infants and very young kids may start by watching or can be given a piece of produce to play with, while slightly older kids can help wash, pour, or grab items from the fridge or cabinet. See the document to the left or the video below for more ideas.
---
Featured Recipe: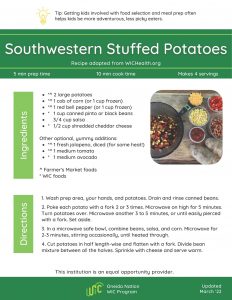 Southwestern Stuffed Potatoes
Use those farmers' market veggies in a fun way with the kids. This recipe provides a different yet familiar way to add a veggie-packed delicious meal to the table in a flash! Watch the video below for some fun ways to have the kids help out at a variety of ages!
See our previous featured recipes here.
Find more recipes using WIC foods in the WIC Mom Strong Cookbook.
WICHealth.org also has some great recipes – if you don't have an account, ask us how to sign up!
This institution is an equal opportunity provider. For the full WIC Program Nondiscrimination Statement, please click here.