WIC Clinic Updates
Upcoming Office Closures:
Friday April 7th – Good Friday 1/2 day Holiday: Clinic open 8am-12pm
Appointments:
Due to the COVID-19 pandemic, we are temporarily modifying the way WIC services are provided. The office is currently closed to walk-ins. Please call us at 920-869-4829 to load benefits and schedule appointments.
---
BENEFIT UPDATES: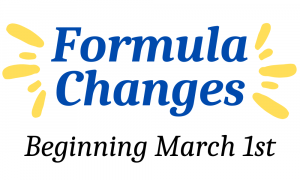 Formula Update: Beginning March 1, 2023, WIC participants must resume the purchase of Similac products when using WIC benefits, unless a specialty formula is required for medical reasons. Additional can sizes of Similac products are available through April 30th. For a smooth transition, you may want to slowly transition to Similac by mixing it with your current formula. Here are a few tips:
Always use the scoop that comes with the can of formula you are mixing.
Remember to mix the formula per package directions (most powder formulas are 2 oz water + 1 unpacked scoop formula)
You can make a larger volume of each formula in their own containers, then mix what you think the baby will take in a separate bottle for the feeding. Mixed formula is good in the refrigerator for up to 24 hours.
This document shows examples of how to transition formulas.
Extended Fruit and Vegetable Dollar Increase: Continued funding has allowed WIC to extend fruit and vegetable dollar increases. You will be notified when normal benefit amounts resume. Check your account balance for updated amounts you have to spend on fruits and vegetables at the grocery store.
---
THIS MONTH'S NUTRITION TOPIC:
Healthy Snacks:
Snacks are nutritious "mini meals" that fill you up and give you energy. For a filling snack, choose two food groups: fruit, vegetable, whole grain, protein, or low-fat dairy. Two or three snacks daily is plenty. Too much snacking may prevent kids from being hungry at meals and can lead to tooth decay. Offer one snack between breakfast and lunch and another between lunch and dinner. A bedtime snack is OK for growing kids if dinner is offered early.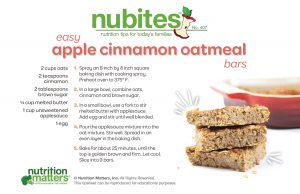 ---
FEATURED RECIPE:

Easy Apple Cinnamon Oatmeal Bars:
Using the newest WIC-approved whole grain – oatmeal in a canister – this recipe is simple, delicious, and provides a healthy dose of this hearty whole grain! See the video below to see just how simple it is!
See our previous featured recipes here.
Find more recipes using WIC foods in the WIC Mom Strong Cookbook.
WICHealth.org also has some great recipes – if you don't have an account, ask us how to sign up!
This institution is an equal opportunity provider. For the full WIC Program Nondiscrimination Statement, please click here.