WIC Clinic Updates
---
Office Closures:
Monday, September 6th: Labor Day
Appointments:
Due to the COVID-19 pandemic, we are temporarily modifying the way WIC services are provided. The office is currently closed to walk-ins. Please call us at 920-869-4829 to load benefits and schedule appointments.
---
August is National Breastfeeding Month! WIC moms: Submit pictures of your currently breastfed baby for a chance to win a gift basket! Visit our Breastfeeding Services page for more information!
---
Farmers' Market Updates: Eligible WIC participants may receive $30 in checks to use at the local Farmers' Market! Checks are now available! We will be talking about these checks at your next benefit issuance. If you would like them sooner, you may call the office to discuss your options.
---
Benefit Updates:
June/July/August/Sept 2021: Fruit and Vegetable $ Increase: Don't forget, in addition to Farmers' Market checks, eligible participants now have $35 each month to use on fruits and vegetables at the grocery store! Not sure how to utilize this benefit? See below for tips on shopping and using these foods!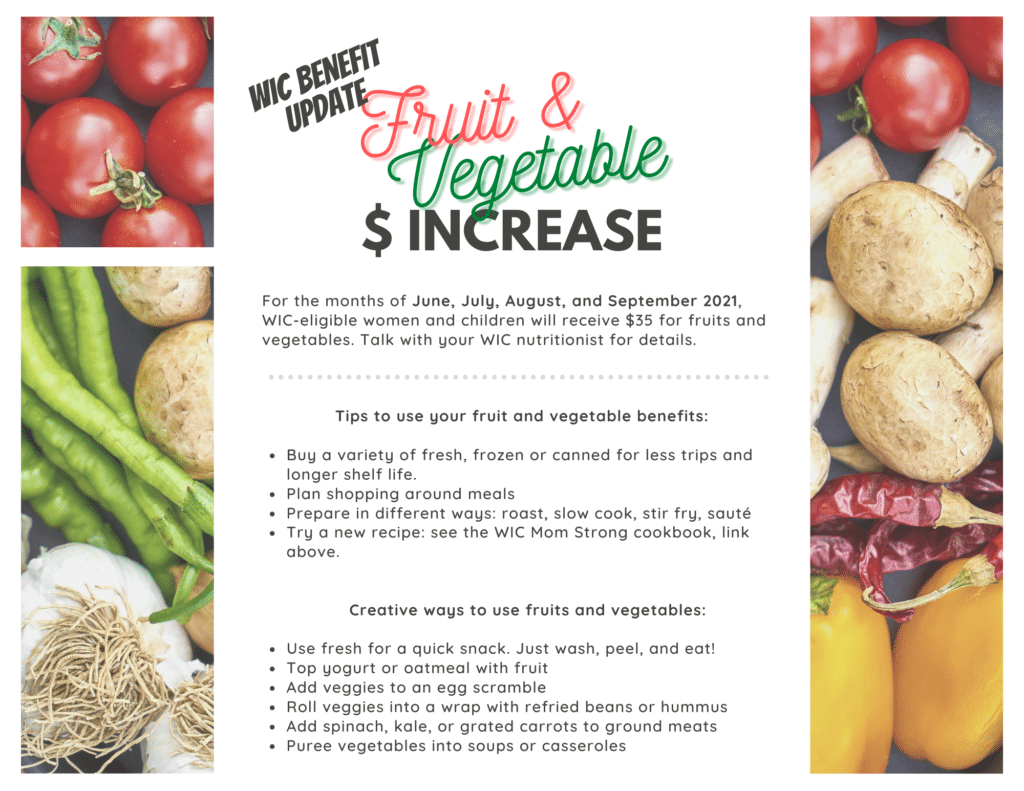 ---
THIS MONTH'S NUTRITION TOPIC:
Using fruits and vegetables:
With more money available to you for fruits and vegetables (on your WIC card and for use at the Farmers' Markets), here are some fun ideas of ways to use them!
You may reference the Fruit and Vegetable $ increase graphic for ideas on maximizing your food dollar at the markets and minimizing waste. Here are also some veggie recipes on ways to prepare veggies for your family. For more recipes using WIC foods, visit the WIC MomStrong Cookbook or log into WICHealth.org.
This institution is an equal opportunity provider. For the full Nondiscrimination Statement, please click here.