Welcome to Oneida Adventures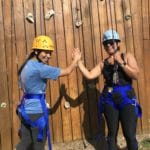 The humble roots of the Experiential Education department began working exclusively with internal social services programming in 1996. When the word of the powerful learning that was happening spread across the community, more groups began utilizing the services. Learning by doing is not only a concept. It is a powerful way to not only teach, but to solidify learning and create experiences that transfer into real life situations.
Since that time, we have expanded programming to include an indoor as well as an outdoor ropes and challenge course, kayaking as well as canoeing programming, outdoor adventure opportunities and much more. Discover all the opportunities that we have to offer the community and beyond.
We believe in creating and reaching new possibilities of experienced personal growth and change. Within the experience we provide, a challenge is presented. We help our participants experience unknown opportunities and gain personal strength. We believe new awareness's cannot occur without stepping out of our comfort zone.
Our skilled facilitators provide the tools you need to have a great time in a safe environment. Check out the pages for more information or contact us at
(920) 490-3846