WIC Program
---
WOMEN, INFANTS, AND CHILDREN (WIC) PROGRAM: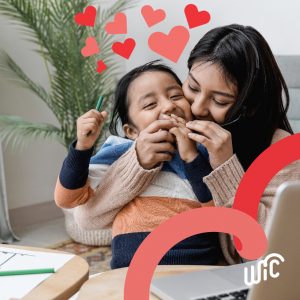 WIC is a supplemental food program that provides education and other services to families. By participating in the WIC Program, you will receive valuable nutrition information and education, such as:
Using WIC foods to improve health
Getting the most from your food dollar
Infant and child growth and development
Eating healthy during pregnancy and breastfeeding
Education and support for breastfeeding
Tips to help your child eat well
Referrals to other services
---
ARE YOU ELIGIBLE?
You may qualify for WIC if:
You live in Wisconsin
You are pregnant, breastfeeding, had a baby, or miscarried in the past six months
You have an infant or child under age 5
You meet the WIC Program income guidelines.
You may automatically qualify if a member of your household receives FoodShare, BadgerCare, or W2 benefits.
WIC Eligibility Facts:
Many working families, students, and military families qualify.
A pregnant woman counts as two family members.
The WIC Program uses the same income guidelines as free and reduced price school lunches.
Fathers, guardians and foster parents may apply for WIC for their children under age 5.
Ready to apply? Call our office at 920-869-4829.
---
WIC Breastfeeding Services:
Breastfeeding Peer Counselor: Our Breastfeeding Peer Counselor, Makenit, gives mother-to-mother support and advice regarding breastfeeding. She can also provide tips on how breastfeeding can work around a busy schedule.
Breast Pump Guidance: WIC provides educational resources and breast pump guidance for mothers.
Breastfeeding Support: Our WIC nutritionists assist with early breastfeeding education, support and problem solving to help mothers and their families feel comfortable and confident feeding their babies.
Visit our Breastfeeding Services page for more information on breastfeeding.
Referrals to Health and Social Services:
An added benefit of the WIC Program is screening for other health concerns and referrals to other appropriate health and social services. Our staff help to guide participants to other local resources based on need. View our Oneida Community Resource Guide for more information.
---
This institution is an equal opportunity provider. For the full WIC Program Nondiscrimination Statement, please click here.