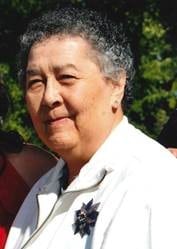 Erma D. (Hill) Danforth, 86, Oneida, passed away in the evening hours of March 21, 2019. The daughter of Robert and Melinda (Parkhurst) Hill was born on January 22, 1933.
On September 10, 1949, Erma married William "Bill" Danforth. Together, they raised thirteen children together. Erma was an owner and operator at Danforth Bar and The White Eagle. She also worked at the Radisson, Oneida Retail and in the kitchen at the Turtle School.
Erma is survived by her children, Jackie Danforth, Tommy (Karen John) Danforth, Carmen Danforth, Erwin (Marsha) Danforth, Ingrid (Mike) King, Paul (Tina) Danforth, Kerry "Buggs" (Candace) Danforth, Grace Delgado, and Melinda K. Danforth.
She is further survived by her grandchildren, Stephen, Stacie, Alicia, Timothy, Tonya, William, Jeremiah, Tabitha, Lemuel, Darnell, Cheryl, Abby, Cheyenne, Nathan, Sara, Jennifer, Mike Jr., Gerald "Taco," Connie, Lora, Cole, Nona, Olivia, Tia, Jackson, Jermaine, Evander, Evan and Billie.
She is further survived 59 great-grandchildren and 2 great-great-grandchildren; many nieces, nephews, cousins, all of her family in-law, and friends.
She was preceded in death by her husband, William "Bill" Danforth, Sr., sons, Billy, Jerry, Stephen and Wayne "Wayneo" Danforth; daughter Mary; parents, Robert and Melinda; grandfather Flannigan "Kay" Hill; brothers, Erwin (Helga), Fredmond "Fritz" and Edward; her grandchildren, Angel and Gerrid; and great-granddaughter, Mariah, as well as many extended family members and family members in-law.
Family and friends may visit at Ryan Funeral Home, 305 N. Tenth Street, De Pere, beginning at 9:00 a.m. on Tuesday, March 26, 2019. A prayer service will begin at 11:00 a.m. with Deacon Deborah Heckel officiating. Burial will follow at Oneida Sacred Burial Grounds.
The family would like to thank St. Vincent Hospital and Unity Hospice for the care. They would also like to thank Dr. Michael Flood, Nurse Louetta Fowler and Erma's granddaughter Billie.