Arts Classes and Events
The Arts Program uses the Community Pass site for class registrations and payments.  Click here to see our class and event catalog here. If you don't have an account with us, you'll need to create a new account to register for classes, workshops  and events.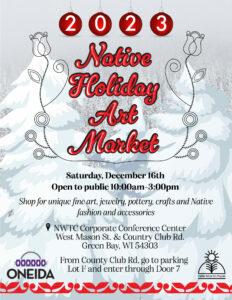 The Native Holiday Art Market will be held on Saturday, Dec. 16, 2023, in the Corporate Conference Center at NWTC.  Doors open to the public from 10:00am to 3:00pm.  NWTC, 2740 W. Mason St, Green Bay, WI 54303.
Find unique artwork and gifts from the 25 Native American artists, fashion designers, crafters & artisans  at this market.
Don't miss the storyteller hour with Andi Cloud from the Ho Chunk Nation.  In 2021, Andi became the first Indigenous Storyteller-in-Residence for the Madison Public Library. She was appointed by Governor Evers to the Council of Library and Network Development in July 2022. Her term ends July 1, 2025.  For info about Andi Cloud, click here.