You Are Not Alone: The Safe Care Pathway Helps Identify Those At Risk for Suicide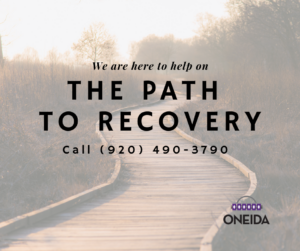 According to the U.S. Centers for Disease Control (CDC), during 2020, 12.2 million American adults seriously thought about suicide, 3.2 million adults made a plan and 1.2 million adults attempted suicide. During the same year, 45,979 people died by suicide in the U.S. Suicide rates were highest among non-Hispanic American Indian and Alaska Native persons.
That's why at Oneida Behavioral Health (OBH), care providers view suicide prevention as an important part of treatment services for substance use disorders and mental health issues. Circumstances surrounding a substance use disorder or mental health challenge can lead to intense feelings of helplessness and hopelessness. These intense feelings, in turn, can contribute to increased substance use.
Through the Safe Care Pathway program at OBH, care providers work to identify individuals who may be at risk of suicide and create a customized safety plan to help the individual distance themselves from harmful thoughts. The program includes a variety of approaches, including the following:
Limiting access to weapons and other potentially lethal items. Limiting access to these items is not intended as a punishment, but rather as a means to reduce the opportunity for someone to harm themselves in moments of vulnerability.
Peer support. Support from those who are traveling a similar path is crucial for anyone struggling with addiction or mental health issues or who is at risk for suicide. Peer support helps a person understand that they are not alone and there are other people who can relate to their struggles and successes. Learn more about Oneida Behavioral Health's weekday Wellness Support Group.
Frequent contact. With Safe Care Pathway, care providers have frequent contact with an individual, reaching out every three days or more to help the individual stick with his or her safety plan. While these contacts can have a truly positive impact, our work depends on those in challenging situations taking the first step and reaching out.
Reaching out for help when you experience unbearable pain is a sign of strength, not shame. You are not alone. We are here to listen when you or someone you love experiences despair, trauma, grief, depression or increased substance use. Safe Care Pathway is here to help. Call Oneida Behavioral Health today at (920) 490-3790.