Recovery Coaching – A Key to Successful Recovery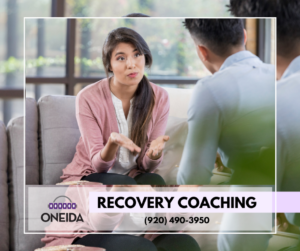 For those confronting a substance use challenge, the path to recovery can seem clear one moment and uncertain the next. What does recovery look like and who else can understand the different challenges you encounter on any given day? A key component to successful recovery is a connection with a recovery coach.
Much like a life coach, a recovery coach supports successful change and helps those in recovery remove obstacles to their success. As a partner on your path to sobriety, a recovery coach can help you identify and address obstacles such as:
Fear, anxiety or stress
Social and emotional triggers for substance use
Financial stress
Dysfunctional relationships
Work challenges
Disorganization or lack of focus
A lack of purpose and fulfillment
Unlike a licensed addiction counselor, coaches do not diagnose or treat substance use disorders. They are often times in recovery themselves and possess a first-hand understanding of the path to recovery. Coaches can help promote recovery, connect you with recovery services, remove barriers to your success, encourage hope, optimism and healthy living and serve as an accountability partner.
Recovery coaches form a partnership with those in recovery, understanding that the individual in recovery is the expert in their own life but may need assistance navigating the challenges of recovery. Coaches can help you set achievable goals, make healthier life choices and learn how to manage your responsibilities.
Oneida Behavioral Health offers free recovery coach services for youth and adults with substance use needs. Oneida Recovery Nest hosts several weekly recovery meetings and programs, such as: White Bison Wellbriety, Native Recovery, Celebrating Families and Activity Nights.
To learn more about recovery coaching and related services that can help you on a path to recovery, please contact Oneida Behavioral Health today at (920) 490-3790.