Fentanyl Deaths Continue, What Can We Do?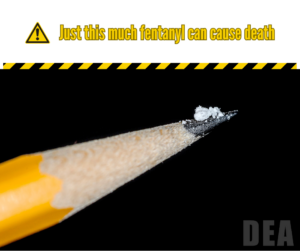 Across the country, cases of accidental overdose due to fentanyl remain on the rise. Fentanyl is a synthetic opioid that is stronger than heroin or morphine. It has been added to other drugs to increase their potency resulting in a more addictive and more dangerous drug.
When mixed with other drugs, fentanyl is odorless, tasteless and invisible. Because of these qualities, fentanyl is also becoming a common additive in vaping devices and edibles (THC gummies). With creative flavors and colors, both vapes and gummies are popular with young people.
In 2022, the Food and Drug Administration found that around 2.5 million U.S. middle and high school students had used a vaping device. Teens also shared in a National Institutes of Health focus group that they use edibles primarily to reduce the chance of getting caught. While vaping devices are not healthy or safe for children of any age, if there is fentanyl added to them, they can instantly become deadly and the same goes for gummies.
What Can We Do?
If a person is going to consume illegal drugs, even if they believe they are safe, it's best to test the substance to prevent an accidental overdose due to fentanyl. It's also wise to keep naloxone overdose kits on hand.
Fentanyl test strips can help you detect the presence of fentanyl in various drug forms. Naloxone overdose kits can save the life of someone experiencing a fentanyl overdose. It may take more than two naloxone doses to counteract overdose if fentanyl is involved. Both are available from Oneida Behavioral Health at no cost and without judgement.
It's also important to have open and honest conversations with kids about how dangerous fentanyl is. Just two salt sized grains are enough to cause death. Help them understand, that while vaping devices and edibles may seem cool and "safe," they may be hiding a deadly addition. It also pays to explain to children that vaping devices may lead to serious lung disease and that it's easy to overdose with edibles because of their delayed effects.
If you're looking for additional help, Oneida Behavioral Health is here when you need us. Reach us at (920) 490-3790 or learn more about our services at https://oneida-nsn.gov/resources/behavioral-health/.