Sangita Patel, MD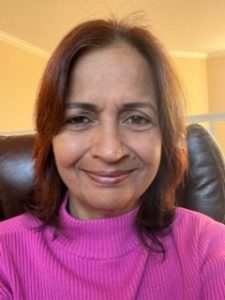 SPECIALTY:
General Psychiatry
PATIENT AGES:
Ages 16-75
BOARD CERTIFICATION:
ABPN (American Board of Psychiatry and Neurology)
EDUCATION:
MD- Osmania University/Gandhi Medical College, Hyderabad, India.
RESIDENCY/FELLOWSHIPS:
Psychiatry Residency at Winnebago Mental Health Institute.
PROVIDER BIO:
I have more than 30 years of experience working with adult patients both General and Forensic Psychiatry at Winnebago Mental Health Institute (WMHI). I have also worked as a consulting psychiatrist for Waushara, Outagamie and Winnebago County Human Services and for a number of nursing homes in the area.
I have been married for 40 years and have two adult children, one is an attorney and the other a consultant engineer. After living a good portion of my life in Wisconsin, I have recently moved to Florida where I enjoy gardening, cooking, arts and crafts, long walks and travel.