When:
2023-05-17T00:00:00-05:00
2023-05-18T00:00:00-05:00
Where:
Oneida Family Fitness

Contact:
Oneida Family Fitness
9204903730
National Employee Health and Fitness Day is Wednesday, May 17th!
  *Oneida Nation encourages all employees to participate in 30 minutes of mental, physical, or spiritual activity.  Employees are invited come visit us at Oneida Family Fitness or grab a co-worker and choose an activity of your choice!
*Report activity minutes by Friday, May 19th for a chance to win a Bike!   See flyer for details.
RECORD ACTIVITY MINUTES ON A RAFFLE ENTRY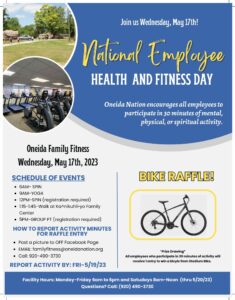 Report your ACTIVITY MINUTES (pick one option):
 Print off Raffle Entry ticket; record activity and drop off at O.F.F. or email
Post a picture to OFF Facebook page
Email:  familyfitness@oneidanation.org
Call:  920-490-3730