Oneida Nation photos
(Oneida Reservation) – The Haskell Indian Nations University in Lawrence, Kan., is nearing the end of an 8-week summer internship known as the Haskell Environmental Research Studies (HERS) program. The program, meant to prepare students for graduate school and to help them meet the challenges of climate and environmental change, brought 12 Haskell interns to the Nobert Hill Center cafeteria July 18 to present their individually designed research posters to the community.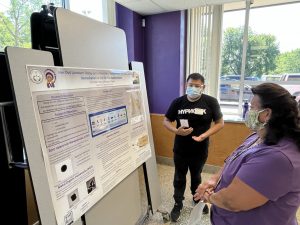 Each of the specially designed posters deals with a major environmental concern that has far-reaching impacts for First Nations across Turtle Island. These are the issues the interns hope to study for their graduate programs. Some of these concerns include Urban Heat Island Effect, our relationship with water, reinvigorating Native relationships with the buffalo, and sample testing for uranium that has seeped into tribal lands.
While many of the concerns addressed in the poster showing impact most, if not all, tribal nations, some issues are more problematic for some than others. "Although Wisconsin doesn't have the same water and rainwater problems as they have in Arizona, we still have to pay attention to it. We're so blessed to be right next to Lake Michigan, but we don't realize how much we rely on that," Oneida Nation Cou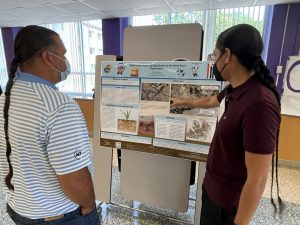 ncilwoman Jennifer Webster said.
"Many of our tribal students attend Haskell so this is pretty important," Oneida Nation Chairman Tehassi Hill said. "Being able to see the line of studying and the types of research they do at the school is pretty impressive. I think these are great foundational works that they'll continue to work on as they pursue their respective doctoral degrees. These issues pertain to the environment in far-reaching ways, so this is really good to see."
Getting more Native graduate students into the climate and environmental arena will have a positive impact for tribal communities. "This is so fantastic that we're bringing in these young, educated Native people who have incredible insight on their projects," Oneida Nation Councilman Kirby Metoxen said. "These students are incredibly knowledgeable, and they want the rest of the world to know their research. Hopefully they'll be able to implement these programs because there's definitely a future for every one their concepts and ideas."
If you would like to learn more about the Haskell Indian Nations University Environmental Research Studies program, please visit their website at www.hersinstitute.org.