Rus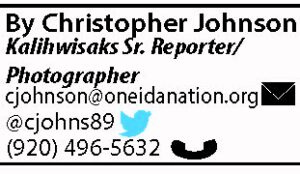 sia's unprovoked attack on Ukraine is prompting condemnation and a worldwide response from many nations including the United States. Since the invasion began President Joe Biden has deployed several thousand United States troops to neighboring European countries to help train NATO troops and serve as a deterrent. And while there is no intent on the part of the U.S. to join in the fighting against Russia, that news is still unsettling for one Oneida Nation mother whose son was just deployed to the region.
Army Specialist Tyrel Miller, 26, shipped out in mid-February as Russian President Vladimir Putin continued his build-up of troops on the Russian/Ukrainian border. Miller's mother, Michelle, says the 2013 Preble High School graduate deployed with his Wiesbaden, Germany-based unit and is currently serving as a Chaplain's Assistant at an undisclosed location.
"I really thank all of our family and friends who have been reaching out," Michelle said. "I really appreciate that from everybody, and not just for my son but for all of our military families because this is a rough time not knowing what is going on when we don't hear from our loved ones. I did ask him to contact me, even if it's only a two-second phone call, to let me know he's all right but have yet to hear from him."
As the situation in Ukraine continues to evolve the United State's mission in the conflict will continue to be one of deterrence and training for the foreseeable future.