Photos courtesy Karen Krause
Oneida Nation treasure Pearl McLester joins the tribe's centenarian club Tuesday, February 22, 2022. Nothing is more important to Pearl than family, and she has introduced generations of McLesters to the world.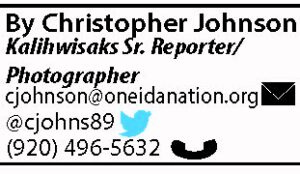 The Oneida Nation is proud to welcome its newest centenarian club member, and she is still as sharp as a tack. Beloved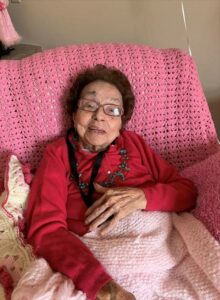 matriarch Pearl McLester turns 100 years old Tuesday, February 22, 2022, and her adoration for family and friends is as strong as ever.
Born Pearl Schuyler on Ray Road in Oneida to parents Hattie Lavina Moore Schuyler and James E. Schuyler, she recalls with great clarity what life was like on the reservation before all the unending hustle and bustle of modern living. "As a kid we had to walk to school and it was quite a long walk, but we always managed to get there," Pearl said. "Today you never hear of it but families would get together all the time. I remember families always getting together and playing cards after supper."
Close interpersonal relationships have always been an important part of Pearl's life since the beginning, and she feels people should do a better job of building those relationships with others. "We really need to take the time to get to know one another and give others a chance so we can understand how they think," Pearl said. "Also getting your kids and teenagers to church on a regular basis is very important. Having good neighbors and generosity are things I would really love to see in our community again."
She counts making things for the holidays among her favorite memories from growing up in Oneida. "I absolutely loved making things, the boys would make toys and other Christmas presents also," Pearl said. "We all grew up around some really good cooks out here."
Pearl married Lee McLester in 1939 and the young family moved to Detroit in 1939, returning to Oneida after World War II. She brought seven children to Turtle Island, and they gave her 20 grandchildren. She now has 44 great-grandchildren as well as 22 great-great-grandchildren. "Every single one of my children and grandchildren are precious and good kids," Pearl said. "When I hear that I have good kids, it really means the world to me."
Her son Gordon took the bull by the horns and created a great legacy of elder videos for our community to enjoy, but video production work from some in the younger generations has left Pearl with much to be desired. "I'm sick of the language kids use today," Pearl said. "Our kids need to know their own language and they need to use good language. It's up to us and it's our own fault as mothers and fathers who don't know the good language to use."
Having served a significant amount of time on the Oneida Nation Commission on Aging, there are still a few things Pearl would love to see implemented. "We are not teaching elders the new technology or the language they grew up with," Pearl said.
"She is a great lady who has been through so many things," her daughter, Winnie Thomas, said. "She witnessed electricity come to the reservation. We all grew up with outhouses, so the first time she had indoor plumbing was on County Line U. She's witnessed so many changes in the community that we just take for granted today. We had to haul water in milk jugs, but today you just turn the faucet and there it is. And I'll never forget the 18 years she spent at the Sacred Heart Seminary working as a cook.
"In January 1948 my mother gave birth to my sister Pearl (Webster) at home," Thomas said. "In May of that same year I lost a younger sister to tuberculosis meningitis, so we were all tested and mom came up positive. She was put in a sanitorium and my twin brothers Ronald and Donald McLester were born in December 1948. So, she gave birth to three and lost one in 1948 and she's a miraculous lady.
"She had a kidney removed in 1957 long before that type of surgery was done and she was sent home with these huge staples from the center of her stomach to the middle of her back, but she weathered that storm," Thomas said. "She has been through so many things and she's just an incredible lady, and we owe it all to my grandma and grandpa Schuyler. My grandpa Schuyler used to always tell us 'You're made of strong stock.'
Many may be wondering what the secret to a long, fruitful life may be. Pearl's pretty sure she has the answers. "It's all in the way we live," she said. "Good, clean food. We didn't have fancy food while growing up, but we had good, healthy food. Different than what we have today. We need good food for a long life. We also need to teach our kids to be respectful and to always keep in contact with family."
When asked if there were some things she wishes she could experience again, Pearl replied, "I would like to go back to my father's house and relive there and relive life. I'd like to go back to where we all got along and were so close."
At 100, Pearl McLester wants everybody younger than her to keep pursuing the truly important things in life and keep contributing to Oneida's fire in a good way. "I didn't make the fire; we are all out there giving to the fire as far as I'm concerned. We must all get out and do it in a decent way. Do better than the next guy down the road but know they may be in the same situation as you are. Just remember we're only here for a little while and know God put us all here for a very good reason," Pearl said.
Pearl's family will be hosting a 100th Birthday Party for her Saturday, February 26, at the Congregate Dining Hall of the Anna John Resident Centered Care Community from 1:00 p.m. – 2:30 p.m. The celebration is open to the public. Cake and punch will be served, and all COVID-19 protocols and masking will be strictly adhered to.