Photo courtesy Elliott Cooper
Oneida Nation citizen Elliott Cooper was struck and killed by a hit-and-run driver October 5, 2020, near the Oneida Casino. John Parnon, the man who stands accused of killing Cooper, is finally headed to trial in Brown County July 12-14, 2022.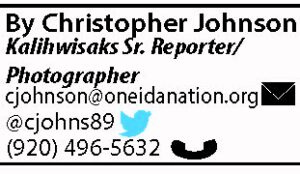 It's been more than a year since Oneida Nation citizen Elliot Cooper was struck and killed on Highway 172 by a hit-and-run driver near the Oneida Casino, and the excruciating wait for justice for the victim's family continues as the case finally heads to a three-day jury trial in Brown County Court this July.
Cooper, 42 and father of six children ranging in age from 1-year old to 20, left the casino property in the late evening hours of October 5, 2020, and is believed to have been walking home when he was struck by a Toyota Rav4 driven by Brookfield resident John M. Parnon, 64. Parnon, who had just left the casino before the incident, did not stop and render aid, choosing instead to continue his drive home despite significant damage to his vehicle.
Parnon was arrested days later in Brookfield (just west of Milwaukee) after a tipster notified law enforcement about a conversation he had with Parnon regarding damage to his Rav4. The tipster said Parnon told him he "heard a loud boom, like a log flew at him, but didn't know what had happened to the vehicle." The damage to Parnon's vehicle included a hole in the windshield, the middle of the hood was dented, and there was glass on the front passenger seat. His attorney, Shane Brabazon, later said Parnon thought somebody threw something at his vehicle, which is why he didn't stop and investigate.
Parnon initially denied being at the casino, denied talking to anybody about his vehicle, and claimed he "hit something between Oshkosh and New London." Once detectives confronted him with surveillance video from that night showing him in the casino, Parnon finally admitted it was him. He was taken into custody and charged with one count of Hit and Run – Involving Death. It is not believed alcohol played a role in the incident.
Parnon's plea hearing in Brown County Court had been rescheduled multiple times. Coupled with the fact that he was permitted to continue driving, albeit for work purposes, while on bond has left Cooper's family devastated as the long wait for justice continues.
"I simply don't understand why this has taken so long," Beverly Allen, Cooper's mother, said. "The guy lied through the whole thing about what he did to Elliot by trying to say he didn't do anything. He even took his vehicle to a shop and tried to get it fixed.
"Furthermore, I don't understand why the judge let him out to drive all over for work," Allen said. "If he can go to work, that's fine, my son has six children. He should go to work and provide for Elliott's six kids. We want justice for those kids, and we want this guy to take care of those six grandkids."
The long wait for justice has been a very trying ordeal for Allen. "This whole thing has been almost unbearable," she said. "I told my niece I don't know if I can go through this again, Elliott is the second child I've lost now and my health hasn't been good. And there just isn't much support or help out there for anything like this."
The loss of Cooper has had a profound effect on his mother. "I miss my son so much," Allen said. "He used to bring his kids over to see me all the time. He was always there for me. If I needed to go shopping he was there. We'd go fishing sometimes and he even got me into beading. He would make and sell Packer medallions at Pow wows and I still have a lot of his stuff, but along the way since this happened I've pretty much lost interest in everything. I miss him so much."
Appearing via phone in Brown County Circuit Court February 11 while driving for work, Parnon was bound over for a three-day jury trial from July 12-14 by Judge Marc Hammer. If convicted of the single count of Hit and Run – Involving Death, Parnon faces a maximum sentence of 25 years in prison.
There are at least two other well-known unsolved hit and run cases from Oneida in recent memory. Erwin Cottrell, 20, was struck and killed August 29, 2005, along Highway 172. Joshua Christjohn, 23, was hit and killed as he walked along Highway 29 October 10, 2010. Both cases remain open. If anybody has any information regarding these incidents, please contact law enforcement.