Photo courtesy Robert Dalimonte
Oneida Nation artist and environmentalist Sayo':kla Kindness displays her beaded 'LAND BACK' sign at Tuscarora Woodworkers in New York. Her work earned her 1st Place finishes in two esteemed art shows.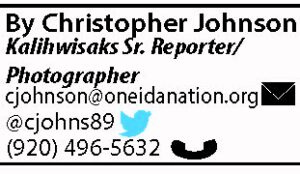 Inspired by an unwavering desire to inform, discuss, and promote Indigenous rights, Oneida Nation artist and environmentalist Sayo':kla (It Snows Again) Kindness utilized a four-month isolation last year in Canada to begin work on a beaded sign. Titled 'LAND BACK: Thanksgiving Haudenosaunee Land Protectors/Defenders,' the sign was designed to recognize those who raise awareness of Indigenous rights, and it would eventually garner Kindness 1st Place finishes in two esteemed art shows. Her work was made possible through an Artist Development Grant from the Oneida Nation Arts Program.
"This work honors Haudenosaunee land protectors who stand up for the rights of Indigenous peoples on Turtle Island and support other First Nations peoples across Canada from the Wet'suwet'en in British Columbia to the Mi'kmaq of Nova Scotia," Kindness said. "I witnessed this firsthand while I lived there while my sons participated alongside me during various protests."
The Six Nations Reserve in Canada was in the midst of a shutdown due to the COVID-19 pandemic and Kindness was prevented from entering or leaving the reservation, forcing her family to briefly reside in nearby Brantford, Ontario. "Blockades were set up at the edge of the reserve and nobody could enter unless we lived or worked there," Kindness said. "So, in isolation I decided to create the 'Land Back' sign using photos from protests.
"The Land Back protest occurred at Six Nations because the leadership of the Six Nations Band Council illegally sold land to developers for a housing project without the consent of the people," Kindness said. "The land has been reclaimed by Six Nations land protectors and the struggle continues in the courts."
Kindness began beading when she was eight years old. At the time she couldn't have known she would one day use her skills to help educate people. "My beading teachers were Benjamin Cannon from Oneida and Gerald Hawpetoss of the Menominee Nation," Kindness said. "I became a land protector more than 20 years ago when I was hired by the Indigenous Environmental Network. Today, I continue my beadwork/regalia art and combine both worlds to inform, discuss, and promote Indigenous rights. It also aids in the fulfilling of Turtle Clan responsibilities as protectors and caretakers of Mother Earth."
Following her participation in numerous Indigenous rights activities in Canada, Kindness returned to Oneida and was able to complete her beaded 'LAND BACK' sign in time for submission in the 2021 Woodland Indian Art Show. She took a 1st Place ribbon home in the Theme: Thanksgiving Category. She then followed this performance up by submitting it to the Ganondagan's fifth juried Hodinohso:ni' Art Show in Victor, New York, in late 2021. There she also took 1st Place in the Beadwork category.
"I had to apply to be accepted into the New York show," Kindness said. "They have pretty high standards for the artists they receive so all the artwork we saw was just incredible.
"I travelled with one of our Faithkeepers, Gail Danforth, and it was my first time ever setting foot on our original Oneida homelands," Kindness said. "Being able to reconnect with the land was a very emotional experience. We even went to a gorgeous site where an actual Oneida village once stood overlooking a large valley."
Kindness, a former two-time Miss Oneida, is the current Indigenous Coordinator of the Western Mining Action Network and a member of the Board of Directors for the Indigenous Environmental Network. Her burgeoning business, called Skywoman Beadwork, contains many of her works which can be seen and purchased virtually on her personal Facebook account at Sayokla Kindness.
Her maternal grandparents are Harry DeCoteau and Vivian Danforth. Her paternal grandparents are Lloyd Kindness and Cynthia Antone.