Getty Images
Canadian-based Enbridge Inc. continues to expand its scope of operations across the United States despite dozens of oil ruptures on its Pipelines 3 and 5 going back decades. Enbridge now wants to construct a tunnel for its contested Line 5 which would run under the Straits of Mackinac. Michigan's Bay Mills Indian Community is refusing to capitulate.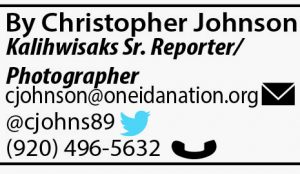 The Oneida Nation of Wisconsin continues to stand in solidarity with all other First Nations across Turtle Island in their ongoing quest to protect Mother Earth. In 2021 alone, the Oneida Nation Business Committee (OBC) released proclamations endorsing the Rights of Nature as well as denouncing the continued operation of Enbridge Inc.'s Pipelines 3 and 5.
Similar to the concept of human rights, the Rights of Nature adheres to the same basic tenants that ecosystems and species hold the same inherent rights to existence without being owned, used, or degraded for the purpose of man's greed. As of 2021, Rights of Nature laws exist in no less than 17 countries, including dozens of cities and counties across Turtle Island.
The OBC brought this proclamation forward because our guiding principles, found in the Great Law and the Thanksgiving Address, instruct us to honor, respect, protect, nurture, and caretake the very thing that sustains us as humans within the delicate balance of nature. We are instructed to defend and speak for those things that can't speak for themselves, and if we do not fulfill this responsibility we will cease to exist in the future. In helping create a sustainable environment we are holding ourselves accountable to our children, their children, and generations to come.
The proclamation quotes Chief Dan George. "If you talk to the animals, they will talk with you and you will know each other," Chief George said. "If you do not talk to them, you will not know them and what you do not know you will fear. What one fears, one destroys."
Meanwhile, numerous First Nations on lands to the north continue to battle Enbridge Inc. in the courts to try and prevent the company's continuously increasing scope of operations. The Canadian-based Enbridge has touted itself to be an environmentally safe company, but their years of well-documented safety failures shows the exact opposite.
In September 2021, Enbridge announced that construction on an upgrade to its Line 3 pipeline was complete and almost immediately began pumping 760,000 barrels of oil daily from Alberta's tar sands across Minnesota to its terminal in Superior, Wisconsin. Thus far, environmental opponents of the pipelines have been unsuccessful in litigation against Enbridge but the battles continue.
According to Harvard University's Environmental & Energy Law Program, the Line 3 upgrade will result in 193 million additional tons of carbon dioxide emissions per year, more than the entire state of Minnesota's current emissions. The largest inland oil spill in United States history occurred on Line 3 when 1.7 million gallons were spilled near Grand Rapids, Minnesota, on March 3, 1991. At nearly the same time as Enbridge's announcement regarding its Line 3 "upgrades," Minnesota's Department of Natural Resources fined Enbridge more than $3 million after the company breached an aquifer and illegally obtained millions of gallons of groundwater.
Immediately after President Joe Biden took office, he canceled permits for the hotly debated Keystone XL Pipeline and canceled all domestic oil and natural gas production, but he's since backed off campaign promises to stop pipeline projects similar to these. More than 900 opponents of the lines have been ticketed or arrested since December 2020 during protests.
Late last year, Michigan Democratic Gov. Gretchen Whitmer withdrew a federal lawsuit against Enbridge's Line 5 Pipeline saying she still plans to pursue its closure through state courts. Whitmer cites oil spill concerns as her primary motivator. Line 5 now pumps more than 540,000 barrels of crude oil daily from Sarnia, Ontario, through the Straits of Mackinac to refineries in Toledo, Ohio. Although Enbridge says the pipes under the straights have never leaked, numerous spills have occurred across Michigan from other Enbridge pipelines.
In 1999, a major Line 5 spill occurred near Crystal Falls in the Upper Peninsula when 220,000 gallons of oil and natural gas were leaked. When Enbridge officials ignited the resulting vapor cloud to prevent it from spreading, a raging 36-hour fire was the result. Five hundred residents were forced to evacuate. Line 5 has experienced 33 separate spills since 1968, resulting in 1.1 million gallons of oil being dumped into the surrounding environments.
According to CleanWaterAction.org, in 2019 an Enbridge regional gas pipeline exploded in Kentucky, killing one and sending five others to the hospital with serious injuries. That same year the Bad River Band of Lake Superior Chippewa filed a federal lawsuit against Enbridge to remove Line 5 from tribal property. The tribe's easement allowing Enbridge to operate Line 5 ended in 2013, but to this day the company continues to operate the line unabated and without permission.
Enbridge's Line 6 ruptured near Marshall, Michigan, in July 2010 dumping 1.2 million gallons of oil into the Kalamazoo River. This rupture went unreported for almost 17 hours because employees misinterpreted the sounding alarms, indicating pressure loss, to be a bubble in the line. The company's response to such an occurrence is to actually increase oil pressure and flow in the line. For 17 hours employees repeatedly increased the oil flow until a local utility company notified Enbridge that Line 6 had experienced a major rupture. A mere ten days before this incident, Enbridge had testified before Congress that they could detect a leak "almost instantaneously."
Enbridge is now attempting to construct a tunnel under the Straits of Mackinac in the hopes of rerouting the portion of Line 5 that currently runs through the waters and into this tunnel. This attempt is being met with stiff opposition from concerned environmentalists, particularly Michigan's Bay Mills Indian Community. Bay Mills is represented by Earthjustice and the Native American Rights Fund in legal proceedings before the Michigan Public Service Commission.
Richard Kuprewicz, a chemical engineer with nearly 50 years of in-depth experience in the oil and gas industry, gave damning testimony before the commission in December 2021 on behalf of Bay Mills. Kuprewicz warned the commission of the chances of a catastrophic explosion which in turn would lead to a high-pressure event inside the tunnel followed by multiple fires and more explosions. A blast of this magnitude would shatter concrete, compromising the structural integrity of the tunnel's containment system. Once this system fails, oil will almost certainly be released into the Straits of Mackinac.
While Enbridge attempts to convey the tunnel effort as a way to prevent accidents in the straits, the inherent risk of an underground explosion while handling both propane and crude oil is greatly enhanced within the confined space of an underground tunnel. As of this writing, Enbridge Inc. is attempting to strike Kuprewicz's expert testimony from the Michigan Public Service Commission's hearing record.
As these highly contentious battles will continue to be fought into the foreseeable future, the Oneida Nation is steadfast in its unwavering support for the Rights of Nature. The Nation also remains committed to engaging with other tribes, organizations, and state and federal governments in its opposition to Enbridge Inc.'s continued high-risk construction of Pipelines 3 and 5.