Photo courtesy Getty Images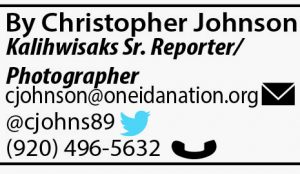 Today, Oneida stands in remembrance with our brothers and sisters from the Great Sioux Nation of the no less than 150 victims of the Wounded Knee Massacre that occurred on this date, December 29, 1890, on the Pine Ridge Reservation. One hundred thirty-one years after the U.S. Army's 7th Cavalry Division surrounded a band of Ghost Dancers and opened fire, many today speculate the soldiers were taking revenge for the beatdown their regiment received at Little Bighorn some 14 years earlier.
Although the United States' historical narrative attempted to label the incident as a battle, it was nothing more than a massacre in which nearly half of those killed were women and children. Twenty of the "brave" soldiers involved in the brutality were awarded the Medal of Honor for their actions that day. The horrific incident occurred a mere two weeks after famous Sioux Chief Sitting Bull was brutally killed while being arrested on the same reservation.
Chief Big Foot (Chief Spotted Elk)
Mrs. Big Foot
Horned Cloud
Mrs. Horned Cloud
William Horned Cloud, son
Sherman Horned Cloud, son
Pretty Enemy, niece
Mrs. Beard, daughter-in-law
Thomas Beard, grandson
Shedding Bear
Trouble-in-Front, son
Last Running
Red White Cow, daughter
Mother-in-law of Shedding Bear
High Hawk
Mrs. High Hawk
Little boy, son
Little girl, daughter
Whirl Wind Hawk
Mrs. Whirl Wind Hawk
Young lady, daughter
Young girl, daughter
Little girl, daughter
Little boy, son
Little boy, son
He Crow
Pretty Woman, daughter
Buckskin Breech Clout
Running In Lodge, son
White Feather, son
Little boy, son
Bear Woman
Crazy Bear
Elk Creek
Mrs. Elk Creek
Spotted Chief, son
Red Fish
Mrs. Red Fish
Old Good Bear
Young Good Bear
Mrs. Good Bear
Little boy, son
Pretty Hawk
Mrs. Pretty Hawk
Baby Pretty Hawk
Mrs. Lap
Shoots The Right
Bad Wound, son
Bear Parts Body
Little boy, son
Brown Beaver
White Beaver Woman
Black Coyote
Red Water Woman
Sun In Pupil
Mrs. Sun In Pupil
Henry Three, or Pretty Bald Eagle
Iron Eyes
Mrs. Iron Eyes
Has A Dog
Red Shirt Girl
Pretty Woman
Albert Iron Eyes
White Day
Little Boy, son
Charge At Them
Old Woman, mother
Mrs. Iron American
Mrs. Yellow Buffalo Calf
Louis Close To Home
Cast Away And Run
Bad Braves
Red Horn
Winter
Strong Fox
Mrs. Strong Fox
Little boy, son
One Feather
Little boy, son
Without Robe
Old Man Yellow Bull
Mrs. Old Man Yellow Bull
Brown Woman
Shakes The Bird
Red Ears Horse
Shoots With Hawk Feather
His mother
Ghost Horse
Little boy, son
Chief Woman
Mrs. Trouble In Love
Hat
Baby boy
Mrs. Stone Hammer
Little baby
Wolf Ears
Good Boy, son
Edward Wolf Ears
Little girl
Shoots The Bear
Kills Senaca Assiniboine
George Shoots The Bear
Mrs. Shoots The Bear
Kills Crow Indian
Little Body Bear
Mrs. Little Body Bear
Little boy, son
Baby girl
Red Eagle
Eagle Body, daughter
Little girl
Little Elk
Mrs. Little Elk
Black Shield's little girl
White Wolf
Red Ears Horse, sister
Old Woman, her mother
Wood Shade
Mrs. Wood Shade
Running Standing Hairs
Mrs. Running Standing Hairs
Young lady, daughter
Scabbard Knife
Mrs. Scabbard Knife
He Eagle
Mrs. He Eagle
Edward He Eagle, son
Young girl, daughter
Young boy, son
Log
Mrs. Log
Really Woman, son
Brown Hoops
Little boy, son
Young girl, daughter
Mule's daughter, young lady
Red Other Woman
Black Flutes, young boy
Takes Away The Bow
Gray In Eye
Mrs. Drops Blood
Young boy, son
Little boy, son
Old Woman
Mrs. Long Bull
Young girl, daughter
Spotted Thunder
Swift Bird
Mrs. Swift Bird
Boy, son
Boy, son
Strike Scatter
Boy, son
Wolf Skin Necklace
Last Talking, old woman
Not Go In Among, son of Hailing Bear, and Her Good Medicine
Wounded Hand
Comes Out Rattling, wife
Big Voice Thunder
Mercy To Others
Long Medicine
Broken Arrow
Mrs. Broken Arrow
Young man
Young woman
Brown Turtle
Old woman, mother
Bird Wings
Not Afraid Of Lodge
Bear Comes And Lies
Wears Calf's Robe
Yellow Robe
Wounded In Winter, son
Mrs. Black Hair
Bad Spotted Eagle
Mrs. Bad Spotted Eagle
White American
Long Bull
Courage Bear
Mrs. Courage Bear
Fat Courage Bear
George Courage Bear
Black Hawk
She Bear, wife
Weasel Bear, daughter