Kali photo/Christopher Johnson
Leadership from Wisconsin's First Nations gathered with Gov. Tony Evers' Administration December 9 at the Radisson Hotel & Conference Center to sign agreements of consultation between the state and tribes.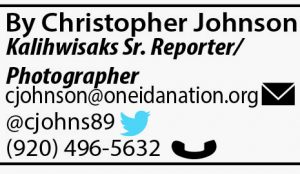 Wisconsin tribal leaders met with Governor Tony Evers and his administration to sign consultation agreements at the Radisson Hotel & Conference Center December 9. Oneida Nation Chairman Tehassi Hill, Vice Chairman Brandon Stevens, Treasurer Cristina Danforth, and Councilmember Marie Summers took part in the event which will strengthen the nearly already open-door relationships between the Evers' Administration and Wisconsin's First Nations.
Representatives from Wisconsin's Native Nations were also on hand for the momentous occasion including Stockbridge-Munsee President Shannon Holsey, Menominee Nation Chairman Ron Corn Sr., Forest County Potawatomi Chairman Ned Daniels Jr., Red Cliff Chairman Christopher Boyd, St. Croix Band of Chippewa Indian's Michael Decorah, and Lac du Flambeau President John Johnson Sr.
"We are honored to be here with the governor and his secretaries of the state with the signing of the consultation agreements between the sovereign governments here today," Oneida Nation Chairman Tehassi Hill said. "For centuries Indigenous sovereign nations and governments have entered into treaties and agreements with federal, state, and local governments.
"Today the state reaffirms the government-to-government relationship between the state and tribal governments and requires strengthening of the working relationship between the two governments. This initiative is a comprehensive program aimed at increasing ties between the state agencies and tribal governments in order to streamline and improve the services that our governments provide to both tribal and non-tribal citizens.
"Consultation leads to better communication and policy development in preparing better guidelines and requirements for tribal programs and services administered by the state," Hill said. "I would like to thank the representatives of the Tribal Caucus along with former Oneida Nation Secretary Lisa Summers for the years of service she put into developing and drafting this document."
"In 2004 Governor Doyle signed Executive Order #39 recognizing the government-to-government relationship between the State of Wisconsin and the federally recognized tribal governments," Governor Evers said. "In 2019, shortly after taking office, I reaffirmed that position by signing Executive Order #18 which recognized tribal nation's sovereignty and renewed our commitment to work collaboratively throughout my administration.
"As we know, this sort of collaboration and partnership doesn't just happen," Evers said. "It takes intentional work, it takes dedicated individuals showing up and reaching out, it takes all of us. That's especially true as we fought the challenges of COVID-19 which made connecting and collaborating even more difficult. Many state and tribal governments turned their attention and efforts to keeping our communities healthy and safe."
Governor Evers then announced the signing of the consultation agreements between the state and all 11 Wisconsin Native Nations. "(This) recommits the State of Wisconsin and our administration to respectful and cooperative communication in a collaborative manner and to achieving consensus to the greatest extent possible," Evers said. "These agreements are a recognition that there is tremendous potential for our state and the tribes to work together for the benefit of everybody."
Evers acknowledged the signing of the agreements is only the beginning. "The real work begins in the months and years ahead in living up to these expectations that we've set, in growing and developing this relationship together, and in updating and reviewing our work along the way," Evers said.
Stockbridge-Munsee Band of Mohican Indians President Shannon Holsey then praised the Evers' Administration for sticking to their promises of working closely with Wisconsin's First Nations. "On day one Gov. Evers said he was going to succinctly engage tribal nations on issues that mattered most," Holsey said. "(This) is encouraging and refreshing because we as tribal leaders have never seen the type of engagement among his secretary cabinet as we are seeing now, which has resulted in so many positive aspects even during a pandemic. We were resilient and adaptable, and Gov. Evers always answered the call and supported us as we equally supported him.
"We look forward to continuing to work with Gov. Evers and his phenomenal cabinet and tribal leaders to guide those initiatives that will be meaningful to our tribal communities and communities at large," Holsey said.