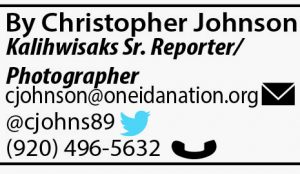 With the Holiday Season upon us, Oneida Nation citizens are benefiting from the partnership between the tribe and Festival Foods. Members received a $500 gift card from the grocery chain in the Oneida area while the Milwaukee membership received the same amount for Kroger Foods. The gift cards were distributed across a three-day period from November 17-19 at Lambeau Field and at Southeastern Oneida Tribal Services (SEOTS) in Milwaukee.
The request for the gift cards came from General Tribal Council (GTC) member Nancy Barton. "The intent of her request was to provide assistance for members to buy healthy food for the holidays," Oneida Nation General Manager Mark Powless said. "With her request supported by the Oneida Business Committee (OBC), we looked at options for gift cards. Walmart wasn't viable because they couldn't fulfill the order we were requesting in the time frame we were requesting, so we had to consider a range of options."
Festival Foods and Kroger were again selected as the primary provider for the cards. "Festival provided us with a very nice discount on the order of nearly $200,000 for the mass purchase," Powless said. "Following the 2020 Festival Food Card distributions, Festival also gifted a $30,000 donation to Oneida Elder Services. There's no expectation for that this year but it most certainly contributed to our good relationship with Festival Foods."
Proactive attempts were made to ensure enough cards were available for the membership. "We certainly attempted to project our needs by looking at the December 2020 distribution," Powless said. "We put out a total of 7,000 cards last December when the amount was $125, so we anticipated more participation this year with the amount being $500 and we ordered 8,000 cards."
Safeguards were put in place to ensure those who applied for the gift cards on time would receive a rain check card in December were supplies to run out, which they did. "Last year we didn't have the rain check process," Powless said. "This year we wanted to implement that so that if we did run out we'd still be able to get cards to people at a later day if they showed up during our distribution hours."
Finding a suitable location to host the distribution was also a challenge for the distribution team that included Powless, Tina Jorgensen, Jameson Wilson, Rae Skenandore, Eric Bristol, Forrest Pelky, and others. "Last year we distributed at the Turtle School but they weren't in session while this year students are in school," Powless said. "We also used the Radisson Hotel last year as one of the locations, but we were unable to do so again this year because of conflicting promotions that were taking place at the casino which would have created traffic and parking concerns.
"In looking for a new location we needed substantial parking, we needed to have a large enough space to accommodate the traffic flow for cards, and we also needed a quality wi-fi signal. We looked at a number of locations in Oneida and they simply didn't meet all three requirements. Then somebody on our team mentioned the Johnsonville Tailgate Village at Lambeau and it met all of our requirements. What we couldn't have anticipated was the Trans-Siberian Orchestra concert that took place on the first day of our distribution, which they had booked after we had already signed our contract for our event."
Numerous tribal employee volunteers and departments stepped up to help make this event a success. "We had three shifts of twelve for each day filled with all employee volunteers," Powless said. "We were worried we wouldn't get enough volunteers but the time slots filled up quickly and we had to actually turn people away. It was just amazing to see all the support from our employees. We also had leads there each day distributing cards and handling any concerns, and the Oneida Police Department and Security Department kept everything going smoothly and handled temperature checks.
"This really took the support of a lot of areas and employees," Powless said. "For the most part this event went very well. The demand was higher than we expected as was the early turnout. Once we started rolling we heard the longest wait was a half-hour, and as we progressed into the afternoon there was virtually no line.
"There are certainly things we could have done better logistically. We've received recommendations that we reserve the first day strictly for elders, so there has been some very good constructive criticism and feedback. When and if we do this again we'll definitely be incorporating some of this feedback from the community."
Distribution in Milwaukee also went smoothly despite the Southeastern Oneida Tribal Services (SEOTS) location being considerably smaller in size. "It was a bit overwhelming with the huge first day turnout," SEOTS Manager Sara Deida said. "The line wrapped through our parking lot, down the street, and around the corner, so it did cause a bit of a traffic backup. We had our social workers, Anne Kreutzinger and Jenna Skenandore, Kerry Metoxen, Julie Clark, and Marie Summers, Cristina Danforth, and Kirby Metoxen from the Oneida Business Committee all here to help us during the craziness. Our awesome Security Corporal Kim Waupoose even drove down here to help for two days straight which was huge.
"This was a great combined effort since I'm the only employee working SEOTS right now," Deida laughs. "Once we got through the rough Wednesday, the following two days went pretty smoothly as we were handling mostly rain checks. But the main issue we've had is many Oneida members in the Milwaukee area don't have their tribal identification cards or know their enrollment number so that really slowed the process down. But (Corporal) Waupoose was helping keep the process going by helping elders with walkers so they didn't have to wait in line, and overall the distribution went fairly well."
Oneida Business Committee Project Coordinator Jameson Wilson was much of the glue that made the entire process run smoothly. "Could this process be improved upon," Wilson asks. "Absolutely. There's always room for improvement, but overall I think this was a very successful event. I imagine when we look at the after-action reports that we'll weigh out the pros and cons and go from there."