Kali photo/Christopher Johnson
Oneida Nation Councilwoman Jennifer Webster, Councilman Kirby Metoxen, Stockbridge-Munsee Band of Mohican Indians President Shannon Holsey, Chairman Tehassi Hill, Vice Chairman Brandon Yellowbird Stevens, Wisconsin Governor Tony Evers, Councilman David Jordan, Treasurer Cristina Danforth, Councilwoman Marie Summers, Secretary Lisa Liggins, and Councilman Daniel Guzman-King pause for a photo during the Indigenous Peoples' Day ceremony. Hill and Evers hold the copy of Executive Order 136 the governor just signed which formally acknowledges and apologizes for the tragedies endured by Native peoples at the hands of state and federal governments.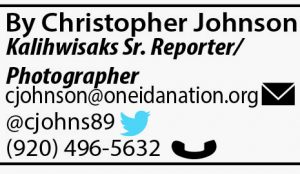 The Oneida Nation marked Indigenous Peoples' Day with a sacred tobacco burning and acknowledgement ceremony October 11 on the Norbert Hill Center grounds. Oneida Nation Vice Chairman Brandon Yellowbird Stevens emceed the event that included statements from Chairman Tehassi Hill, Secretary Lisa Liggins, Councilmembers David Jordan, Kirby Metoxen, Jenny Webster, Treasurer Cristina Danforth, Oneida High School Principal Artley Skenandore, Stockbridge-Munsee Band of Mohican Indians President Shannon Holsey, and Wisconsin Governor Tony Evers. Drum group Buffalo Creek was also on hand to sing as the Oneida Nation Veterans performed the ceremonial flag raising.
"Today we celebrate the resilience of our ancestors who survived to keep our cultures and languages alive," Chairman Hill said. "We mark this day acknowledging the many lives lost to genocidal federal Indian policy of the past. We are more than survivors, we are more than Hollywood cowboys and Indians, we are more than Indian Casinos. We are thriving governments made of strong families built on our language, culture, and history, that binds us together for a brighter future."
"We have gathered to denounce the historically inaccurate accounts of the discovery of America by Columbus, and the associated false theories of the Doctrine of Discovery and Manifest Destiny whereby the genocide and violence upon the Indigenous peoples is not accurately considered," Secretary Lisa Liggins said. "Reclaiming Columbus Day as Indigenous Peoples' Day is also an opportunity to promote healing and wellness in Oneida whereby these legacies are inextricably connected to the existence of federal boarding schools, removal from traditional land and culture, and trauma from further acts of colonialism."
Next, Treasurer Cristina Danforth addressed the ongoing issues of violence perpetuated on Native women. "Indigenous Peoples' Day is every day," Danforth said. "To begin the healing we must protect, honor, and respect all lives and the well-being of our sacred women. We must carry on each and every day knowing we have a responsibility to creation as a matriarch society. It's a balance of who we are, a balance in our culture and community, a balance in our longhouse, ceremonies and songs, and in everything we do. We can't acknowledge the cycle of life unless we acknowledge the atrocities and harm, violence, and injustices that have gone on."
Councilmember Jenny Webster stressed the importance of family unity as the Oneida Nation continues to fight its way through the COVID-19 pandemic. "As Native people we are survivors and we will survive this pandemic if we work together and look to protect each other," Webster said. "Lay eyes on one another. As Native people we are resilient. We've endured displacement, assimilation, and annihilation. We need to lift up our brothers and sisters when they need a helping hand and not look down on them. Because just like a single arrow is easily broken, a bundle of arrows is strong and will survive."
Stockbridge-Munsee President Holsey then addressed the gathering. "Indigenous Peoples' Day is a day to remember the sovereignty, history, contributions, and resilience of all Indigenous people across the United States," Holsey said. "It's also a day for all of us to identify systematic, ongoing issues in Indian Country and a call for progress and change. We also recognize and pay homage to our elders, those we have lost, and those who were forced to endure. We mourn for our communities, our cultures, our languages, and the innocence that was stolen.
"Indian boarding schools were a byproduct of colonization ultimately engineered by the United States Government. More than 300 boarding schools were funded by the government and were often run by various Christian denominations. These schools were places where aspects of Indigenous culture were unwelcome and prohibited. While these practices and our participation in such schools ended decades ago, their traumatic effects continue to reverberate through the generations and are still present today.
"Fundamental to those schools were the structures and practices which forced Indigenous children to be separated from their families, prohibited them from speaking their language, kept them from practicing their culture, and that treatment is too painful to even verbalize. The impact of these actions authorized by our government upon Native peoples and cultures is something we will never truly make whole."
Governor Tony Evers also made an appearance during which he signed Executive Order 136. This act formally acknowledges and apologizes for the tragedies inflicted upon Native American communities at the hands of state and federal governments that operated the boarding schools. The Executive Order also commits the state government to supporting Interior Secretary Deb Haaland's Federal Indian Boarding School Initiative, convened to investigate the atrocities committed at boarding schools across the United States.
"It was a pleasure and an honor in 2019 to designate the second Monday in October henceforth as Indigenous Peoples' Day in our state to recognize the critical importance that Native Nations play to reaffirm our commitment to upholding tribal sovereignty and to celebrate Indigenous cultures," Evers said. "Over the past year we've seen an international awakening to the abhorrent injustices that took place in our country in the not so distant past.
"Native kids were taken from their families to attend boarding schools where they were forced to assimilate to white culture and stripped of their cultural identity and traditions. Obviously this deeply impacted their families and communities for generations. These are stories that Native communities have known for years. I've heard them myself. These stories have been erased from mainstream history books and reporting, and unfortunately the sheer lack of documentation means that we don't know the full scope and effects of boarding schools in Wisconsin and across the country."
Following Gov. Evers' remarks, the Oneida Nation and Bay Beach Wildlife Sanctuary partnered to release an eagle back into the wild. It was the second such eagle release on the Oneida Nation Reservation in the previous four days.