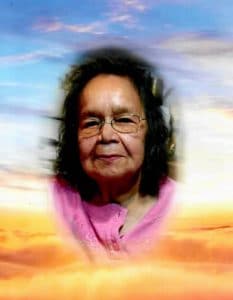 Elizabeth M. Cornelius, age 79 of Clintonville, formerly of Tigerton passed away surrounded by family on Sunday morning March 14, 2021 at Evergreen Health Services in Shawano.
Elizabeth had been ill for the past few years with multiple health complications. She made her home with the late Howard Bird in Tigerton. Elizabeth was born on April 22, 1941 in Tigerton as the daughter of the late John and Eva Jane (Christjohn) Cornelius.  She attended college and earned her BA Degree in Sociology. Elizabeth became a counselor/therapist at the Onieda Group Home for a number of years. She was an excellent cook, terrific artist, and loved gardening in her spare time.
Elizabeth was a loving mother of Tony Kolosso, Elizabeth (Terry) Fagan, Ammy (Bobbie) Vaughn, Sam (Barb) Kolosso, Conrad (Sharon) Cornelius, and Dan (Tammy) Cornelius.
She was a loving grandmother of 12 grandchildren, 10 great-grandchildren, and 3 great-great-grandchildren.
Also survived by a sister: Debbie (Marvin) Wilber.
And a brother: Weston (Debbie) Cornelius.
She was preceded in death by her parents, fiance Howard Bird, sisters Maribeth, Pam, & Candace, and by her brothers Garrett & Conrad.