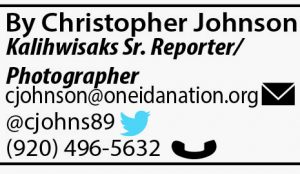 Now 18 months into the global COVID-19 pandemic, schools are beginning to get back into something resembling a normal routine for students. While the academic disruptions caused by the virus appear to be calming, at least for the time being, Oneida Nation High School (ONHS) athletic programs are also on the rebound following disrupted 2020 seasons.
"Just like the rest of the world I had no idea when we finished up our 2019-2020 season in March of last year that this would go from that point up until where we are now," ONHS Boys Basketball Coach Jamison King said. "It wasn't until recently that we were able to get back into the gym and hold open gyms and weightlifting. There was so much unknown going into last year and as a result we only got eight games in."
The pandemic-shortened season brought its fair share of heartbreak for the players as well as coaching staff. "We know how much athletics means to these kids," King said. "They only get four years which goes by so fast and to have that shortened for our seniors by the pandemic was very heartbreaking for me as a coach and community member. We were grateful to get something in last year which was better than nothing, but it hurt."
Despite the now seemingly ever-present threat posed by COVID-19, King is cautiously optimistic the upcoming season will look much better for the Thunderhawks. "We're certainly preparing for a full season," King said. "Unfortunately we're also preparing for the unknown. I've let the boys know that this could be stopped at a moment's notice so it's important that they not take any of this for granted. I want them to take advantage of the weight room and open gyms. The Wisconsin Interscholastic Athletic Association has also expanded our schedule by two games so I'm hoping we're able to get a full 24 games in this year."
While it's a bit early to ascertain the number of players who will participate in the upcoming season, King is anticipating another full roster. "I'm expecting pretty good numbers given our program had a great turnout even for the shortened season," King said. "We usually start practicing in November and I can tell our seniors are already leading the way with them getting their bodies prepared and putting in the work they need right now. Last season we had six seniors on the team so we lost a good, solid core of players who were with us for some time, so we're looking forward to this year's group stepping up."
On the football side of the house Oneida/NEW United Co-Coach Bryan Peterson says despite the pandemic, he hasn't seen any waning interest from returning or prospective players. "We'd been experiencing some recruiting challenges prior to the pandemic," Peterson said. "Some sports had been added to the fall lineup and it really affected our football numbers, but that doesn't seem to be a problem now. So far this year we've had a record number of freshmen and sophomores come out for the team between the Oneida and NEW Lutheran programs. The interest in football is there because we had 10 freshmen players come out for the team and eight of them are from Oneida. So from a team perspective we're really young but we're getting better by the week."
One challenge Peterson faced was locating a home field for the 2020 season. "During the spring 2020 season social distancing was a concern so we ended up playing our home games at the Green Bay Booyah's Capital Credit Union Park in Ashwaubenon, but we're back to Norbert Hill Center now," Peterson said. "But the biggest challenge we faced last year had to do with some schools in our conference that chose to play in the fall and some that didn't. So we really only had half the teams in our conference to play in spring, so we ended up playing some teams more than once."
The pandemic has also been challenging on the parents of student/athletes. "We were very grateful that our son, who graduated this year, got to play his senior year of lacrosse be he missed out on his junior year," Student/athlete mother Kelly Johnson said. "When COVID first hit we had a good team with a lot of seniors who missed out on playing. As an athlete you dedicate a lot of time to your sport and you look forward to that recognition and in some cases being recruited for college. This pandemic has taken so much away from our young athletes.
"As a community member and Oneida School System employee I see so many of our youth involved in sports and for some it's an outlet," Johnson said. "When they weren't able to practice or play their sport it caused a lot of stress and anxieties. Our youth need that physical activity because it provides them with balance and focus. Sporting events also give our families the opportunity to get involved and be supportive. Hopefully athletics won't have long-term effects from this pandemic and we will soon be able to go back to the way it once was."