Submitted photo
Tina Marie Coronado, center, is flanked by the Oneida Business Committee during a July meeting. Councilman Kirby Metoxen, Councilman David Jordan, Secretary Lisa Liggins, Treasurer Cristina Danforth, Chairman Tehassi Hill, Councilwoman Jenny Webster, Vice-Chairman Brandon Stevens, Councilwoman Marie Summers, and Councilman Daniel Guzman-King congratulate Oneida Nation citizen Tina Marie Coronado on her taking First Runner-Up in the Jr. Miss Belleza Latina Pageant.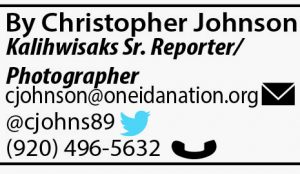 Tina Marie Coronado competed in her first pageant at the ripe old age of eight months. Now 13-years-old and beginning the eighth grade at Our Lady of Lourdes in De Pere, Coronado has become an experienced veteran of more than 13 national and international pageants. And she brought all of that experience into play as she took First Runner-Up in the Junior Miss Belleza Latina International Pageant in McAllen, TX, August 4-7.
"This was my first Latina pageant and it was fun to participate in it as a Latina lady," Coronado said. "To compete in a pageant that represents your culture adds joy because you're sharing those moments with other Latinas. I represented Junior Miss and took runner-up although all Mexican women won the other age categories, and next year I plan on returning to compete again."
Coronado's mother, Tina Webster, saw an early opportunity to teach her daughter some important life skills as she kept winning pageants while growing up. "Being in pageants really isn't all about the way you look," Webster said. "It's about all the community support you do, who you are as a person in school, and how you conduct yourself with others. I put my all into this for my daughter because I see what society is doing to children and I don't like it. There's so much more that goes into this than that gown and pretty face."
While there aren't any written rules regarding responsibilities for a runner-up in pageants, Coronado insists it's every contender's responsibility to ensure they are living up to the standards of the pageant as if they did indeed win. "Even if you don't win or take a runner-up you should always have your own sets of responsibilities and personal standards," Coronado said. "Just because you don't win doesn't mean you should stop doing pageants, or stop being the person you were during the pageant. Some people behave differently at a pageant than they do at home. If I don't win, I'll just keep coming back because the judges like things differently at each pageant so it's impossible to predict who will win. It's just an overall fun experience even if you don't win."
"I want my daughter to be somebody," Webster said. "I want her to be a good strong, independent woman who depends on no man. You be who you are and you love who you want. I'm very proud of her and I love her so much. She's really come a long way and I can only imagine what she's going to do in the future for herself and for others."
As for herself, Coronado hopes to become an entrepreneur. "I love pageants, gymnastics, painting and drawing, but I've always wanted my own business because I love doing hair," Coronado said. "My dad has his own business and so does one of my coaches. I'd love to be a pageant, modeling, or acting coach."
To her peers, Coronado is more than happy to offer words of encouragement. "You can do anything you want or be anyone you want," Coronado said. "If I want to be an astronaut, I'm going to become an astronaut and if somebody tells me I can't I'm going to prove them wrong. There are a lot of haters in the world, so remember to just always be nice to people even if they're not nice to you. If you have your mind set on something, then do it and don't listen to what others may think of you."
Coronado is the daughter of Tina Webster and Fernando Coronado.