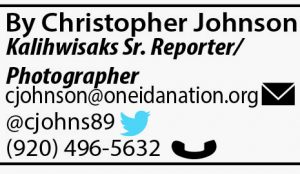 With COVID-19 activity again on the rise across the country and in Wisconsin, the Oneida Business Committee (OBC) took action and canceled the General Tribal Council (GTC) meeting that was tentatively scheduled for August 26, 2021. Oneida Nation Public Health Officer Michelle Myers also issued a new facial covering mandate in settings where two or more people not living in the same household gather. The new mandate took effect August 6 across the Oneida Reservation. The status of the GTC meeting tentatively scheduled for September 16, 2021, will be reviewed during the August 11, 2021, OBC meeting.
"Currently both Brown and Outagamie Counties are at 'high' COVID-19 disease activity," Myers wrote in an August 5 statement. "(This) BC Resolution directs that indoor and outdoor activities where individuals gather to be canceled until such time the disease activity returns to low. You are asked to use your good judgment to cancel activities and events that promote individuals from different households to gather."
The rapidly spreading COVID-19 Delta variant has been determined to be responsible for the current surge in positive cases. This variant is far easier to transmit than previous COVID versions and recent findings suggest this version can even be transmitted to others by persons that are fully vaccinated, Myers wrote.
"We don't make these decisions lightly," Oneida Nation Chairman Tehassi Hill said during the tribe's Facebook Live update August 9. "This is a very serious time again with the upswing of COVID-19 in our area so we need to make sure we're taking every measure possible to ensure our community and families are as safe as possible. I need to stress the importance of getting the vaccination to protect yourself, your family, and loved ones.
"We see people in the community that aren't masking and it's important at this point to understand that this Delta variant is responsible for about 80 percent of all current positive cases in the state," Hill said. "That's a very high and alarming rate so that's why we're taking these additional measures to put masking back in place and to stress the importance of getting vaccinated. (The vaccination) isn't a cure for COVID-19 but it does help prevent serious illness and death, but again we just want everybody to do their part to keep our community and families safe."
"With the school year fast approaching we need to make sure we're controlling the COVID numbers," Oneida Nation Vice-Chairman Brandon Stevens said. "We monitor the infection rate numbers very carefully to ensure there isn't an overbearing number to our healthcare system which is very flooded right now."
Since the onset of the COVID-19 pandemic, the Oneida Nation has experienced 825 confirmed cases, 94 hospitalizations, and 10 deaths as of August 4, 2021.