Kali photo/Christopher Johnson
Marian University junior Richard Summers is lending his passion for graphics design to Big Bear Media for the summer.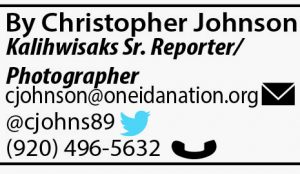 2019 Oneida Nation High School graduate and lacrosse standout Richard Summers is lending his graphic arts skills to Big Bear Media as part of the Oneida Higher Education's Student Summer Internship program. Summers, now a junior Graphic Design major attending Marian University on a lacrosse scholarship, was drawn to that program after taking an introductory course while still in high school.
"I absolutely fell in love with graphic designing and wanted to do that ever since," Summers said. "I'm so glad I found it because I was starting to get worried about what I was going to do."
Now with two years of college under his belt, Summers has had plenty of time to experience the increased tempo of college academics as well as athletics. "College is definitely a change of pace," Summers said. "From the workload to lacrosse it's been a big step up, but I really like it more than high school. I've definitely found out who I am as a student, and I had to really figure out that I am a hands-on learner versus any other way.
Summers became interested in the Oneida Higher Education Summer Internship Program when he saw a listing for Digital Printing for Big Bear Media. "There's several stages to graphic designing and I like problem solving and finding solutions to people's graphic needs," Summers said. "I never knew that about myself until I began taking courses on this material. A three-hour class often felt like 20 minutes.
"Graphic Design has many stages on both the technical side of things as well as the artistic side of it," Summers said. "My ultimate goal is to become an expert in all aspects of graphic design from print setup, color management, file management, design layout, and to become an artist."
The Creator's Game has taught Summers many valuable lessons he's carried with him in life. "I'm grateful the game of lacrosse has taught me how to navigate in life and how to pursue my life goals," Summers said. "It's crazy how when I was younger it never clicked with me how the game really does connect with life, but now that I'm getting older I'm realizing all the valuable lacrosse lessons I've learned translate to life and help prepare me for the real world.
"I want to thank everybody who has helped guide me on my path to be where I am today," Summers said. "There's the saying 'It takes a village to raise a child,'" Summers said. "I want to thank the community for coming out and showing their love for youth lacrosse, and any youth activity, because it's that support that teaches us. I'm also grateful for those who support our lacrosse programs and help us travel Turtle Island to meet others and play the Creator's Game."
Summers is currently competing for a roster spot on the U-21 Iroquois Nationals Lacrosse Team which is slated to compete in Ireland during the summer of 2022. The tournament will feature more than 20 teams from across the world including Australia, Uganda, South Africa, U.K., Ireland, Israel, and more. "The game has also provided me with opportunities to travel and see the world and for that I am grateful," Summers said.
Richard Summers is the son of Lisa and Butch Summers of Oneida.