Kali photo/Christopher Johnson
Kalihwisaks summer intern Mercedes Danforth's arrival is mutually beneficial.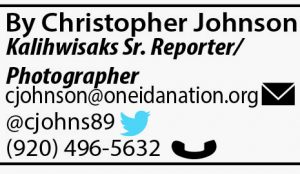 Summer has arrived in Oneida and that means the arrival of much-appreciated student interns. Big Bear Media and the Kalihwisaks are happy to announce Mercedes Danforth, a junior English Literature major at St. Norbert College, is now on the scene to provide assistance to our staff.
"I'm really happy to be here," Danforth said. "I'm a copy editor for the St. Norbert paper and I've done reporting. I was pretty devoted to the arts since middle school and high school with our student clubs, AP studio classes, and I did a Studio Art Camp at UWGB. I really wanted to go to art school, but my mom encouraged me to really think about it. I just assumed I'd go to UWGB, but I got accepted to St. Norbert and they have a very strong English program, so I dove in with their newspaper. Now it seems like I'm writing essays every day. But art was always my number one passion and English Literature number two."
Danforth jumped at a fantastic opportunity when she saw the summer internship job postings. "When these internships came up I saw the chance to combine all the studying I've been doing in college and my old passion," Danforth said. "I always wanted to ride the high of loving art, but at the same time I needed to ground myself. I've always loved journalism as well, but I have yet to find that perfect medium and to be honest I'm still looking for it. As a result I'm still very much looking at the possibility of going to art school after I graduate from St. Norbert.
"My dad was always encouraging me to find an internship," Danforth said. "But honestly while I enjoy going to college, academia is not a strong suit for me. So when these internships came up I saw a great way to get back to school by doing something like this. So I applied for a handful of Oneida Higher Education's internships because they're all excellent opportunities, and fortunately here I am."
While she doesn't have her heart set on any one specific career just yet, Danforth knows it will happen sooner or later. "I want to get into a profession that excites me, I can feel comfortable doing, and believe in myself at the same time," Danforth said.
The never-ending support from her parents is very much appreciated. "My parents encouraged me with anything I did and I'm so grateful for that," Danforth said. "They always told me if I found strength in it, then there's nothing better and it's clearly some kind of calling. When it came to these internships, I realized my parents were letting me take the reins in the decision-making this time which I really appreciated. My parents are artists themselves and they've told me I wasn't born with it for nothing. They're great and I love them very much."
The Oneida community is constantly on Danforth's mind, and the global pandemic has really helped her see the love and support the entire Nation has for one another. "I frequented Facebook a lot during the pandemic because I have a lot of Oneida, Menominee, and other family who travel a lot," Danforth said. "So Facebook was a way to connect to one another and I couldn't help but notice how awesome it was to see the outreach that was happening online amongst the Oneida people. People were worried and actively trying to help each other from our youth to our elders. I am so proud of us for caring for each other in such a way.
"I am grateful to be a part of this community and very proud of it," Danforth said. "I encourage everybody of all ages to continue to care for one another even as we begin to escape the pandemic."
Mercedes is the daughter of Sonia Hernandez and Darnell Danforth.