Kali photo/Christopher Johnson
Oneida Nation Chairman Tehassi Hill and Wisconsin Governor Tony Evers sign an amendment to the Nation's original 1991 Gaming Compact June 1 at the Oneida Casino as members of the Nation's Business Committee and Gaming Management look on. This amendment will usher in a new era of event wagering for the Nation's gaming operations.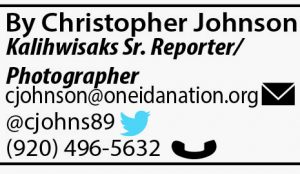 (ONEIDA RESERVATION) – More gaming excitement is about to be added to the Oneida Nation's casinos. During a July 1 press conference held in the tribe's Main Casino, Oneida Nation Chairman Tehassi Hill and Wisconsin Governor Tony Evers announced the execution of the Third Amendment to the Nation's original 1991 Tribal-State Gaming Compact to offer event wagering.
"The Oneida Casino aims to commence sports betting at its Main Casino in early Fall 2021 which will include retail, kiosks, and mobile wagering at select locations," Hill announced. "Thirty years ago our Nation signed its first Gaming Compact in 1991. At that time we were a reservation struggling but fighting to grow our economy to ensure a better quality of life for our people.
"Since that time we have grown tremendously and I thank those who came before us for laying the foundation so that we can offer a better way of life for our tribal members today," Hill said. "I want to express our appreciation on behalf of the Oneida Nation to the team of professionals who worked to make this happen and provided their expertise to our compact amendment."
"This is a historic day for our state, and it will serve as a major milestone in the state's partnership with the Oneida Nation for generations to come," Evers said. "Today, Chairman Hill and I will sign the compact amendment to allow event wagering from Packers' games to the Oscars to occur in the state of Wisconsin. This will be the first time that event wagering will be permitted in Wisconsin in recent history."
Evers acknowledged the difficulties the state's tribal nations have endured since the beginning of the COVID-19 pandemic. "Our tribal communities have been hit really hard," Evers said. "It's been tough for places like the Oneida Casino which depends on visitors coming to town and supporting their local business. And it's especially tough when you experience a senseless, violent tragedy here only a few months ago. And I want to again extend my most sincere condolences and support to you as you continue to heal and recover."
Evers said this amendment will provide opportunities to find new revenue and employment growth while maintaining the integrity of Wisconsin sports. "The Oneida Nation and all of Wisconsin's tribal nations play a vital role in our state's culture, our history, our economy, and of course our future."
The Oneida Casino plans to install a temporary location near the sports bar inside its main casino while construction commences to house the permanent sports wagering lounge inside the sports bar. The Nation also plans to roll out its sports betting at its other casino locations and retail outlets across the reservation after the initial sports wagering launch.
Permitted events for wagering include professional and amateur sporting events, televised award shows, Olympic events, and professional sports league drafts. Betting on Wisconsin collegiate sports and events will not be permitted.