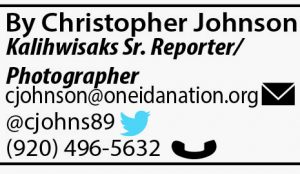 (Oneida Reservation) – The gunman who shot and killed two people and injured a third before being fatally shot by responding law enforcement officers has been identified as 62-year-old Bruce Pofahl of the Green Bay area. Pofahl is a former Food and Beverage Manager of the Radisson's Duck Creek Kitchen and Bar Restaurant. Pofahl was recently terminated from the restaurant and was informed he was not be on the Radisson property.
Brown County Sheriff Todd Delain held a press conference Monday morning to release more information regarding the incident that occurred early Saturday evening in the crowded hotel complex. According to Delain, Pofahl arrived at the Radisson Hotel around 7:30 p.m. while carrying a concealed 9 mm handgun. He then entered the Duck Creek Kitchen and Bar, walked to the waitress station, and began firing. There were at least 50 patrons in the restaurant at the time. It is believed Pofahl's intended target was not present in the restaurant at the time, but he shot two employees at the waitress station.
Pofahl then left the restaurant and made his way outside the Hotel on the north side of the complex where he then shot 28-year-old Daniel L. Mulligan, also a Duck Creek Kitchen and Bar employee. Almost immediately after shooting Mulligan, a quick response team from the Green Bay Police Department ended the threat from Pofahl. Responding agencies included the Green Bay Police Department, Oneida Police Department, Brown County Sheriff's Office, Hobart/Lawrence Police Department, and the Wisconsin State Patrol.
Jacob T. Bartel, 35, and Ian J. Simpson, 32, were killed in the incident, and Mulligan was airlifted to a hospital in the Milwaukee area where he remains in serious but stable condition.
The officer-involved shooting aspect of the incident is being investigated by the Wisconsin Department of Justice's Division of Criminal Investigations (DCI) while the Brown County Sheriff's Department will be investigating the homicides and attempted homicide. The Federal Bureau of Investigation is also assisting with the investigations.
"We are extremely proud of the law enforcement officers in our community running into this dangerous situation in the midst of chaos," Delain said. "These are difficult times for law enforcement. Our actions are often critiqued and second-guessed by those who cannot do our jobs. The officers in our community did not hesitate to respond in the time of need. They should be commended for their bravery in handling this tragic situation."
The Oneida Nation is offering counseling services to employees and any patrons impacted by this event at the Irene Moore Activity Center (IMAC). Hours of service are 7-9 a.m., 12-2 p.m., and 5-7 p.m. No appointment is needed, and those interested are asked to enter through the employee entrance.
The DCI investigation into this incident will remain ongoing. This is a developing story and more information will be released as it is received.