Photo courtesy D. King of Imagez
From activist to academic advisor, Bernadine Vigue has dedicated decades of her life to helping inspire college students to better themselves and their communities.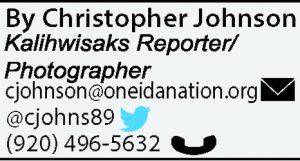 From activist for Native American rights and equality to the world of academia, there isn't much that Bernadine Vigue hasn't seen or experienced during her time on Turtle Island. The wife of Bernard and mother of Brian and Kimberly went through a lengthy period of personal anger in her younger years at how the United States Government treated Native populations. That anger led her to her involvement in the now infamous Milwaukee Coast Guard Station takeover in 1971 with about 20 other members of the American Indian Movement (AIM).
"We lived in Milwaukee at the time and I was working at Schlitz Brewery and my husband Bernard was working full-time and going to school part-time," Vigue said. "I was part of the group with Marg Stevens that eventually made the Coast Guard Station into a school. We were also involved with DRUMS, a Menominee Nation group, that worked against the termination of rights of Menominee shareholders. They were no longer considered Indians, but they still had their lumber mill and anybody that was enrolled was considered a shareholder. What really got people going up there was the selling of property to non-Natives."
In time Vigue, who is part Menominee, Oneida, and Stockbridge-Munsee, was able to refocus her energies and gain a strong passion for helping Native Americans navigate the rigors of college in the hopes of improving their lives. She accomplished this by graduating from St. Norbert College with her bachelor's degree in Organizational Communication at the young age of 52 before going on to complete her master's degree in Counseling and Higher Education from UW-Oshkosh. "Before this I had actually flunked out of a few technical colleges and I didn't receive a lot of academic advising," Vigue said. "I felt like I was on my own, but while taking courses at Marquette University we were very hands-on with tutors and we saw our advisors once a week.
"During the 1970s Marquette University was one of the top college basketball programs in the country," Vigue said. "One year the African American players went on strike because there weren't many students of color at the school and there weren't any programs to help recruit students of color. There was simply no support system for them there. This was what sparked my desire to help advise students. I love being an advocate for students, gaining their trust, and even if I got in a little hot water myself I was able to sleep at night knowing I went to bat for my students."
When Vigue arrived on the campus of Northeast Wisconsin Technical College (NWTC), she was ready to make a difference for minority students. "My job title at NTWC was Multicultural Academic Advisor and I was teaching English as a Second Language," Vigue said. "The reason I loved working with college students is because they all came to school with hope and believed their lives would be better, and I still keep in touch with many former students."
The COVID-19 Pandemic and subsequent hit to the Oneida Nation's finances caused a great deal of hardship and worry for students participating in the Higher Education Program. "The Higher Education Grant being lowered was a great disappointment," Vigue said. "Now that it's been fully restored, I'd really like to see more Oneida people take advantage of that opportunity. I come from a family of 12, and my dad always told us the best way out of poverty is by getting an education. If you want to go back and help your tribe, you need to be educated so you can stand up for your Nation because I believe our tribe got taken a few times on business ventures."
In March 2019 Vigue received news nobody wants to hear. She was diagnosed with Stage 4 kidney cancer. Doctors gave her two years. "I just recently had an MRI and CT scan done to see whether or not my medicine is working," Vigue said. "The odds for this are not good, but the doctor at Northwestern Medical Center in Chicago said I made it past the two-year mark. He told me he couldn't make any promises on how many more years I have but they're doing what they can to maintain it so the tumors don't grow."
While Vigue isn't in any pain and she's lost some weight, she says the medications she's taking has affected her sense of taste. "I used to really like sweets and healthy foods but now I don't," Vigue said. "Apparently this is actually good because cancer seems to really like sugar, so this was probably a blessing in disguise and I'm just trying to stay positive."
Being a positive human being and a strong proponent of college leads Vigue to encourage people to continue to improve themselves through education. "Take advantage of that Higher Education Grant," Vigue said. "Four-year colleges aren't for everybody but take advantage of it in some capacity because many other tribes don't offer what Oneida offers and they're envious. An education benefits everybody. I've watched a lot of students come into NWTC with low confidence and I literally got to watch them grow out of that."