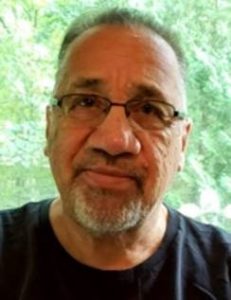 Peter D. King, Tahleta•ne (he will be coming) of the Turtle Clan, fulfilled his purpose and accomplished all that he came to do on this Earth. On Feb. 14, 2021 he decided it was time to begin his journey to the spirit world. With his family by his side, he was embraced and held in love and gratitude as he set forth. His family holds close to their hearts his love, his kindness, his compassion, his laughter, and his humor.
Pete is survived by his loving partner and "Sweetheart" Renee, his children Pete (Jodi), Shoshana, and DaBen; Grandchildren Wabansi, Shyla, Princeton, Royce and Rayna; His sisters Louise (Bruce), Kathy, Joyce, Sue (Harvey) and Margaret; Godchildren Reanna, Levi, Derrick, and Fawn and many nieces and nephews.
He was preceded in death by his parents Martha (Skenandore) and Pete "Buzzy" King and niece Desiree King-Fritsch.
On September 1, 1951 Pete was the first born of his parents. He was a graduate of Seymour High School where he was an extraordinary athlete who excelled in football, basketball and baseball. Pete moved to Minnesota where he graduated with a degree in electronics from Brown Technical School.
Pete loved his family most of all – he was their rock. He had a sense of strength to lift their spirits, made sure they all knew he heard their voice, that he seen them for who they are, and loved them with no conditions. He adored his grandchildren, and they lit up his spirit. You would often find him mentoring or coaching them; playing with them; or turning them onto Gunsmoke and other old westerns. He often enjoyed a robust and marathon game of Uno with his kids; while listening to a variety of music, teasing, laughing, and talking about life and sports. He lived his life for his family and showed them the importance of being a family.
Pete's second love was sports. If he wasn't playing then he was coaching, mentoring, supporting young athletes or being a spectator. He often encouraged Oneida youth and you could typically find him, with a bag of popcorn, sitting on the benches at high school and summer league games cheering on whoever was playing. He was strong supporter of the North American Indigenous Games helping organize and fundraise. He also loved watching professional sports, his favorites were the Wisconsin teams the Packers, Bucks, Brewers, and Badgers.
Pete was a role model, a great leader, kindhearted, was humble, a genuine person and an amazing friend. He was always straightforward and to the point, a good listener and encouraged others to believe in themselves. Everything he did was for the greater good, and through his actions is where his invaluable wisdom shined. Pete greeted everyone with a smile, a handshake and eventual laughter. Along with his infectious laugh, his sense of humor was out of this world. Pete also had an appreciation for homemade cooking, sweets, and anything his sister Louise would make. He had a six sense when it came to her cooking and always showed up at her doorstep when it was time to eat.
Pete was a loving partner, son, father, grandfather, brother, uncle, father figure, athlete, mentor, and a friend to so many. At one time or another he took his sisters, nieces, nephews, cousins, and community members under his wing sharing what he knew, sharing life lessons and helping others see their own best. His role as an uncle extended beyond his nieces and nephews – he was an 'Uncle' to many young people because he treated them like family. He was larger than life, a best friend to everyone and will be missed by all that knew him.
Family and friends may visit at Ryan Funeral Home, 305 N. Tenth Street, De Pere, from noon to 6:00 p.m. on Thursday, February 18, 2021. A service will conclude visitation at 6:00 p.m. Burial will follow at 10:00 a.m. on Friday at the Oneida Sacred Burial Grounds.
The family of Pete would like to thank Keith Smith a close family friend, the firekeepers, friends and family, Bellin Health Team, Dr. Vir, Oneida Nation and Unity hospice for their kind, gentle and compassionate care. Lastly, a special thank you to his loving partner, Renee, for her love, support, compassion and care given during their time together.