Photo by D.King of Images
Oneida Nation treasure Loretta Metoxen has dedicated her life to serving the tribe in numerous capacities across a more than 50-year tribal affairs and political career. Her love for Indigenous cultures the world over was her driving force as she worked and fought for Native rights and sovereignty across Turtle Island.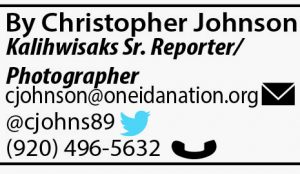 As the Oneida Nation celebrates nearly 200 years in what is now the state of Wisconsin, it's important to acknowledge those trail-blazing elders who have lived their lives in the service of the tribe. The Oneida Nation has a rich history of producing hard-working, dedicated, smart leaders and among the most recognizable of them is long-time Tribal Historian Loretta Metoxen.
Raised on a dairy farm in Oneida, Metoxen learned from an early age the value of hard work when her father lost his arm in a mill accident. This required her, at 9-years-old and the oldest of six siblings, to learn virtually all aspects of farm life which included milking cows twice daily and driving teams of horses hitched to various kinds of farm machinery.
Following high school graduation Metoxen enlisted in the United States Air Force during the Korean War. After a year of training in Airborne Radar Technical School, her duty assignment sent her to Otis Air Force Base (AFB) in Massachusetts where she worked on fixed-wing fighter aircraft. She later spent three years in then NATO-occupied Germany as a married Air Force dependent where she visited displaced persons camps and traveled to Rome. Upon her family's return stateside, Metoxen assisted migrants and other off-reservation tribal members while at Davis-Monthan AFB near Tucson.
After her husband's retirement from the Air Force, Metoxen and her family returned to the Oneida Reservation where she would eventually become active in tribal affairs and politics for more than 50 years. She was elected Tribal Secretary in 1967 and would later hold the positions of Business Committee (BC) member, Vice-Chairwoman, and Treasurer. Metoxen spent 30 years on the Nation's Trust and Enrollment Committee and she served on the Oneida Land Claims Commission beginning in 1968 until very recently.
On the national stage Metoxen served three terms as the area Vice-Chairwoman for the National Congress of American Indians (NCAI), Secretary of the NCAI, and Chairwoman of the Great Lakes Inter-Tribal Education Committee for more than a decade. She also spent 10 years as President of the Flandreau Indian School Board and served as Oneida Tribal Historian for more than 22 years.
A few of Metoxen's many other accomplishments include writing the inscription on the Oneida Veterans Memorial and the securing of funds to restore the log homes along Salt Pork Avenue in the Amelia Cornelius Culture Park. She assisted in the invitation of Bishop Wycislo to transfer ownership of the Sacred Heart Seminary to the Oneida Nation, and she devoted three years to various Oneida Veterans groups to help finalize the Oneida Code Talkers Medal.
Metoxen's love for all Indigenous cultures was always a driving force for her as she helped keep 14,000 acres of Bad River and Red Cliff lands from being taken and included in the Apostle Islands National Lakeshore. In 1995 Metoxen attended the Non-Governmental Organization Conference for Worldwide Tribal Women in Beijing, China. There she walked the Great Wall of China and traveled to Mongolia where she rode horses among the sheep herds on the steppes. In 1996 she spent nearly two weeks in South Africa where she presented Nelson Mandela with a Pendleton Blanket as he dedicated a new school and health clinic.
Tribal sovereignty has always been a passion for Metoxen as she worked her entire life for the betterment of the Oneida Nation and other Native Nations. "The sovereignty of the Oneida Nation is equivalent to that of all nations and countries existing on the face of Planet Earth," Metoxen said. "There are some limitations, since the adoption of the United States Constitution, which includes not raising an army or coining money.
"The Oneida Nation has the right and capability to create and exercise its own laws, and the Oneida Constitution is approved by the governing body which is the voting membership embodied in the General Tribal Council," Metoxen continued. "Oneida Nation sovereignty is inherited from time immemorial and not granted to the Oneida Nation by any other government."
Anybody who has ever had the honor and pleasure of knowing or meeting Loretta Metoxen, a true Oneida treasure, knows how fond she is of having the last word. "Gaming, in my estimation, is not the answer to everything," Metoxen said. "It's only part of the answer to supporting the tribe into the future. What I hope for the future of Oneida is that enough people get the housing they require. We have about 4,000-5,000 Oneidas who live on the reservation, so that means there are about 12,000 who don't. So there has to be a place for people, and when they have a place, they must make a contribution back to the tribe. They can't just take and utilize tribal resources, they must contribute as much as they get. And that makes the tribe grow in all dimensions.
"Also, the Oneidas need to know their history so they can contribute to it and understand why they are here as they are. I think if they do that, they will be a happy group of people," Loretta says……